'RHOP': Gizelle Bryant Wants Kathy Hilton From 'RHOBH' to Join Bravo's 'Chat Room'
The Real Housewives of Potomac's Gizelle Bryant would love to see Kathy Hilton from The Real Housewives of Beverly Hills join Bravo's Chat Room, especially after her "hunky-dory" remark. Chat Room returns in August, but only Bryant and Porsha Williams will return from the original four hosts. Bryant discussed Kate Chastain's departure and why Hilton would be the perfect addition. She also has a Bravo man in mind too.
Gizelle Bryant from 'RHOP' thinks Kathy Hilton from 'RHOBH' is a 'gem'
"I think after hunky-dory, Kathy Hilton," Bryant laughed on the Behind the Velvet Rope with David Yontef podcast. "Also, I wouldn't mind, if we had to get some male energy in there, I think Reza [Farahan] would be amazing. So yeah, those would be my two picks."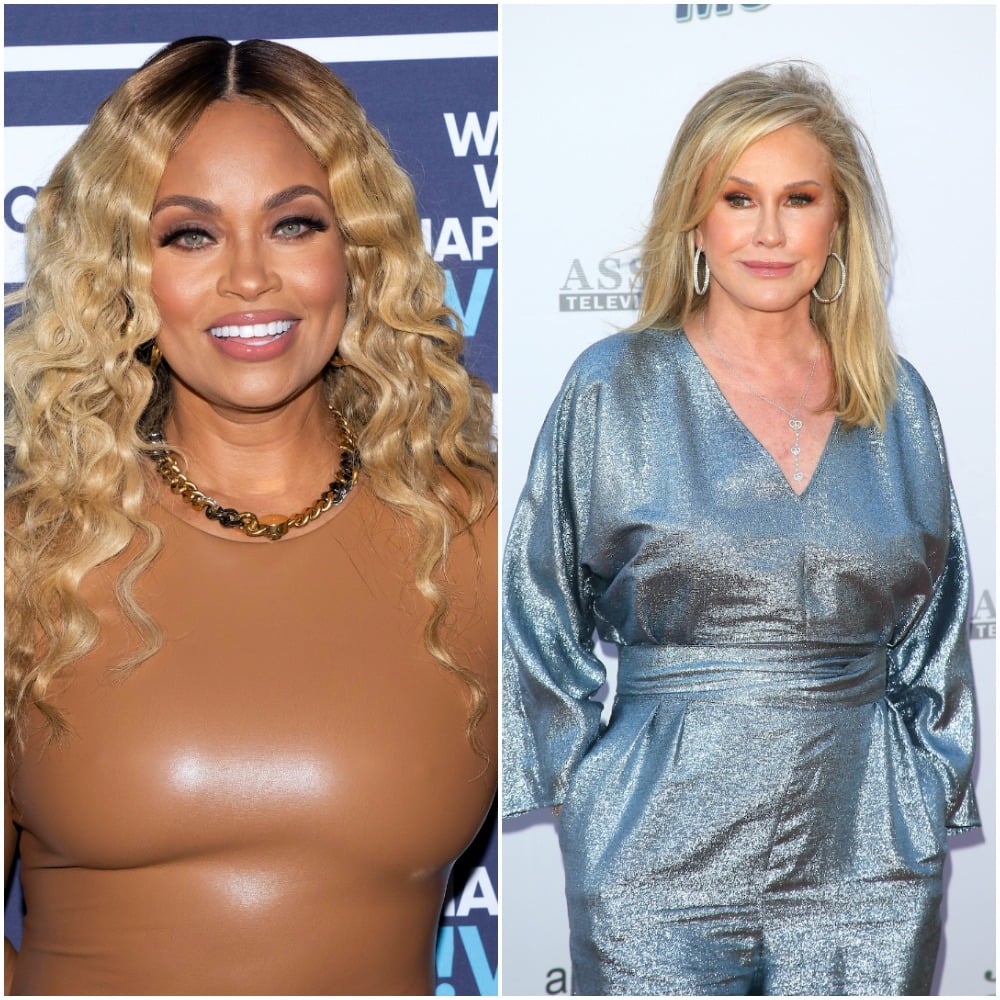 Bryant explained what she loves most about Hilton. "Like, every time she does something, I think to myself, what took her so long to get on this show?" she remarked. "Like in a real way. I mean, we've seen her throughout the years, occasionally here and there. But like my God, we have been missing out on gem!" Adding, "She's amazing."
Why does Bravo's 'Chat Room' need a new host?
Chastain was the first co-host to leave Chat Room. Despite being an executive producer, she quietly walked away with the show, sharing later that she left because the series was unorganized and the chemistry was off. "So just imagine how many comments and other things other hosts, we all said," she said on the Everyone is Terrible podcast. "We'd film on a Thursday and it would air on Sunday night, I know that's a very quick turnaround. But I was consistently surprised by what comments they were choosing from which host." Adding, "It was like a constant disappointment."
"I felt like I didn't stand a chance after a while," she continued. "If we did a segment about some topic and then the showrunner would be like 'Can we do that whole act again?' We'd be like OK. If I had said something funny or clever about a topic, when we would re-shoot, one of them would jump in with what I had just said, as their own. And that would be the cut that was used." Chastain also directly shaded both Hannah Berner and Williams after her departure too. Berner recently announced she too would not return for another season of Summer House or Chat Room.
Gizelle Bryant said she was surprised by Kate Chastain's shade
Bryant said she had no idea Chastain was unhappy with the show, especially after Chastain's comments about Berner. " That kind of caught me off guard and I think probably caught the other two ladies off guard as well," she said. "I mean, because from all that I knew we had a great working relationship." 
She added that Chastain's energy was definitely missed after she left. "When Kate left, she was missed," Bryant said. "You know, Kate has like a dry sense of humor. That is, it's not like a little, it catches you off guard. Like you think she's not paying attention, but she's paying attention. And then she, like, all of a sudden said something like funny, you know, we missed that when she was gone."