'RHOP': Gizelle Bryant on Peter Thomas Dating Reports: 'Rumors Are Rumors'
The Real Housewives of Potomac star Gizelle Bryant has been romantically linked to Real Housewives of Atlanta alum Peter Thomas. However, she denied the "rumors" in a recent episode of her podcast.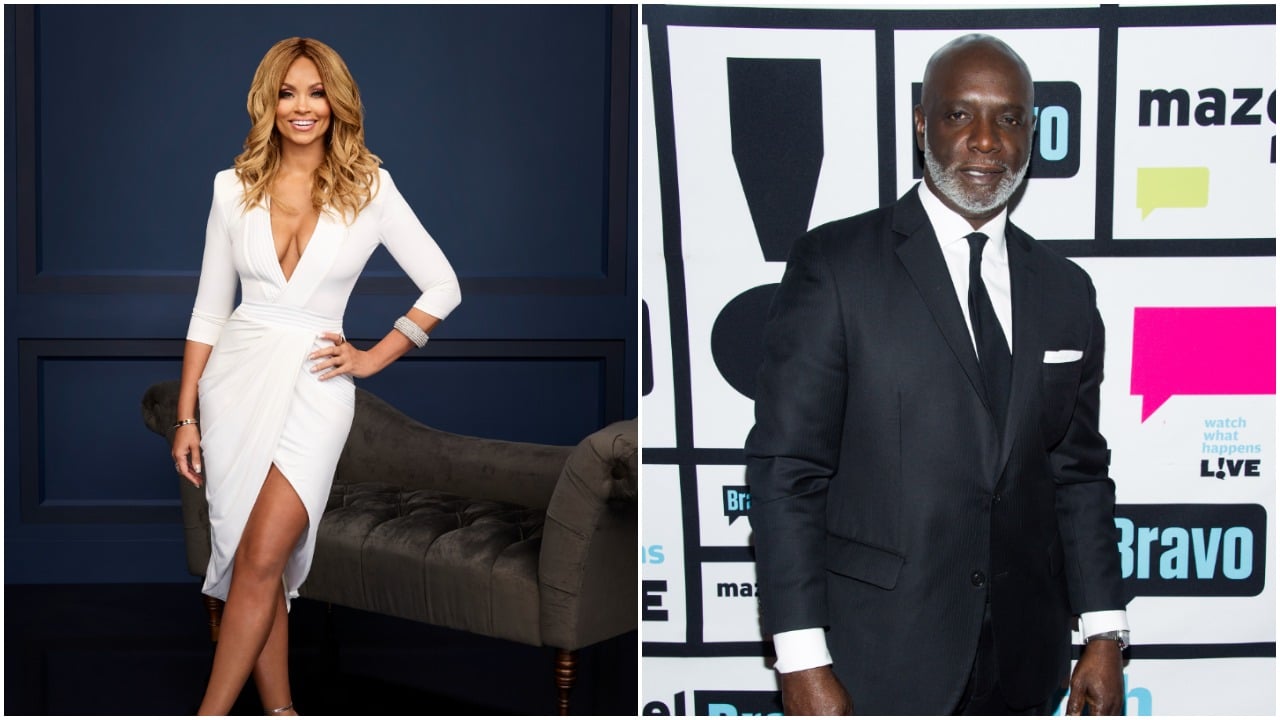 'RHOP' star Gizelle Bryant denies rumors she's dating 'RHOA' alum Peter Thomas
Recently, rumors have swirled that Real Housewives of Potomac star Gizelle Bryant, 51, began dating Peter Thomas, 61, of Real Housewives of Atlanta, who was married to Cynthia Bailey, 55.
In a "Gizelle public service announcement," the RHOP original cast member addressed the reports during episode 45 of her podcast with best friend and close star Robyn Dixon, 43, Reasonably Shady.
RELATED: 'RHOP': Candiace Dillard on Gizelle Bryant's Comments About Chris Bassett Riding Her Coattails
She insisted she's not dating the RHOA alum, reiterating it twice, and added, "rumors are rumors." Bryant claims she no longer "believes" anything she reads online due to her experience with gossip.
She continued, pointing out that if anyone wanted to create a rumor, they should give photographic evidence to make it believable. Dixon agreed, admitting she might believe the rumor if a picture corroborated it. 
Bryant recently reconciled with ex-husband Jamal Bryant
The RHOP star previously married Pastor Jamal Bryant, 51, in 2002, and the pair welcomed three children, Grace, 17, and twin sisters Angel and Adore, 16.
In 2008, the couple divorced after she allegedly discovered he had fathered multiple children outside of their marriage. They stayed close following their divorce as they had a friendly co-parenting relationship.
10 years later, she began publicly dating former basketball player Sherman Douglas. The pair had an on-again, off-again relationship until permanently calling it quits in May 2019.
Shortly afterward, she reconciled with her ex-husband. They worked on their relationship during season 5 privately as Bryant didn't bring the pastor around her co-stars. At the reunion, Monique Samuels, 38, revealed messages between him and a woman he allegedly dated while in a relationship with Bryant. In these texts, he seemed to admit to faking the reconciliation with the OG cast member for a storyline.
Bryant is reportedly accused of attempting to 'takedown' Candiace Dillard's husband, Chris Bassett
RHOP reportedly began filming season 7 a few weeks ago. In April 2022, viewers noticed cast member Candiace Dillard, 35, unfollowed Bryant on Instagram, with whom she previously had a decent relationship.
As unfollowing on social media is usually the first sign of a falling out, fans suspected something likely happened during the upcoming season. Everything Housewives blog claims it had the scoop, reporting that Bryant allegedly told Dillard that her husband, Chris Bassett, 44, said something she considered "inappropriate" during the season 6 reunion.
However, it appears the other cast members don't believe the Green-Eyed Bandit, as the blog reported others described her claimed actions as an attempted "takedown" of Bassett. Seemingly adding fuel to the fire, he posted a cryptic tweet around the time the reports circulated on social media.
Bassett wrote, "when your context/comprehension skills register at remedial level; I'm sorry, nothing I can do for you. But I promise this is NOT the road you want to go down." All seasons of Real Housewives of Potomac are streaming on Peacock.
RELATED: 'RHOP': Candiace Dillard Unfollowed Gizelle Bryant on Instagram Amid Season 7 Filming