'RHOP': Gizelle Bryant Says Monique Samuels and Candiace Dillard's Fight Was Fueled by Monique's Jealousy
'RHOP's' Candiace Dillard and Monique Samuels' fight will air in the next episode. Gizelle Bryant wants fans to know she believes Samuels' jealousy of Dillard caused the fight.
The highly anticipated fight between Candiace Dillard and Monique Samuels on RHOP will finally air during the Sept. 20 episode. While some cast members like Karen Huger is refusing to pick sides between the two women, Gizelle Bryant makes her allegiance to Candiace Dillard clear.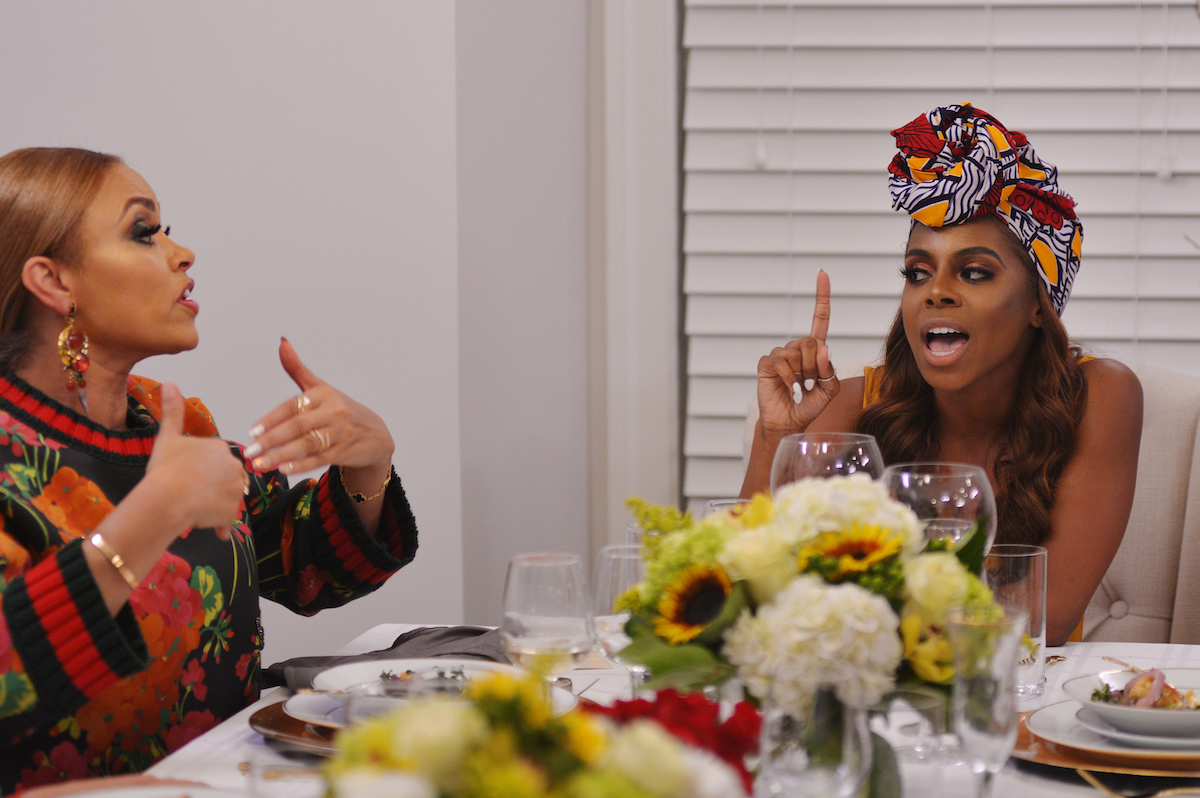 In a new interview, Bryant says Samuels is jealous of Dillard, which she believes is the underlying cause of their fight.
Gizelle Bryant's previous comments about Monique Samuels and Candiace Dillard's fight hint to her placing blame on Samuels
Samuels and Dillard's fight came during a cast wine tasting. Both women filed charges against one another for assault, which were later dismissed. 
There's a clear divide among cast members regarding who is responsible for the physical altercation. Bryant hints to Entertainment Tonight that she finds Samuels to be at fault. 
"Were they both in the wrong? Absolutely not," she insists. "I do want the viewers to see and kind of give their opinion on who was right and who was wrong, but I don't feel like they were both wrong, no."
Despite the unfortunate incident, Bryant says there is a positive outcome. Immediately following the fight, Samuels called a meeting with the cast, excluding Osefo and Dillard. During the meetup, Bryant makes it clear that she is not on Samuels' side. In a clip for an upcoming episode, Bryant tells the group:
"We have been able to hold ourselves above the stereotype and in five minutes she [Samuels] took it away," Bryant says.
Still, Bryant is fortunate for the sitdown, explaining to ET that the conversation was necessary.
"[The sitdown] definitely needed to happen…what happened is something that we never thought we would see on this show and on this platform…the beauty about what happened is it allowed us to have deep conversations and true conversations about how we feel we're portraying ourselves to the world," she says.
Gizelle Bryant says Monique Samuels is jealous of Candiace Dillard
It's unclear what led to the fight but from recent episodes, Samuels and Dillard's once close friendship appears permanently fractured. Samuels accuses Dillard of aligning with Charisse Jackson Jordan, whom Samuels accuses of facilitating harmful rumors about her family.
But Bryant believes that the fight between Samuels and Dillard has nothing to do with Jackson Jordan, as reported by Bossip.
"To this day, my thoughts are that it was the silliest, most unnecessary, altercation under the sun," she says. "I feel like Monique has always had some issue with Candiace, that she's never kind of expressed, maybe it's jealousy. I don't know."
Furthermore, Bryant says Samuels' jealousy is fueled by Dillard's ability to be herself, no matter if she's liked or not.
"Candiace came around, and love her or hate her, Candiace is Candiace," she explains. "You know, she's got a slick mouth. She is annoying, but we like her because she decides to show up in her own skin, with all of her antics. And I think maybe Monique doesn't like that, I don't know but the altercation was unfortunate. I was shocked, I was disturbed. I felt like it should have never happened."
RHOP airs Sundays on Bravo at 9 pm EST.