'RHOP' Star Gizelle Bryant Shades 'RHOBH' Cast For Arguing About 'Nothing'
Gizelle Bryant from The Real Housewives of Potomac is known for her taglines about the "word on the street." The Bravo star is not afraid to repeat rumors and do a little sleuthing online to bring up on the show. Nothing has been off boundaries for the Potomac ladies and they've been breaking the fourth wall since the first season. Bryant is calling out other franchises, in particular The Real Housewives of Beverly Hills, where their arguments are not deep.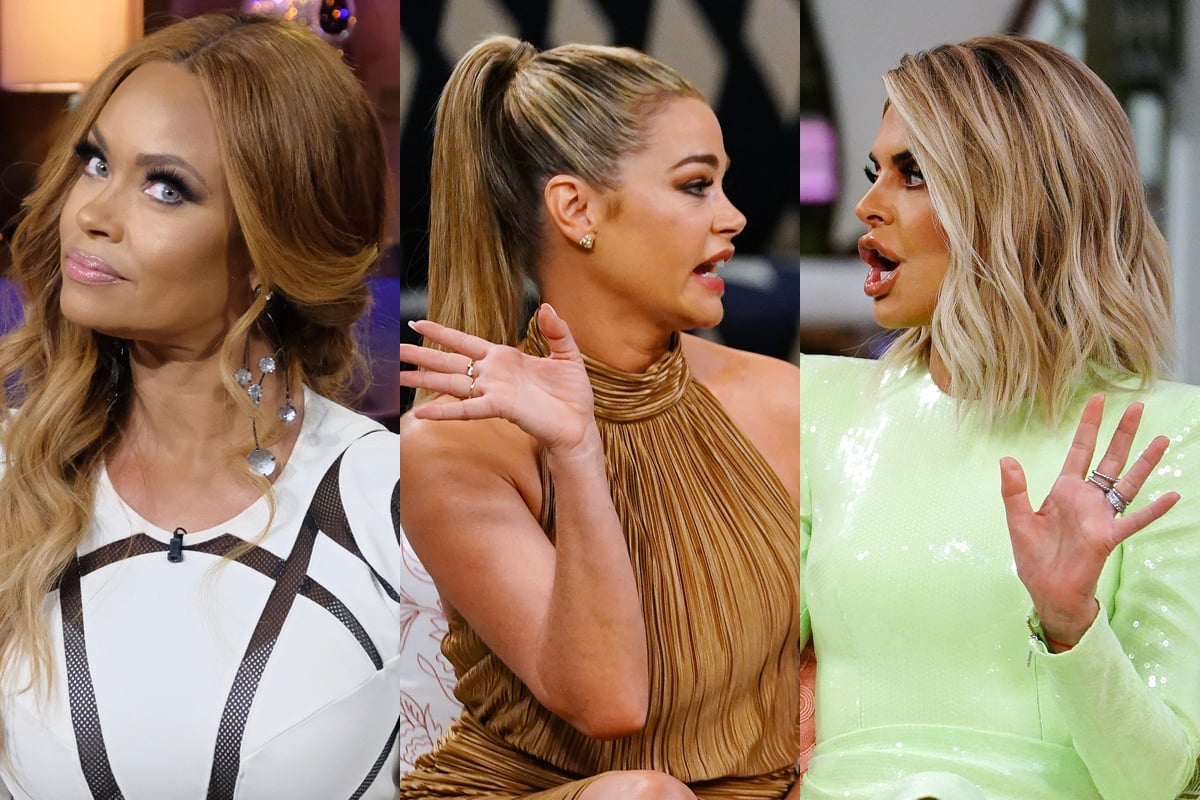 What is the drama on 'RHOBH' this season?
The ladies of Beverly Hills just wrapped season 10 on Bravo and their major storyline involved Denise Richards and Brandi Glanville. Up until that point, the drama on RHOBH was tame compared to the other franchises. They argued about talking about threesomes in front of the children or asking questions that were too personal.
There's a consensus that the cast of the California-based show has it much easier than the other franchises. When Glanville told the ladies that she had allegedly hooked up with Richards, the drama shifted to that storyline for the remainder of the season.
Richards did not want any of those allegations airing that she even yelled out the now infamous phrase, 'Bravo, Bravo, Fuc***g Bravo,' in an attempt to make that scene unusable for air. However, the network decided that it was time to break the fourth wall on the show and included all the messiness.
Gizelle Bryant calls them out
During an interview with Lala Kent and Randall Emmett on the Give Them Lala podcast, Bryant called out her fellow Housewives stars.
"I can't sit here and act like I haven't read the blogs because now I know all about your husband and what he's doing," Bryant said about rumors that were brought up on the show. "…Karen [Huger] and her whole tax thing. That was on the Washington Post that her husband owed the IRS… there's no way we can't talk about it, I have to talk about it."
Kent chimed in saying that RHOP has "real sh**" because no topic is off the table.
"I feel like The Real Housewives of Beverly Hills… I love those ladies, I think that they are funny and they're dripping in diamonds and pearls, but they argue over literally nothing," Bryant mentioned. "Whereas we couldn't get away with that if our life depended on it."
Gizelle Bryant accused of scheming
Bryant has been known to bring uncomfortable topics to the show. Between season 4 and season 5 of RHOP, Monique Samuels alleges that Bryant was planning on dropping a bombshell.
"Gizelle is planning to go to [the] reunion to tell people Chase isn't Chris's and that you were cheating on him and that's not his baby," Samuels said that Huger told her.
According to what Samuels said on her Instagram Live broadcast, Bryant wanted to raise the question of her son's paternity during the reunion.
"How disgusting is it? You can say whatever you want about me, but to talk about my child?" Samuels added. "If someone were to talk about anyone of Gizelle's daughters or even the illegitimates from her ex, she would go berserk. To bring up my child's name, when you know the mess ain't true, how low and disgusting is that."
The Real Housewives of Potomac airs Sunday nights at 9 p.m. ET on Bravo.