'RHOP': How the Cast and Crew Feel About Michael and Ashley Darby's Sexually Fluid Relationship
The marriage between Michael and Ashley Darby is unconventional, to say the least. Besides their age difference, the RHOP stars admit to experimenting with an open relationship. Ashley's co-stars and the show's producers don't find her admission surprising.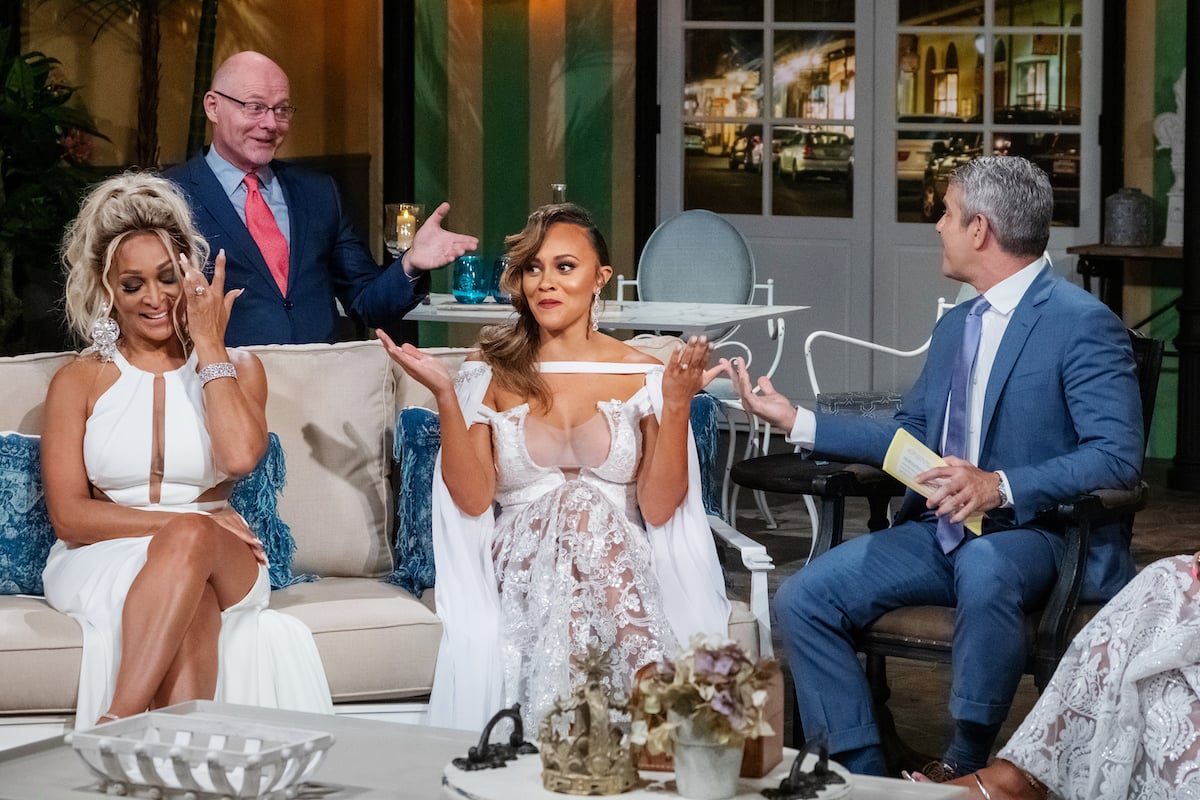 Ashley Darby and Michael Darby admit to having an open marriage
Ashley and Michael's marriage has been a source of contention and discussion amongst the group since season one. Initially, people's belief in Ashley marrying Michael was due to him being older and wealthy. But, Ashley insists it's true love. Michael agrees, noting Ashley brings out a more youthful and fun side to him.
The narrative of the Darby's relationship began changing amid cheating allegations. For several seasons, Michael has been accused of having same-sex affairs, which both he and Ashley deny.
According to gossip, Michael has been seen on LGBTQ dating sites, as well as out with other men. In season four, he was accused of groping a cameraman and was sued as a result. 
Related: 'RHOP:' Ashley Darby Says She Experienced More Marital Trouble After the Birth of Her Son
During season five, more cheating allegations came about. Photos of Michael in his boxers surfaced, alleging he spent the evening with another woman.
He was also accused of being overheard saying he has a boyfriend and a wife. Michael admits to having intentions of spending time with the woman in question but claims he fell asleep drunk.
Following the cheating scandal, Ashley admitted to her co-stars that she and Michael have had an open relationship and enjoyed other partners together. She says that since having their son Dean, she is no longer willing to do such and prefers a monogamous marriage.
Ashley Darby's co-star's and producers of 'RHOP' don't find her open marriage surprising
Ashley says that because Michael's secret indiscretion became public, she was more inclined to speak openly about their relationship dealings. She says talking to her castmates about her and Michael's rendezvous has been a big relief but says she dropped hints to them previously that they did not pick up on.
Her co-stars however say they are not surprised. The topic was discussed during an episode of the RHOP After Show.
"I already knew that Ashley and Michael's sex life and their relationship was not traditional, I just didn't think that she was going to share it with the group," Gizelle Bryant says. "That story was not shocking. That's par for the course for the Darby's."
The show's producer, Kemar Bassaragh, says knowing what he knows now about the Darby's having an open relationship of sorts makes Ashley's reaction and defenses of Michael's indiscretions make more sense to him.
Related: 'RHOP': Why Ashley Darby Says Her Husband Michael Is Having a Vasectomy Following the Birth of Their Second Child
"I always knew they were a fun-loving couple, I never knew the extent of their openness," he says. "So when Ashley revealed that, I was like, Oh."
Another producer, Josh Brown, agrees with Bassargh, saying, "I had never heard anything like that about Michael and Ashley before but when they said it, it clicked in for me as well, like, 'OK, I see where they're coming from."
Robyn Dixon however feels the couple's past shared experiences with other partners and Michael's night at a hotel room alone with another woman are unrelated. She says if Ashley was not involved, Michael's behavior should not be excused.
RHOP airs Sunday nights on Bravo at 9 pm EST.