'RHOP': Fans Call Out Jamal Bryant For Not Defending Gizelle In Response to Monique Samuels
Usually the one starting drama, Gizelle Bryant found herself at the center of everything when the other Potomac housewives began questioning her about her rekindled romance with ex-husband Jamal Bryant and his frequent absence. Karen Huger didn't believe the two were genuinely together and often noted she thought the Atlanta-based pastor "lived in the phone."
However, Bryant managed to ignore their questions until Monique Samuels dropped a bombshell at the reunion. She read text messages aloud between the pastor and a woman he allegedly dated while in a relationship with Bryant in which he claimed he only rekindled things with his ex-wife for a storyline. Jamal responded in an Instagram Live, and many fans are calling him out for not adequately defending the OG housewife.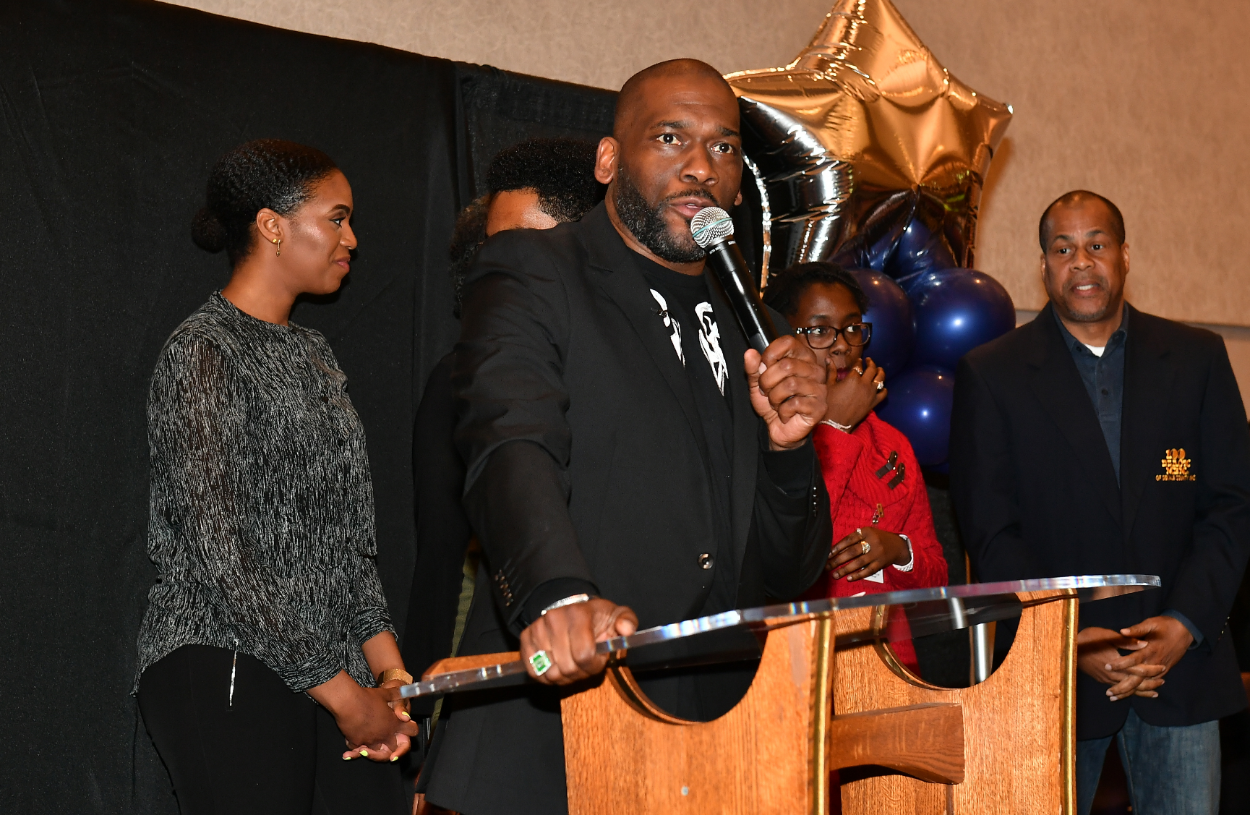 Monique Samuels calls out Gizelle Bryant for faking relationship
During The Real Housewives of Potomac season 4 reunion, Gizelle Bryant revealed she began dating her ex-husband Jamal again, even though she previously claimed she never would.
Throughout the fifth season, the ladies, namely Karen Huger, questioned Gizelle regarding her rekindled love and wondered why he never hung around her.
RELATED: 'RHOP' Reunion Part 1: Fans React To Bombshell Monique Samuels Dropped on Gizelle Bryant Regarding Jamal's Alleged Mistress
After the season wrapped, Monique Samuels arrived at the reunion armed with a receipt-filled binder and read messages between Jamal and a woman he allegedly dated while in the relationship with Gizelle.
In the texts, he reportedly admitted to faking the romance with his ex. While the housewife acknowledged the phone number associated with the Atlanta-based pastor, she refused to speak any further about it.
Jamal Bryant responds to Samuels' claims
Almost a week later, Bryant responded to Samuels in an Instagram Live with a binder of his own. He claimed he regretted participating in the show and promised he would never return.
The Atlanta-based pastor also referred to the series as a "gross misrepresentation of me and my ministry" and briefly acknowledged the "disparaging" comments Gizelle's dad made about him having several children with different women.
RELATED: 'RHOP': Jamal Bryant Says He Will 'Never' Appear on the Show Again: 'It Has Been a Gross Misrepresentation'
Additionally, Bryant admitted to dating the woman in question but claims he dated her while a single man.
The pastor never addressed if he was in a relationship with both ladies at the same time or if he faked rekindling the romance with his ex.
Fans call out Jamal Bryant for not defending Gizelle
After his Instagram Live, fans flocked to social media to share their thoughts on the response. One person noted they thought the Atlanta-based pastor "spent more time" replying than filming with his family.
Another felt like he spoke a lot during the live but still failed to "claim Gizelle." Several fans noted that he chose to respond on social media when he could have joined his rekindled flame and "defended" her in person during the reunion.
RELATED: 'RHOP': Chris Samuels Allegedly 'Verbally Assaulted' Charrisse Jackson Jordan in Safeway Store
Additionally, many viewers believed Bryant lied about the situation and "never addressed" the rumored fake relationship with the OG housewife. Some think the pastor confirmed Samuels' intel by admitting to the messages, making Bryant "look worse."
One fan didn't see a problem with the pastor responding because they felt "Monique took it there" and got him involved by going after Gizelle. The Real Housewives of Potomac airs Sundays at 9/8 Central on Bravo.