'RHOP': Karen Huger Denies Trying To 'Set up' Monique Samuels and Candiace Dillard: 'I Carefully Orchestrated the Event'
Due to Candiace Dillard and Monique Samuels pressing charges against each other as a result of a physical altercation, the other housewives have tried to keep the ladies apart. However, Karen Huger asked both women to come to her wig party early, causing the housewives, and some fans, to believe Huger tried to "set up" the former friends. However, Huger denies the claims.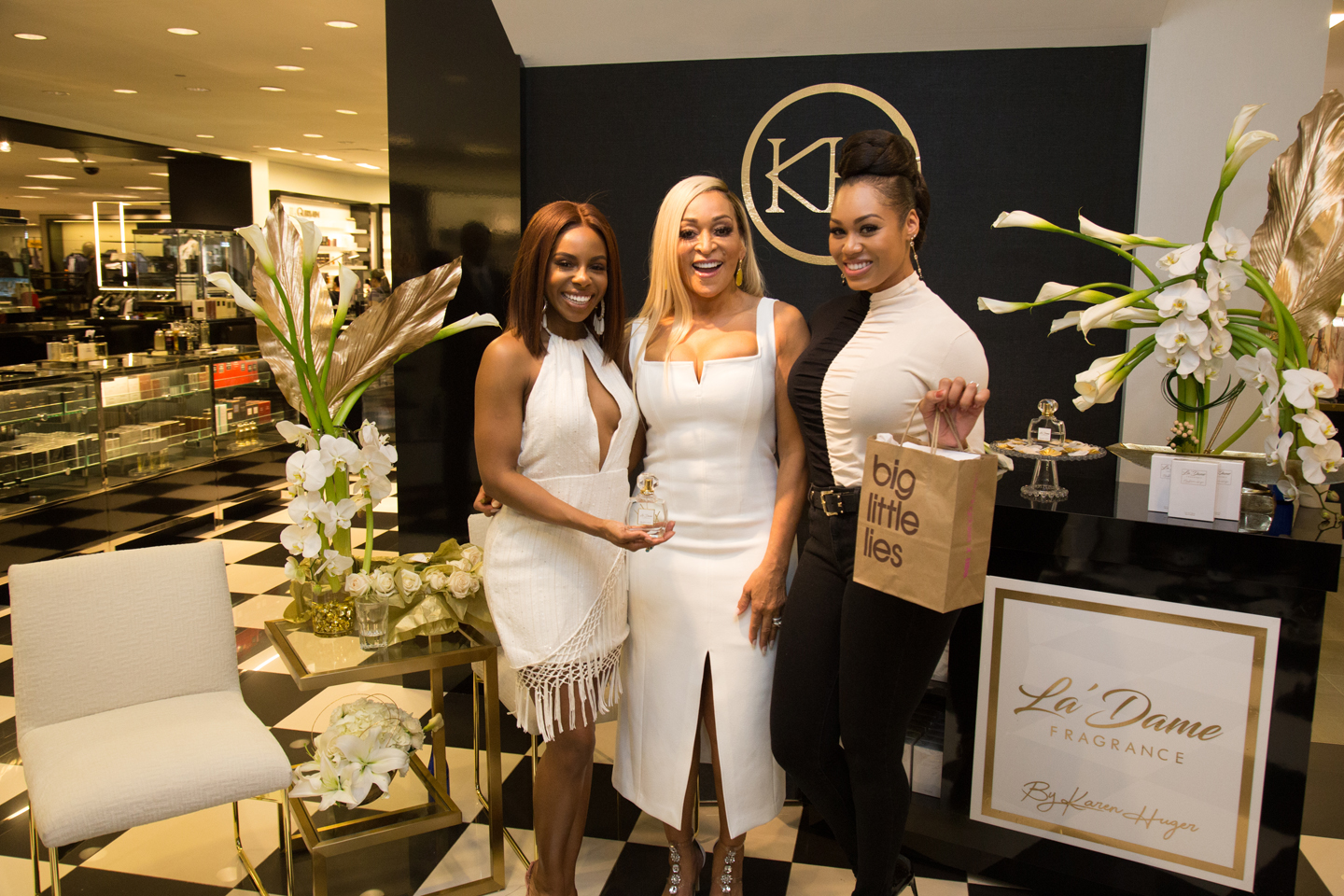 Candiace Dillard and Monique Samuels pressed charges against each other
After failing to repair their friendship following their fallout last season, Candiace Dillard and Monique Samuels got into a physical altercation at a winery.
The ladies got into a heated exchange, and Samuels grabbed Dillard by her hair, pulling her down to the table. She hit the former Miss United States on the back of the head, and Dillard attempted to protect herself by swinging a broken wine glass, which cut Samuels' lip.
RELATED: 'RHOP': Candiace Dillard Accuses Monique Samuels of 'Gaslighting' Her: 'It's What We Expect From Your Kind'
Wanting the Not For Lazy Moms owner to "work on herself," the other housewives refused to hang out with her out of respect for Dillard. Even though Samuels recognized her faults in the situation, she failed to reach out to her former friend.
Believing Samuels had no remorse and needed to be punished for getting violent, Dillard filed a complaint against the podcast host, resulting in a second-degree assault charge. Not wanting to go to jail and believing they both were at fault, Samuels countered, slapping Dillard with the same count.
Karen Huger invited Samuels to her wig party without other ladies knowing
During the Portugal trip, Huger invited the housewives to a party for the newest installation of her business, a wig line. She claimed Samuels would not be there but had the podcast host arrive before anyone else.
After hanging out for about 10 minutes, Dillard told Huger she left for the party. Therefore, the Grand Dame rushed Samuels out shortly before the others arrived. Ashley Darby told the ladies that Samuels dropped by earlier, and they questioned Huger about her intentions.
RELATED: 'RHOP': Karen Huger Left Wig Party Early for Fried Chicken Instead of Planned Dinner Reservations
Feeling embarrassed in front of the other guests, the La'Dame owner quickly left her party for previously made dinner reservations. Following her exit, Dillard revealed Huger asked her to come by earlier to help get everything ready.
Therefore, the housewives felt like the Grand Dame tried to "set up" the former friends by having them cross paths at the party.
Huger denies she tried to 'set up' Dillard and Samuels
During the After Show for episode 18, Robyn Dixon and Darby explained Huger inviting both women to the party early confused them. Additionally, Gizelle Bryant, who didn't attend the party, thought Dillard would have had a "mental breakdown" had she run into Samuels at that moment and accused the Grand Dame of setting it up.
Huger claimed she never said Samuels wouldn't come to the function at all and didn't lie because she had the podcast host drop by earlier to her "pre-opening party."
RELATED: 'RHOP': Karen Huger Blasts Gizelle Bryant's Business: 'You Don't Start a Make-up Line and Have It Disappear'
After the episode aired, Huger insisted in a tweet that she would never "set up" her friends as she's aware of the "situation." The La'Dame owner also claimed she "carefully orchestrated the event" to guarantee the two wouldn't cross paths.
Huger closed by encouraging an RHOP star, likely Bryant or Osefo, who told Dillard that Huger wasn't a friend, to "get a life" and "find something else to pick apart." The Real Housewives of Potomac airs Sunday at 9/8c on Bravo.