'RHOP': Karen Huger Posts Video Seemingly Proving She Missed Robyn Dixon's Engagement Due To Airplane Delay
Several of the Real Housewives of Potomac stars felt Karen Huger tried to dodge Robyn Dixon's Christmas, and eventual engagement, party because she didn't want to answer questions about trying to set up Candiace Dillard and Monique Samuels at her wig party. However, Huger posted a two-minute clip allegedly proving she missed Dixon's party due to airplane "mechanical" issues.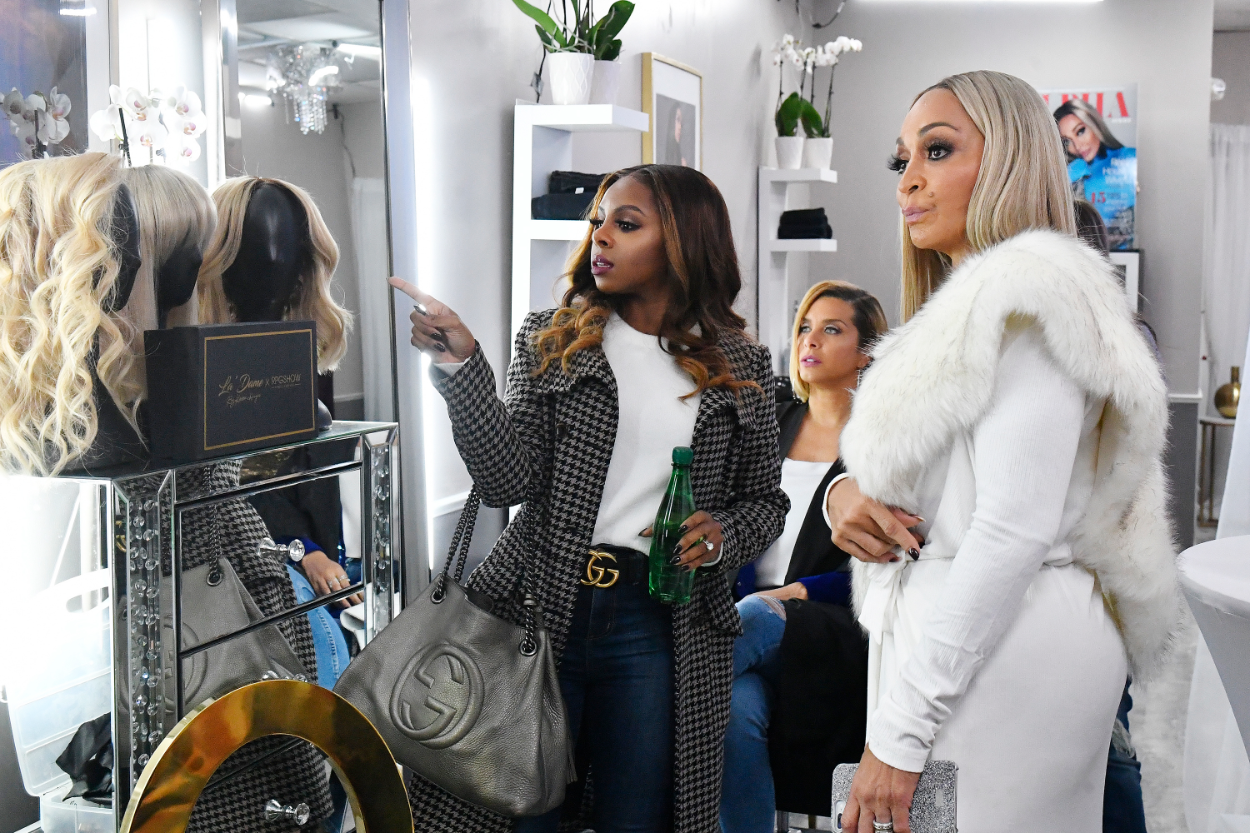 The ladies confronted Karen Huger at her wig party
During the ladies' trip to Portugal, Karen Huger asked the other ladies to attend her wig shift party and claimed she wouldn't invite Monique Samuels. However, the Grand Dame had Samuels stop by earlier.
After the ladies found out, they questioned Huger, but she left her party earlier to avoid the confrontation in front of other guests. They continued the conversation outside, where Candiace Dillard revealed the La'Dame owner asked her to come by earlier as well.
Therefore, the group wondered if Huger intentionally set it up so the former friends, who had pending assault charges against each other at the time, would cross paths.
Dixon thought Huger tried to dodge her Christmas party to avoid confrontation
A few weeks later, Dixon threw a Christmas party that later turned into a surprise engagement party. Huger texted her friend at the beginning of the event and told her she would be late due to "mechanical" issues at the airport when flying back from a Florida-based business event.
However, the ladies, namely Dixon, thought Huger lied about the delay because she wanted to avoid answering for the Dillard and Samuels situation.
Huger arrived at the party shortly following the engagement, and the ladies almost immediately began questioning her. The La'Dame owner tried to clarify the airplane issues and insisted she never intentionally set Dillard and Samuels up to cross paths.
On the other hand, Dillard believes it's a coincidence they avoided each other because she was late and didn't arrive at the originally scheduled time.
Huger posted a video seemingly proving airplane delays caused her to miss the engagement
Gizelle Bryant and Dixon thought Huger lied about the airplane issues. Therefore, the La'Dame owner posted a 2 minute and 30 second Instagram TV video titled "receipts are everything," detailing her airplane woes following the season 5 finale.
The RHOP star explained she and a PR team member were currently stuck in Tampa, Florida. The two claimed their plane was on-and-off the hangar, similar to what Huger said in the episode finale, and that they had waited over two hours for another flight.
The La'Dame team also showed their tickets and explained they were flying to Charlotte, North Carolina next and didn't have assigned seats. Huger also noted she needed to get home because she had "parties to attend."
In the next clip, she showed the two made it to Charlotte, and she filmed their journey over to another gate, presumably headed home.
The RHOP star called out Dixon in her caption and claimed she still supported her even though the trip home was a "whirlwind."
A fan asked if Huger intentionally made the video as a receipt and the La'Dame owner answered, "I know what I'm working with," and the eyeballs emoji. The Real Housewives of Potomac airs Sundays at 9/8 Central on Bravo.