'RHOP' Karen Huger Potentially Leaving the Show After Five Seasons; Fans React
In a cryptic tweet, original Real Housewives of Potomac cast member Karen Huger implied she might leave the series after five seasons. Fans react to the Grand Dame's possible departure.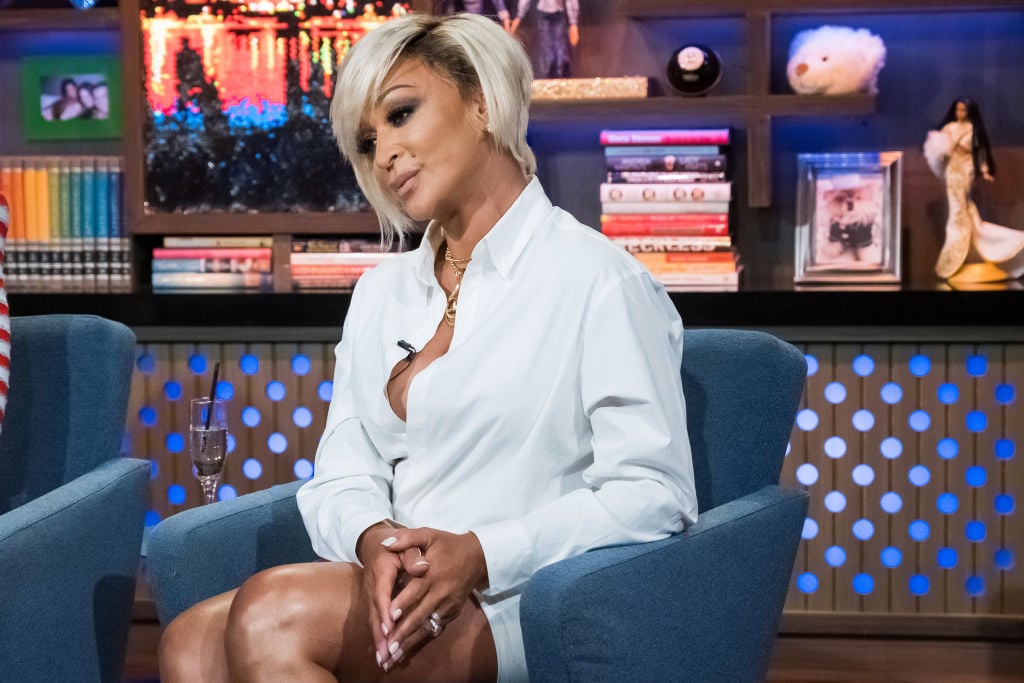 Karen Huger is an original 'RHOP' housewife
In 2016, Karen "Grand Dame" Huger debuted on The Real Housewives of Potomac alongside Ashley Darby, Robyn Dixon, and Gizelle Bryant. Originally from Virginia, the mother-of-two lives in the Potomac area with her husband of over 20 years, Ray, or as she calls him, the Black Bill Gates.
She also recently launched a fragrance line, La Dame, after their youngest child, Rayvin, went away to college. The show focuses on Huger's business life, marriage, and relationships with the other women.
Fans react to Karen Huger's possible exit
On February 23, 2020, the Grand Dame left a cryptic message on Twitter: "Timing is everything, wouldn't you think five years is enough" and hashtagged RHOP.
Because the women recently ended filming for the fifth season of the reality show, many fans speculated her tweet meant she would no longer participate in the series.
Some claimed they would be "devastated" if the Grand Dame and her "one-liners" left, with others not convinced Huger is leaving at all. One Reddiit user pointed out the tweet was "intentionally vague," and "would outright say it at a press conference" if she was indeed departing from the series.
Some fans asserted that Huger would not walk away "from a Bravo paycheck." Several think the tweet did not imply her upcoming departure, but "could refer to having finally taken Gizelle down, buying a new sofa, or any number of things."
Another user hopes Huger is "planning on spilling some major Darby dirt" or it's her "clearly urging Robyn (boring) to leave the show." One Real Housewives fan claimed the tweet could signify she's trying to renegotiate her contract.
"Remember a month or so ago when it came out that Bravo was changing how they paid the housewives? They are now getting paid by episode instead of the whole season. I think we're going to be seeing a lot more of this where cast members start getting upset when they're not getting the same pay. Especially OGs like Karen."
Why Karen Huger might want to leave
Even though no one knows exactly what Huger's tweet means, if she does want to leave, it could be tied to the pay or the drama that went down on the upcoming fifth season.
While filming at a winery in October 2019, ex-best friends Candiace Dillard and Monique Samuels got into a physical altercation. Allegedly, Dillard threw a drink, and the glass, in Samuels' face, causing the mother-of-three to grab her hair and slam her to the table.
Police arrived and didn't arrest anyone, but Dillard filed a complaint with the court, which resulted in a second-degree assault charge against Samuels.
She countered, claiming self-defense, and the ladies went to court. However, a judge dropped both charges after reviewing the footage and conducting interviews.
Due to the ongoing investigation, Samuels and Dillard could not film with each other, and the former Miss USA began forcing the other women to pick a side. Robyn Dixon and Gizelle Bryant sided with Dillard and refused to film with Samuels, whereas Huger and Ashley Darby seemingly chose Samuels' side and continued filming with her.
If the Grand Dame doesn't want to keep feeling like she's in the middle or disapproved of the physical fight, then she might not want to return for another season. Real Housewives of Potomac returns in Spring 2020.