'RHOP': Karen Huger Shares How Her Children Feel About Watching Her Marital Troubles on the Show
Karen Huger and Ray Huger's marital trouble will play out during this season of 'RHOP'. Karen says she and Ray's children are supportive during the couple's hard times.
There's no shortage of divorces that play out on Bravo's 'Housewives' franchise. But if you ask Karen Huger of RHOP, a divorce is not something she foresees in the future with her and her husband, Ray Huger. Despite the couple's marital trouble playing out this season, Huger says the two are good. Moreso, she has the support of their adult children to get her through any difficult time.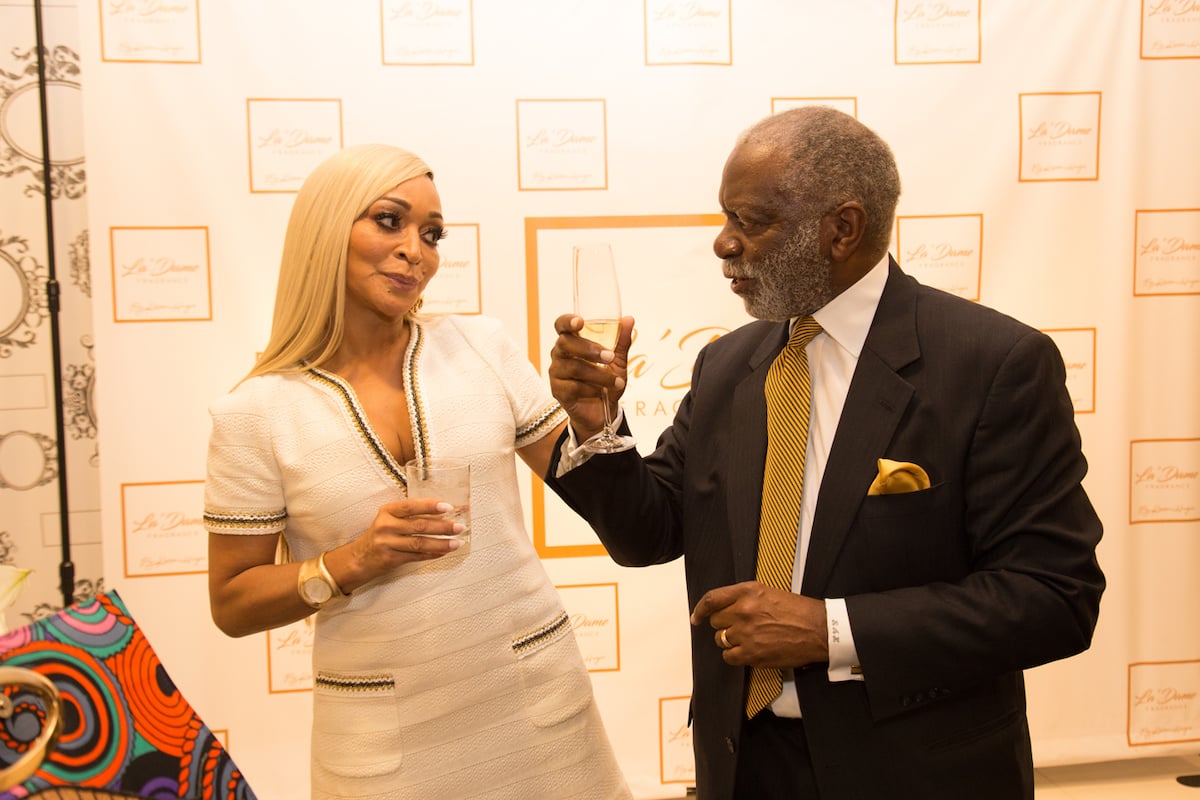 Ray and Karen Huger's marriage on 'RHOP'
Karen refers to her marriage with Ray as an "institution." Since season one, the self-proclaimed Grand Dame of Potomac has made it known that she and Ray are in the prime of their marriage.
In season one of the show, Karen's excitement about the couple becoming empty nesters as they prepared to send their youngest daughter away to college was clear.
Karen looked forward to spending quality time with Ray and relearning him at the next stage of their marriage. Unfortunately, personal issues would take precedence over rekindling their spark.
Season 3 of the show documented Ray's tax issues and the Hugers subsequent move from Potomac to Virginia. Sadly, Karen lost both of her parents to dementia within an eight-month time span, which sent her into a mini emotional breakdown. But, Ray was by Karen's side throughout the loss, something Karen says she's most grateful for.
This season, the Karen is opening up more about her and Ray's disconnect. In one episode, Ray refuses to tell Karen he loves her, despite her asking him to do so. He appears disinterested and dismissive of her feelings. 
Karen insists that she and Ray's issues are due to their 17-year age difference, as well as Ray's desire to move to Florida for retirement. Karen however, prefers to stay in the Maryland area.
Season 5 also chronicles their move back to Potomac. She also says Ray takes issue with her busy schedule.
Karen Huger says her children are supportive of her and Ray
Karen and Ray are celebrating 23 years of marriage but as she's shown on the show, they are currently not in the happiest state. In a preview for an upcoming episode, Karen blurts out that she wishes she had divorced Ray when she had the chance, much to the surprise of her co-stars. She's also previously mentioned that divorce was once an option.
In a new interview with Bravo's The Daily Dish, Karen says her adult children have been her rock throughout her marital issues with Ray. Still, she says they gave her and Ray their blessing to split if it makes them happy.
"They were so cool with us, and they said, 'Look, you guys have been great parents, but what we don't want is you to stay together because of us," Karen says. "They were like, rooting for us, but they were like, 'Look! I want you to be happy!' That's when you raise your children right. And they love you and they respect you enough to say, 'Look, don't do it for me. Do it for you all. You guys deserve the best.'" 
Karen says her children were already grown and out of the home before she and Ray "hit an impasse." Regardless, she finds it fascinating to get advice from her children.
I'm so lucky to have them as kids. They are so freaking cool. Ray and I were looking at each other like, 'We're having a serious conversation with you,' and they simply just went back to the foundation we gave them as children. And to operate from a place of love and not selfishness when they had to look at their mom and dad struggling for a moment.

Karen Huger, The Daily Dish
RHOP airs every Sunday on Bravo at 9 pm EST.