'RHOP': Mia Thornton Confirms She Was Once a Stripper
Mia Thornton may be new to The Real Housewives of Potomac but she doesn't back down from spicy moments with her co-stars. In addition to her beef with Wendy Osefo, Thornton is making headlines for revealing she met her husband working as a bartender at the strip club. Her co-star's believed she also danced at the club and in a preview for the upcoming episode, Thornton confirms such.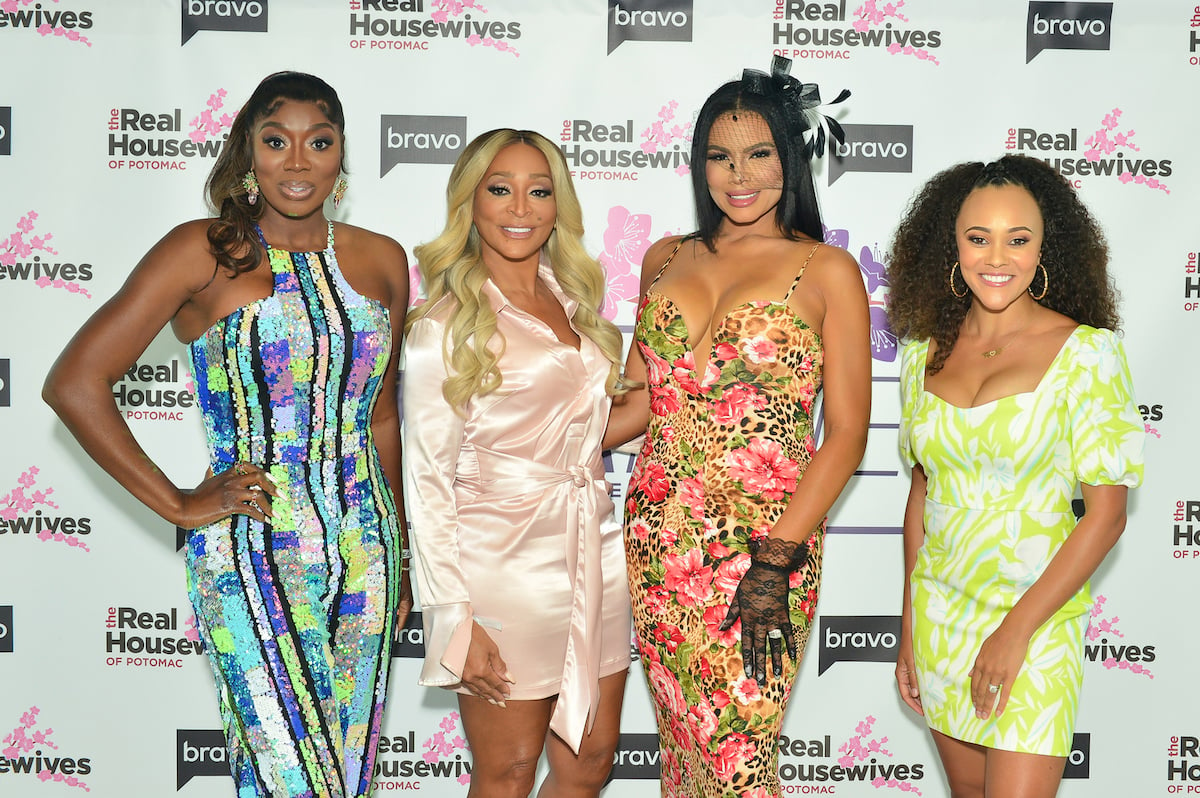 Mia Thornton met her husband while working at a strip club
During episode two, the cast attended an event hosted by the Huger's and played a game to determine who knows their spouse the best. The Thornton's revealed they met at a strip club where Mia was working. She admits that she worked as a bartender there but her co-stars weren't convinced that was her only role, hinting they believed she was also a stripper.
"The reason why we became friends is because we partnered and served on the same board for a non-profit organization to raise money for Haiti," she told E! News. "We were raising money for the cause. One of the ladies, one of the original founders of the organization, she worked there—not as an entertainer, but in the admin office and so she did use the facility in order to raise money. They serve steak dinners and then the proceeds went to the organization."
But Wendy Osefo isn't buying it, tweeting on July 18, "First you don't know your age, then within 24hours you go from her having a "good heart" to "just a pretty face", then you say you're a bartender when we all know you're a stripper. So many lies… but go off sis."
The 'RHOP' newbie admits she began stripping at the gentleman's club
In a preview for the upcoming episode, Mia delves more into her life at the strip club. While waiting for spa services with the cast, she elaborates more on how she caught Gordan's eye.
"Someone called him and said, 'Hey, we've got a new girl working here, she's serving some really good drinks,'" she tells her co-stars. "I shortly after serving drinks, yes, I did become a stripper and that's when I met him," she continued, to the surprise of her castmates.
But Mia insists she never swung across any stripper pole, telling Huger, "Well honey I don't do a pole – it's a Gentleman's Club, so it's a 5-star restaurant and they don't have a pole because they don't want the stigma and the girls wear long gowns," she continued. "Most of the time, my clients didn't want me to take my clothes off, they just really wanted to pay me for my time."
Ashley Darby and Candiace Dillard are also calling BS on Mia's story, believing she definitely was a little more risque than she wants to admit.
Mia Thronton now owns multiple businesses
Regardless of her stripper past, Thronton is quite the accomplished businesswoman today. The Maryland resident, alongside her husband, is the founder of a beauty company called Amilleon London. She's also a marketing guru who is the regional developer and multi-clinic franchise owner for the chiropractic company, The Joint Chiropractic. 
Aside from her resume, she is extremely charitable. She serves on the boards of several non-profit organizations, including The Ronald McDonald House of Charlotte, North Carolina – and she's a sponsor of A Better World, United Negro College Fund, Autism Speaks, and a Child's Place.
RHOP airs every Sunday on Bravo.