'RHOP': Monique Samuels and Candiace Dillard Both Have Regrets Regarding Their Physical Altercation
Monique Samuels and Candiace Dillard of 'RHOP' say the other is to blame for their fight. But, Dillard and Samuels agree that they could have walked away before things escalated.
RHOP stars Monique Samuels and Candiace Dillard are giving their sides of their physical altercation. Both women say the other is more at fault, with Samuels accusing Dillard of provoking her. Dillard believes Samuels' intention was to fight with her all season. One thing both women agree on is that they wish things never became physical.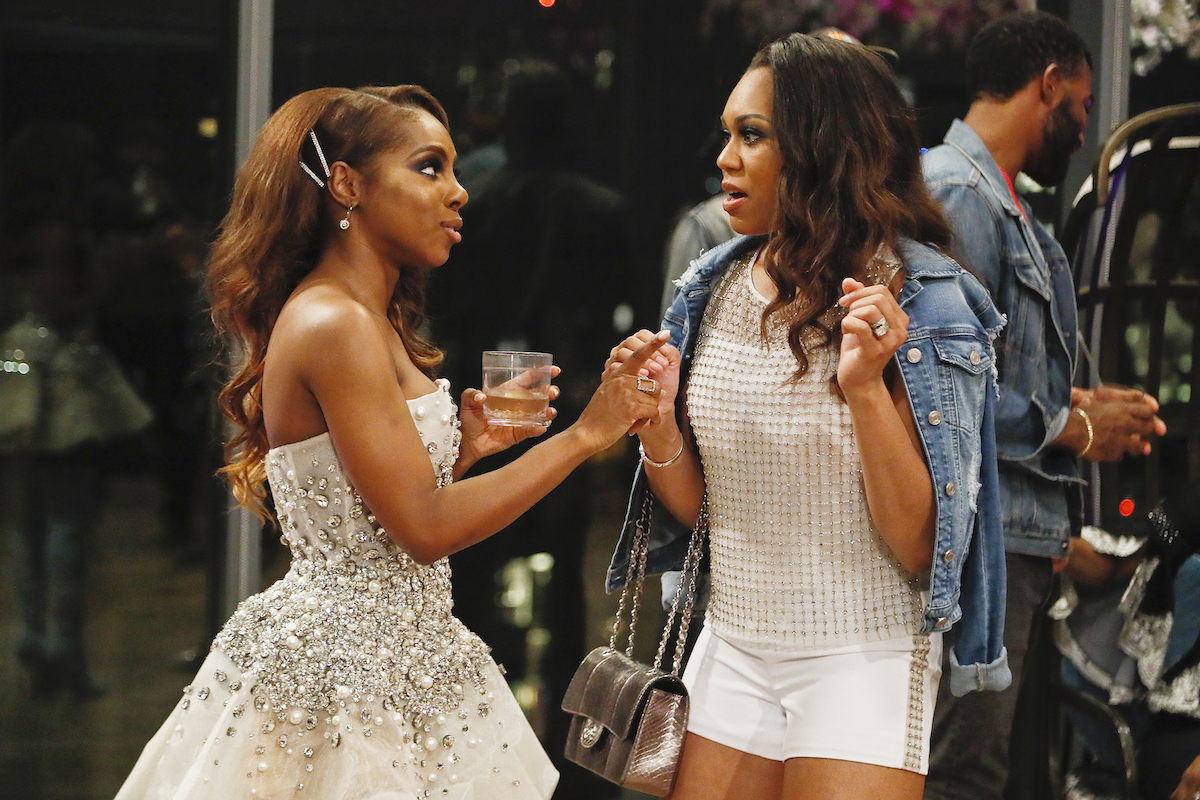 A recap of Monique Samuels and Candiace Dillard's fight
The tension between Samuels and Dillard began during season 4. Samuels became upset with Dillard over Dillard's criticism regarding Ashley Darby's desire to start a family. Samuels found Dillard's remarks insensitive. 
The two made up at the reunion and through tearful apologies decided to move forward in peace. But throughout season 5, Samuels' frustration with Dillard grew and Dillard says she's unaware as to why.
Samuels accuses Dillard of joining forces with her enemies in an attempt to take her down, which Dillard denies. While celebrating Gizelle Bryant's literary award at a local winery, the women came to blows, leaving Dillard's wig discombobulated from Samuels' attack.
Previews for future episodes show co-stars split on who is to blame for the fight while Dillard and Samuels personally try and sort through how things ended so badly.
Both Candiace Dillard and Monique Samuels say they wish they walked away before fighting
Dillard and Samuels have vastly different recollections of what caused their verbal spat to escalate into a physical altercation. Both also place the blame on one another. 
In separate interviews with Bravo's The Daily Dish podcast, the former friends find it hard to take full responsibility for their roles in the fight. Viewers have watched Dillard walk away from multiple arguments with Samuels throughout the season, which Dillard says is an indication that regardless of her trying to make peace, Samuels was looking for a confrontation. 
Samuels denies such. She claims things just got out of hand and hints that she was defending herself against Dillard. 
"One action led to the next. I was in no way, shape, or form anticipating that in that moment this is gonna turn physical," Samuels says. "I just want the fans to know that this wasn't something that was premeditated; this was something that was based off of energy being returned. And it just turned into something just very ugly."
Both women do share the common wish that instead of feeding into the argument, they would have walked away as a means of de-escalation. 
"I just wish that none of it ever happened," says Samuels. "I wish that when I felt triggered I was aware enough of myself to just walk away."
Dillard agrees, telling the hosts, "I really didn't want it to become an argument," she says. "And I wish still to this day that I had not engaged her as I had really done in every previous instance where she was trying to start an argument. And I wish I had just walked away."
Both women are looking to clear the air at the season 5 reunion special. RHOP airs on Bravo at 9 pm EST every Sunday.