'RHOP': Monique Samuels Says Bindertime Stories Is a 'Summation' of Her Time on the Show
Shortly after shocking many viewers and RHOP stars with her infamous binder, Monique Samuels revealed she would share the "tea" she had accumulated. Wanting to release the receipts creatively, the podcast host announced a three-part Bindertime Stories series. In an exclusive screening of the first episode, Samuels called the fantasy-inspired riddles a "summation" of her time on RHOP.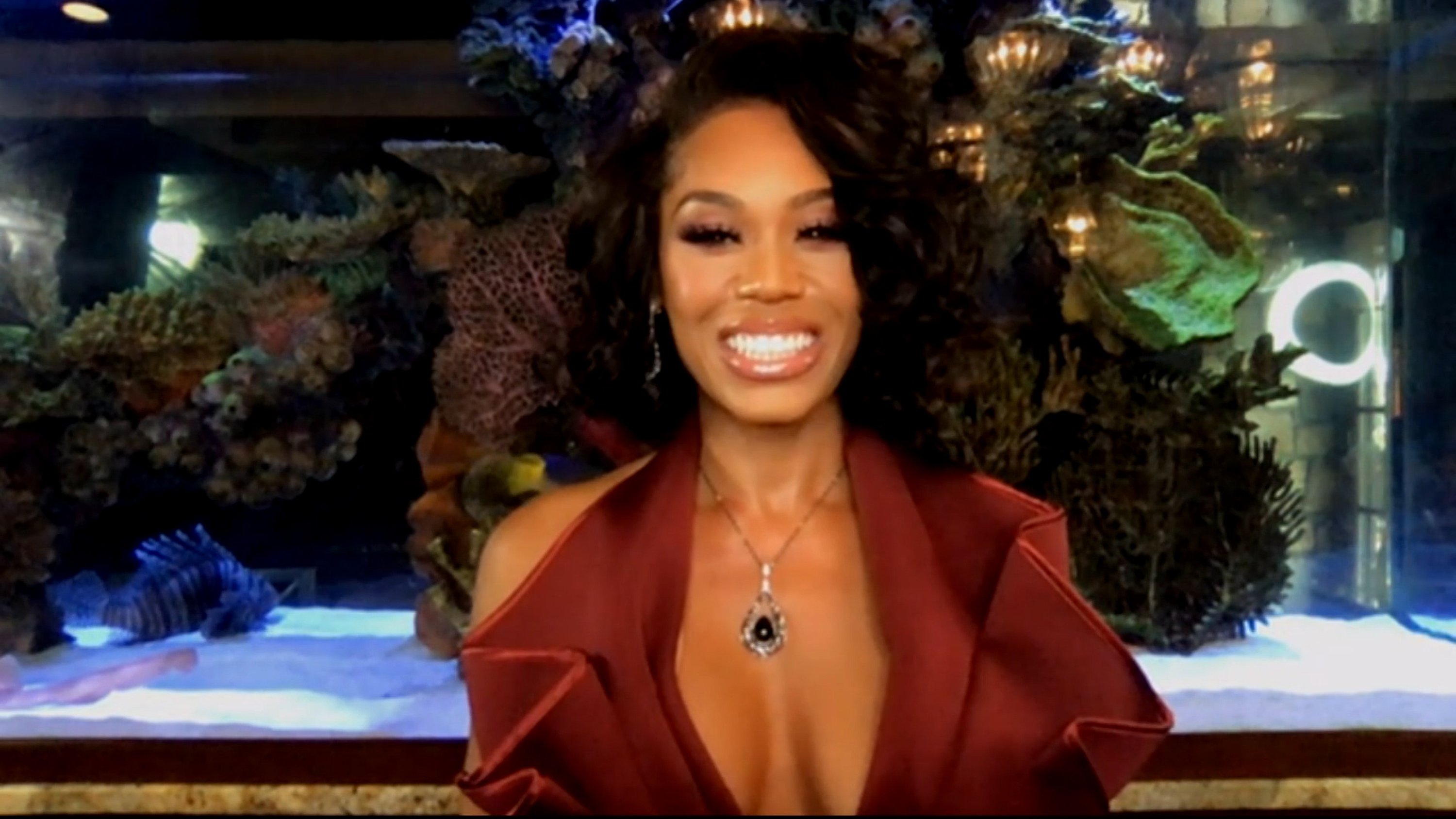 Monique Samuels not returning for 'RHOP' season 6
Following Monique Samuels' physical altercation with Candiace Dillard, the other housewives refused to film with the Not For Lazy Moms owner until she sought help.
Additionally, she accused castmate Gizelle Bryant and former housewife and friend Charrisse Jackson Jordan of plotting to spread a rumor that her trainer fathered her youngest son.
RELATED: 'RHOP': Monique Samuels Thinks Bravo Gaslighted Her by Not Showing Candiace Dillard Admitting To 'Plot'
Therefore, Samuels showed up to the reunion, armed with a binder filled with "receipts," to put her co-stars on blast. The podcast host also wanted to clear the paternity rumors but felt she and her husband didn't have a chance because others wanted to talk about an insensitive comment he made.
In an interview with All About the Tea, Samuels explained host Andy Cohen, and her co-stars, seemingly denied the "plot" involving the trainer and didn't show the Instagram Live of Dillard admitting to the situation. Because the Not For Lazy Moms owner believed she took accountability for her actions, but the others didn't have to, Samuels said she chose to quit the show.
Samuels teased 'Bindertime Stories' series
During the reunion, the podcast host opened her binder and exposed Bryant's alleged fake reconciliation with her ex-husband, Pastor Jamal Bryant.
She read text messages from his reported mistress, where he seemingly admitted to faking the relationship for television. Even though the original castmate confirmed the number belonged to Bryant, she denied Samuels' claims.
RELATED: 'RHOP': Monique Samuels Teases Release of Infamous Reunion Binder Receipts
Following the reunion, many viewers, including Cohen, wanted to see what else the binder contained. The executive producer also noted he wanted to induct it into the Housewives Museum
Instead, the 37-year-old turned it into a three-part series, Bindertime Stories, where she promises to drop more "tea" from her book. In each episode, the former housewife sits around a bonfire and shares a riddle for the audience to "crack the code" and figure out which cast member the rhymes are calling out.
Former 'RHOP' star calls series a 'summation' of her time on the show
In a Mar. 29 exclusive showing of the first part, Samuels compared her series to a Disney fairytale meeting Game of Thrones. She also called it a "summation" of her time on the reality series as she wanted to get everything "off my chest."
Additionally, Samuels noted she ended it after three parts because she's truly over the situation. When it comes to the bonfire theme, the podcast host explained she's referring to the infamous firepit argument she had with Dillard shortly before they came to blows at the winery.
RELATED: 'RHOP': Monique Samuels Brought Binder Full of Receipts To Season 5 Reunion
While her Bindertime Stories are "fictional," they are, including the characters, inspired by her RHOP castmates. Samuels might not name the person she's referring to but believes they will tell on themselves.
Will the former housewife's Bindertime Stories be a talking point during season 6? The first part drops on Mar. 31 on her Patreon account, two weeks before releasing it on her YouTube channel, Tea with Monique, on Apr. 14.