'RHOP': Monique Samuels Drags Gizelle Bryant, Calls Her 'Illiterate' and Fans React
Monique Samuels from The Real Housewives of Potomac is not here for the shade from her co-stars. After Gizelle Bryant said that her latest single was about violence, Samuels checked her publicly on Twitter. The Bravo star called Bryant out and her fans loved it.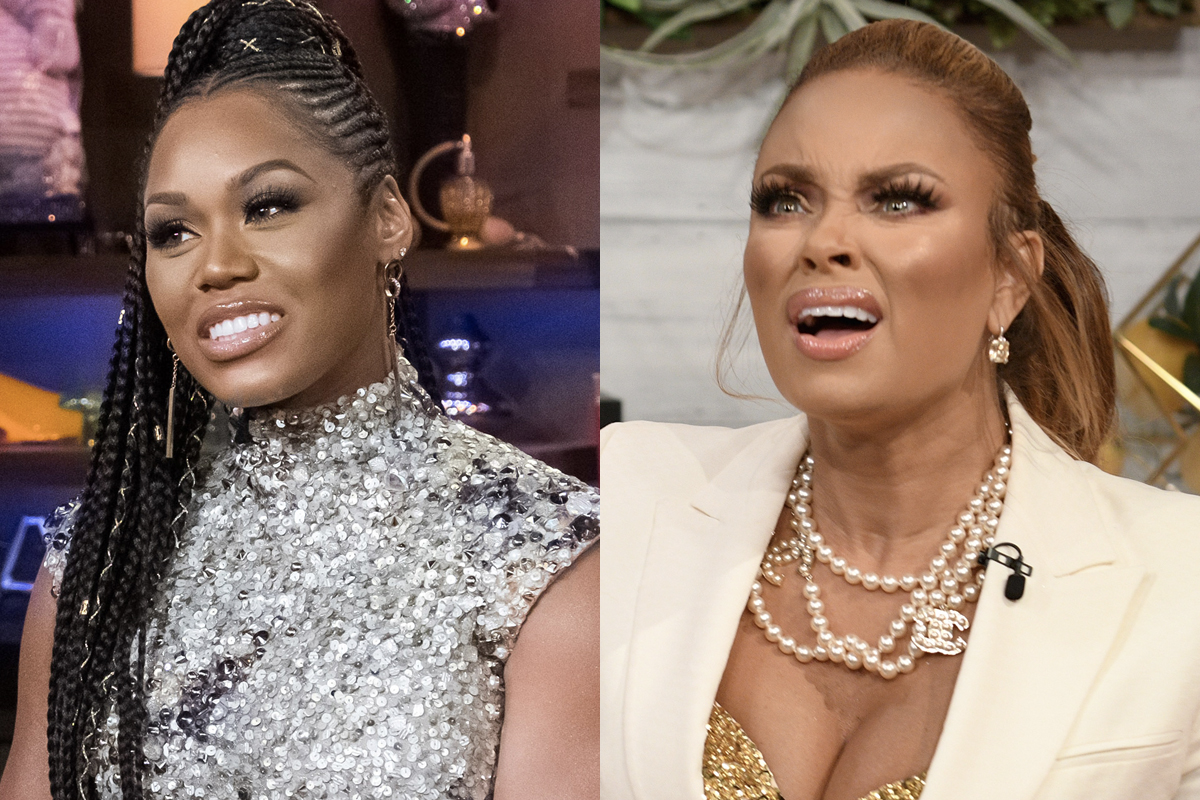 What did Gizelle Bryant say?
Samuels just dropped her new single called "Drag Queens" but Bryant is not too happy with the message she song has. According to the latter, the rap hit is about violence. When Bryant made an appearance on Watch What Happens Live, she explained why she's not supporting Samuels's song.
"I was actually very disappointed because she's rapping about glorifying violence," Bryant said. "At this point where we are with this country, there is no room for that. I was very disappointed and embarrassed for her."
How did Monique Samuels reply to Gizelle Bryant?
Samuels tuned into the Bravo late-night show that aired after the RHOP Season 5 premiere. After hearing what Bryant said about "Drag Queens," she herself proceeded to drag her and explained the meaning of her song.
"For those who can ACTUALLY READ… check out my lyric video which is an anthem for standing up for yourself," Samuels tweeted. "Those who are illiterate will think it's about promoting violence."
Fans react to the drama
Things heated up with Samuels coming for Bryant after he shady take on "Drag Queens." It wasn't long before RHOP fans joined in on the conversation to give their take on the nascent feud.
"I had to listen to it again," a fan noted. "[Bryant] is reaching and will say anything to make you look bad. Jealousy is not a good look on her. She has been [envious] of you from day one."
"Say that again!" a viewer exclaimed. "I was like girl, really? You reaching."
"They are looking so jealous, don't even let it bother you. Your family is too beautiful," a Twitter user added.
"It doesn't matter what you do, Gizelle will always find something negative about you," another fan commented.
"Obviously, Gizelle has never heard the song. Thanks for the single Monique, it is on my wake up playlist," another viewer tweeted.
"Clearly this song isn't promoting violence," another Twitter user said. "To be concise it's staying the fierceness of the ["Drag Queens"] living comfortably in their own skin. Gizelle, that was a reach."
Gizelle Bryant reacts to the big fight
If Bryant was extra-shady to Samuels, that's because she has already taken a side. One of the big storylines being promoted this season is a violent encounter between Samuels and Candiace Dillard. Bryant has sided with the latter and recently elaborated on the big fight.
"What happened was nothing we ever thought we would see on this show or on this platform," Bryant said in an interview with Entertainment Tonight.
"So, the kind of the beauty of what happened — if there's something beautiful about it — is it allowed us to have deep conversations and true conversations about how we feel we're portraying ourselves to the world and what we're OK with and what we're not OK with."
The Real Housewives of Potomac airs Sunday nights at 9 p.m. ET on Bravo.