'RHOP': Monique Samuels Drops Gizelle Bryant Bombshell, Says She's Behind Vicious Rumor
Monique Samuels from The Real Housewives of Potomac is in the middle of controversy once again. No, her parrot did not escape again but someone was plotting against her. The Bravo star went on Instagram Live to reveal that Gizelle Bryant is the one behind a vicious rumor that brings into question the paternity of her youngest son.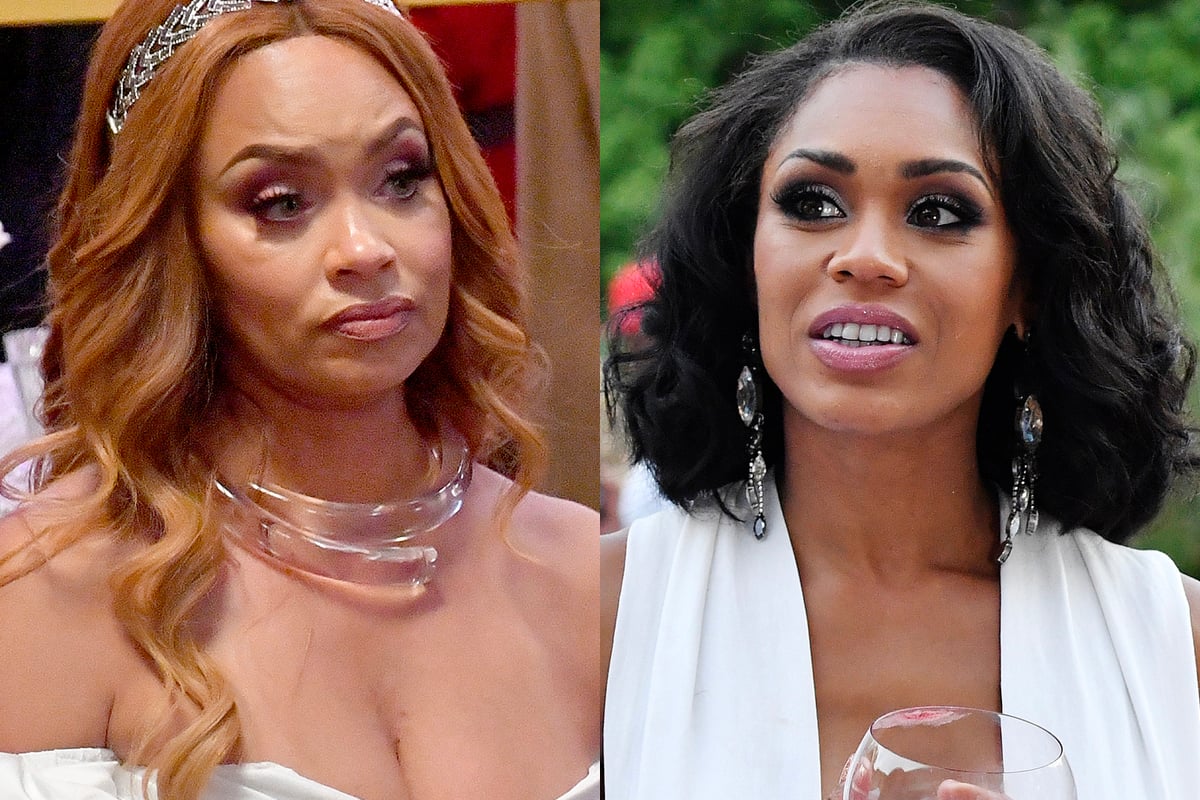 What is this rumor about?
On the new season of RHOP, Samuels confirms she is estranged from Charrisse Jordan after meeting on the show and forging a strong friendship. The entrepreneur blames Jordan for helping a vicious rumor get around perpetuated by another former friend.
"Charrisse has been facilitating nasty rumors about me and my family. Why would I wanna be around that?" Samuels said during her RHOP confessional.
Although Samuels did not want to talk about what the rumor was about, Bryant said that it had to do with an alleged affair the former had with her personal trainer.
Jordan clapped back on Twitter saying, "I am so happy that [Monique Samuels] is no longer crying about her bird running away and has gone on Live to talk about me. You'll fool some but the truth always prevails."
Monique Samuels blames Gizelle Bryant
This week, Samuels took to Instagram Live to clear things up for fans as everything was getting messy. During the broadcast, she revealed that there was an alleged meeting with some of the RHOP stars to try to take down Samuels. Karen Huger told the latter that Bryant was planning on revealing that her youngest son was not her husband's.
"Gizelle is planning to go to [the] reunion to tell people Chase isn't Chris's and that you were cheating on him and that's not his baby," Samuels said that Huger revealed.
"How disgusting is it? You can say whatever you want about me, but to talk about my child?" Samuels added. "If someone were to talk about anyone of Gizelle's daughters or even the illegitimates from her ex, she would go berserk. To bring up my child's name, when you know the mess ain't true, how low and disgusting is that."
Was Ashley Darby involved?
Samuels was told by Huger that Robyn Dixon was also at the meeting, but she doesn't know how involved she was in this plan to spread the vicious rumor. Many fans called out Ashley Darby, but Samuels defended her saying she has been a friend throughout this ordeal.
"Ashley, once we made up, told me about everything that was going on," Samuels explained. "She wasn't at the dinner and she did not want to play any part in what was going on. Every time that a camera was in her face and she was expected to start speaking on these nasty rumors, Ashley and Michael shut the crap down."
Samuels assured fans that the Darby's said they would not talk about her family matters on camera and shut down the conversation.
"Every time she shut it down she then called me and gave me a heads up as to what was going on," Samuels continued. "Ashley has been more of a friend to me than Candiace on a rainy day."
The Real Housewives of Potomac airs Sunday nights at 9 p.m. ET on Bravo.