RHOP': Monique Samuels Gets Emotional Over Fallout With Candiace Dillard
Things may never be the same between Monique Samuels and Candiace Dillard following their physical altercation. The former friends both admit that they are not certain that they can repair their friendship following a rollercoaster season of RHOP. Samuels is saddened that their friendship came to such a sad end.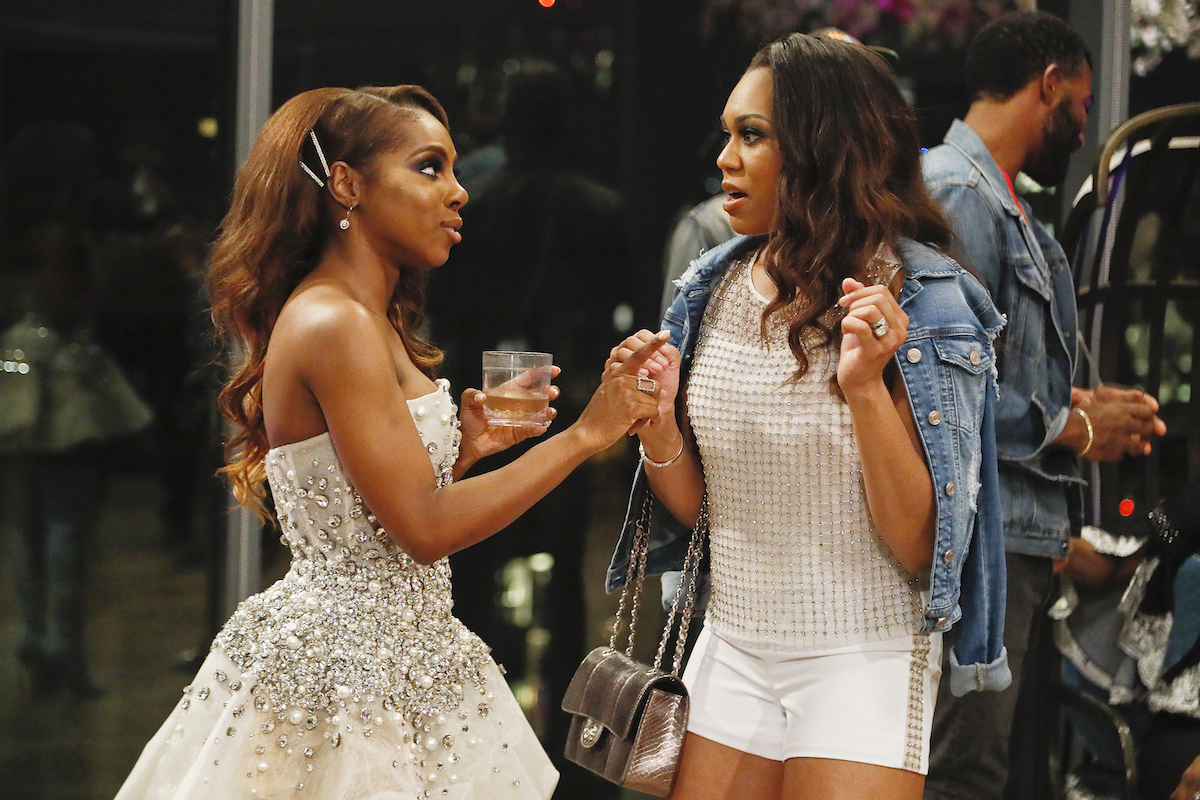 Monique Samuels cries over her fallout with Candiace Dillard and explains why she believes they became friends
Samuels and Dillard's fight sent both of the ladies on an emotional journey to discover how they went from fast friends to enemies. Both women sought therapy for the trauma they say they experienced prior to and after the altercation.
During Samuels' therapy sessions, she says she learned that being "betrayed" by Dillard reminded her of an unhappy and friend-less childhood.
According to Samuels, she had a hard time fitting in with neighborhood kids and classmates because of her upbringing. She explained being an outsider with Black children because she was perceived as "trying to act white" – as well as having a similar experience with white classmates whom she says were racist.
Related: 'RHOP:' Gizelle Bryant Says Candiace Dillard Was 'Absolutely Not Wrong' in Her Fight With Monique Samuels
Samuels says that she learned early on in her friendship with Dillard that Dillard had the same childhood trauma.
"I think that I attract people who are damaged because I'm always wanting to rescue somebody who I see may be the outcast," Samuels said through tears during the RHOP After Show.
"Which is why when I asked Candiace [during a cast trip] in Newberg, 'What was it like growing up in school for you?' When she said she was the only brown girl, I immediately realized why our friendship was how it is, I immediately realized what attracted me to her because we are two people who are hurting and all we did was keep hurting each other."
Monique Samuels and Candiace Dillard are not hopeful their friendship will be saved
After a long season detailing their fallout and the first part of the reunion airing, the future of Samuels and Dillard's friendship is uncertain. Karen Huger believes the once close friends could have handled their differences without the interferences of their co-stars, namely Gizelle Bryant and Robyn Dixon.
Unfortunately, because things became physical, both Samuels and Dillard are not optimistic that things can be resolved.
Dillard previously was adamant that she'd not return to the show for another season if Samuels were to return. She told E! News' Just The Sip during an October interview, "I don't see a world where the two of us can exist."
The season 5 reunion marked the first time Samuels and Dillard saw each other for the first time since their fight and Dillard was not excited about it.
Related: 'RHOP': Monique Samuels Reveals Why She Doesn't See Herself Reconciling With Candiace Dillard
"I think this is the first year I'm not looking forward to the reunion," Dillard said in the same interview. "I'm just like, can we just get to it and through it and then take me to the bar?"
Samuels was caught during the reunion speaking with Ashley Darby about whether or not reconciliation between her and Dillard is possible.
"No, it's too much that happened. I can't take people who sit back and act as if they have never done anything shady," Samuels said. "[I don't like] the fakery or the acting. Her and Gizelle trying to do little sheisty stuff beyond my back [is not OK].
Part two of the RHOP reunion airs Sunday, Dec. 20 at 8 pm EST.