'RHOP': Monique Samuels on the Moment She Realized the Group 'Iced' Her Out
The Real Housewives of Potomac cast found themselves split between Monique Samuels and Candiace Dillard after the former friends came to blows. A few weeks after the fight, Samuels invited the other housewives to her live podcast, but only Ashley Darby attended. In the Bravo After Show, Samuels revealed their rejection "caught" her "off guard" and admitted she didn't recognize that as the moment when they began "icing" her out of the group.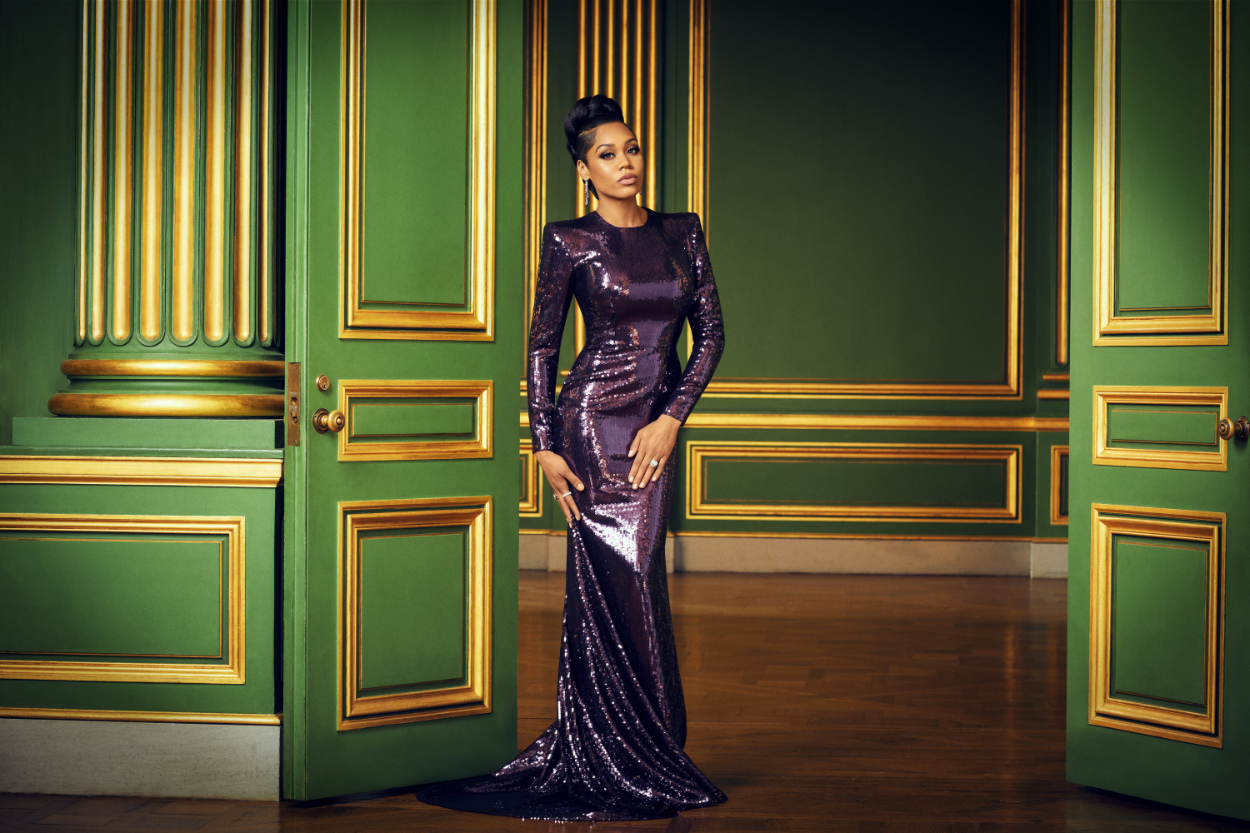 Monique Samuels and Candiace Dillard got into a physical altercation
Last year, formerly close friends Monique Samuels and Candiace Dillard had a falling out but wanted to repair the friendship. However, things went south soon after when Dillard invited ex-housewife Charrisse Jackson Jordan to her anniversary party.
Samuels felt slighted by her presence because the former star became involved in spreading rumors about Samuels' family, and she thought Dillard should have given her a heads-up.
Even though the former Miss United States apologized, the ladies eventually came to blows. During a heated argument at a winery, Dillard put her hands in Samuels' face, upsetting the mother-of-three who grabbed her ex-friend by her hair.
She then pulled Dillard down to the table and hit her several times on the back of the head. The 33-year-old attempted to fight back by swinging a wine glass before production members separated the ladies.
The fight split the 'RHOP' group
Almost a week after the altercation, Samuels met with the other housewives at Karen Huger's house to apologize for putting them in "harm's way." While Huger and Ashley Darby supported the Not For Lazy Moms owner, Robyn Dixon, Wendy Osefo, and Gizelle Bryant, who arrived with personal security, weren't as forgiving.
They wanted Samuels to accept more responsibility for the fight and thought Huger didn't hold her friend accountable for her actions. The division grew further after Dillard filed a complaint against Samuels, resulting in second-degree assault charges.
For example, Osefo invited everyone except the mother-of-three to her daughter's sip-and-see and a women's empowerment event. Even though Samuels personally called the other housewives, excluding Dillard, and encouraged them to witness her "growth" at her live podcast, only Darby went.
In the Bravo After Show, Samuels admitted she didn't initially recognize that moment as when the others began "icing" her out.
Samuels realized the group 'iced' her out
The mother-of-three admitted it "shocked" her when housewives rejected her invitation because she thought they "left off on the notion" that Samuels would momentarily step away so she could "focus" on herself. The business owner explains the ladies "wished me well," so she reached out to them when she felt she was ready to come back.
Therefore, Samuels was "quite shocked" when they rejected her invitation as she thought they supported her taking time for herself. She also claimed she "removed" herself so she could work on herself and prove she changed but felt the others "didn't want to see the update or process."
However, Samuels recognizes the rejection as the first moment the group began "icing" her out and decided to "give her the exit" instead, which "caught me off guard." Dixon explained her side and admitted she felt like Samuels put her "on the spot" by calling her instead of sending a flyer.
Additionally, she didn't think the mother-of-three could truly change that quickly and knew she hadn't apologized to Dillard yet. The Real Housewives of Potomac airs Sundays at 9/8c on Bravo.
Follow Tamara Grant on Twitter.