'RHOP' Monique Samuels Posts Video Explaining Her 'Afro-Centric' Confessional Looks to Support Ari Lennox
'RHOP' star Monique Samuels posted a video explaining her 'afro-centric' hairstyles and why she 'loves her black' in support of Ari Lennox and Blue Ivy.
Over the past couple of days, a few Twitter users have negatively critiqued Ari Lennox, Teyana Taylor, and Blue Ivy, seemingly for their black features. After the Dreamville leading lady spoke out, Monique Samuels then uploaded a video explaining why showing her "afro-centric" hairstyles in confessionals is so necessary to her in support of the ladies.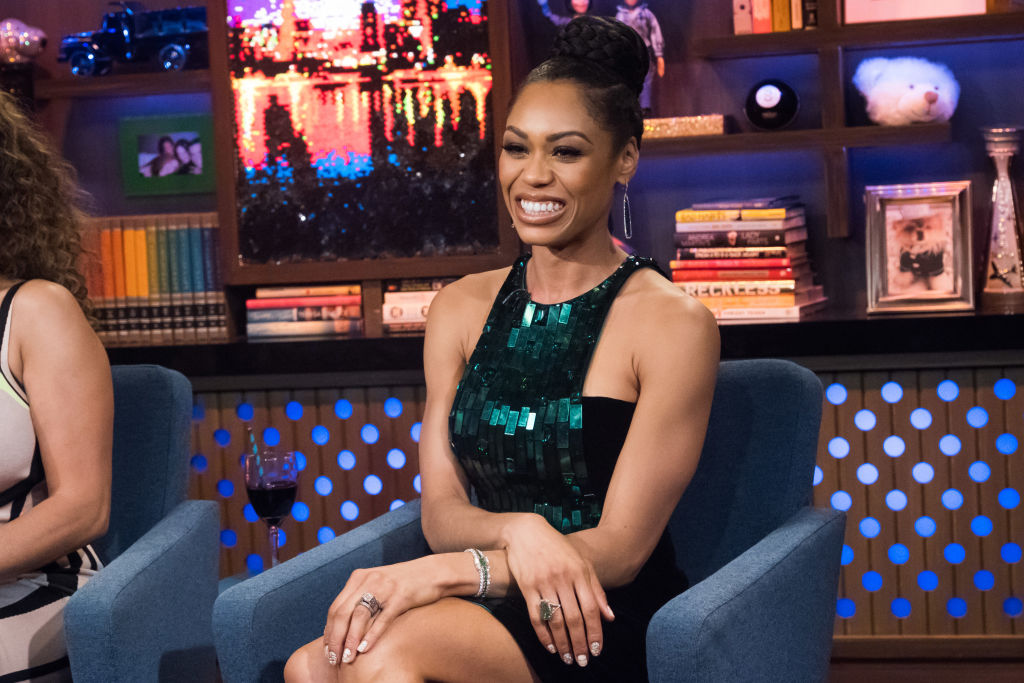 Monique Samuels on 'Real Housewives of Potomac'
The podcaster has been a leading cast member of the new installment since Season 2. Throughout the next season, she became very close to newcomer Candiace Dillard, and they developed a strong sister-like bond.
However, the friends separated once Samuels started hanging out with Ashley Darby as Dillard and the restaurant owner are not the best of friends.
Their beef then turned into an argument at Katie Rost's hoedown, where the mother-of-three threatened to "drag" Dillard, "pregnant and all." Even though the women tried to repair their relationship after the reunion, they ended up getting into a physical altercation during the filming of Season 5, resulting in the two filing second-degree charges against each other.
After a month of the women filing, the court reviewed the case, watched the footage, and decided to drop the charges.
Ari Lennox, Teyana Taylor, and Blue Ivy Carter faced backlash for 'black features'
On January 1, 2020, a Twitter user wrote, "Ari Lennox and Teyana Taylor's ability to have dangerously high sex appeal while simultaneously looking like rottweilers will also amaze me."
Many people took offense to the tweet because the comparison is based on her broad nose, which is predominantly a black feature. The "BMO" singer almost immediately replied, "People hate blackness so bad." She followed it up with, "Moms and Dads please love on your black children. Tell them they're beautiful constantly. Tell them black people are beautiful. Tell them black features are beautiful." Taylor backed her up, responding, "No lies detected."
Lennox then took to her Instagram Story to continue airing her grievances and asked, "how people hate black people so much" and "why is this your speech?" The singer explained she loves herself, her nose, and "black features."
She also "wants us to get to a point where we are becoming aware of the self-hate sometimes when you are referring to black women as a dog. Because we're not doing this to other races. Or to races of women who don't have a nose like this."
Beyonce and Jay-Z's daughter, Blue Ivy, also faced criticism from journalists who said they were "sorry" that the "Jay-Z face genes are about to really hit Blue Ivy" and joked about her getting plastic surgery. Again, Twitter followers called the writers out for insults they felt were rooted in colorism and anti-blackness.
'RHOP' Monique Samuels posts video explaining 'afro-centric' hairstyles in support
A couple of days after the incidents, Samuels posted a throwback video of her describing her confessional looks from Season 4.
Taken from a camera phone behind the scenes while she sat in the chair finishing her makeup, Samuels stated, "My inspiration for my looks is my daughter because I want her to feel like, 'Oh, I can wear that hairstyle too.' I can easily just throw a wig on and everything, but I want to make sure that she can have an example of what her hair is naturally like. So, I love doing my little afro-centric styles because I'm obsessed with my black, my black is beautiful! (laughs). But I really enjoy just doing something different. So, whenever I'm coming up with looks, I kinda wanna keep it artsy and something that looks like a day-to-day look but glam it up."
In her caption, she advised her followers to "love the skin you're in." She also thanked Lennox for speaking up and closed by reminding everyone that "self-love is everything."