'RHOP' Star Monique Samuels Slammed by Fans for Promoting Conspiracy Theories
Real Housewives of Potomac star Monique Samuels shared a clip from a YouTube exposé about the manipulation of mainstream media to her Instagram account, encouraging her followers to "check it out." Many followers believe the documentary spreads conspiracy theories.
Therefore, they slammed the mother-of-three for promoting it. Some viewers claimed they unfollowed her while others are calling for her dismissal from the Bravo reality series.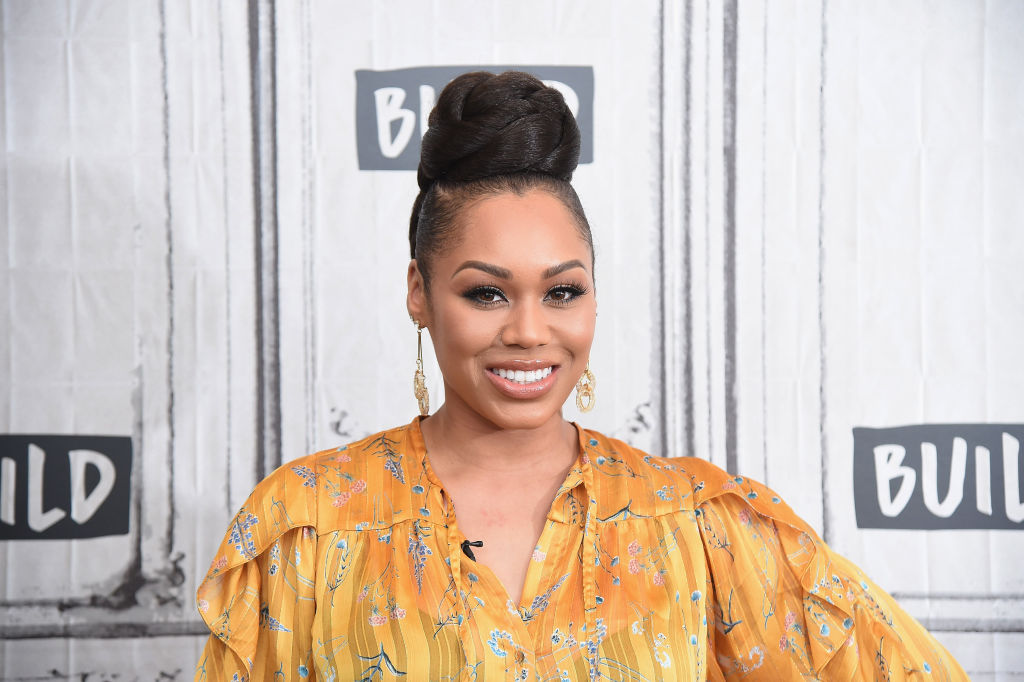 Monique Samuels on 'RHOP'
In 2017, Not For Lazy Moms owner Monique Samuels joined the cast of Real Housewives of Potomac in the second season. Introduced to the group by Charrisse Jackson Jordan, she quickly butt heads with best friends Gizelle Bryant and Robyn Dixon.
However, the entrepreneur became close with Ashley Darby, Karen Huger, and later Candiace Dillard in the third season. She and the former pageant beauty had a falling out in the following season, resulting in an explosive fight that turned physical in the fifth season.
The ladies filed second-degree assault charges against each other, but they were later dropped. While Samuels has distanced herself from the other housewives, excluding Darby and Huger, she says she has not quit the show, and Bravo seemingly doesn't have plans to fire her.
However, Dillard has allegedly asked members of the production crew to cut Samuels because she fears for her safety. Season 5 was scheduled to premiere in May 2020, but Bravo postponed the date due to the coronavirus (COVID-19) pandemic. 
'RHOP' star Monique Samuels shared conspiracy theory video
On May 11, 2020, Samuels shared a minute-long clip encouraging her followers to watch a YouTube documentary titled Out of Shadows. The hour-long video is an expose on how the mainstream media manipulates viewers throughout their content with fake news.
Many viewers consider the documentary to be spreading conspiracy theories as the claims in the video aren't thoroughly researched. Additionally, the majority of people who appear in the exposé have been vocal about their dislike of left-wing politicians, and the documentary has close ties with Christianity, resulting in biases.
Finally, some believe the documentary does more convincing than informing its viewers. Therefore, many RHOP fans were upset when Samuels promoted the YouTube video on her Instagram.
Fans slam Monique Samuels for promoting conspiracy theories
Many fans slammed the mother-of-three, who has shared her "different perspectives" before on her Not For Lazy Moms podcast, for promoting the documentary on her "huge platform."
They believe she's "spreading harmful information" and encouraged others to report her Instagram post as "false information." Several Reddit users called the entrepreneur "toxic" because she also didn't vaccinate her kids and got into a possibly alcohol-related car accident in Season 3.
Some followers have "canceled" Samuels and "unfollowed" the housewife on social media because they believe she's a conspiracy theorist. Others are calling for Bravo to fire the housewife because they think she uses her "huge" platform irresponsibly.
Real Housewives of Atlanta star and friend of Samuels' Porsha Williams also shared the same video and received similar criticism. Real Housewives of Potomac Season 5 premieres Summer 2020 on Bravo.