'RHOP': Robyn Dixon Calls Karen Huger 'Wack' for Claiming She and Gizelle Bryant Were Happy About Physical Fight
The first physical fight of The Real Housewives of Potomac happened between former close friends Monique Samuels and Candiace Dillard. After the altercation, Karen Huger and Samuels said they realized that Gizelle Bryant and Robyn Dixon might have something to do with the ex-friends' issues. Before the episode showing the build-up to the physical fight aired, Huger posted a trailer to her Instagram account and noted the Green-Eyed Bandits looked happy to see the ladies fighting. Dixon quickly responded to her claims.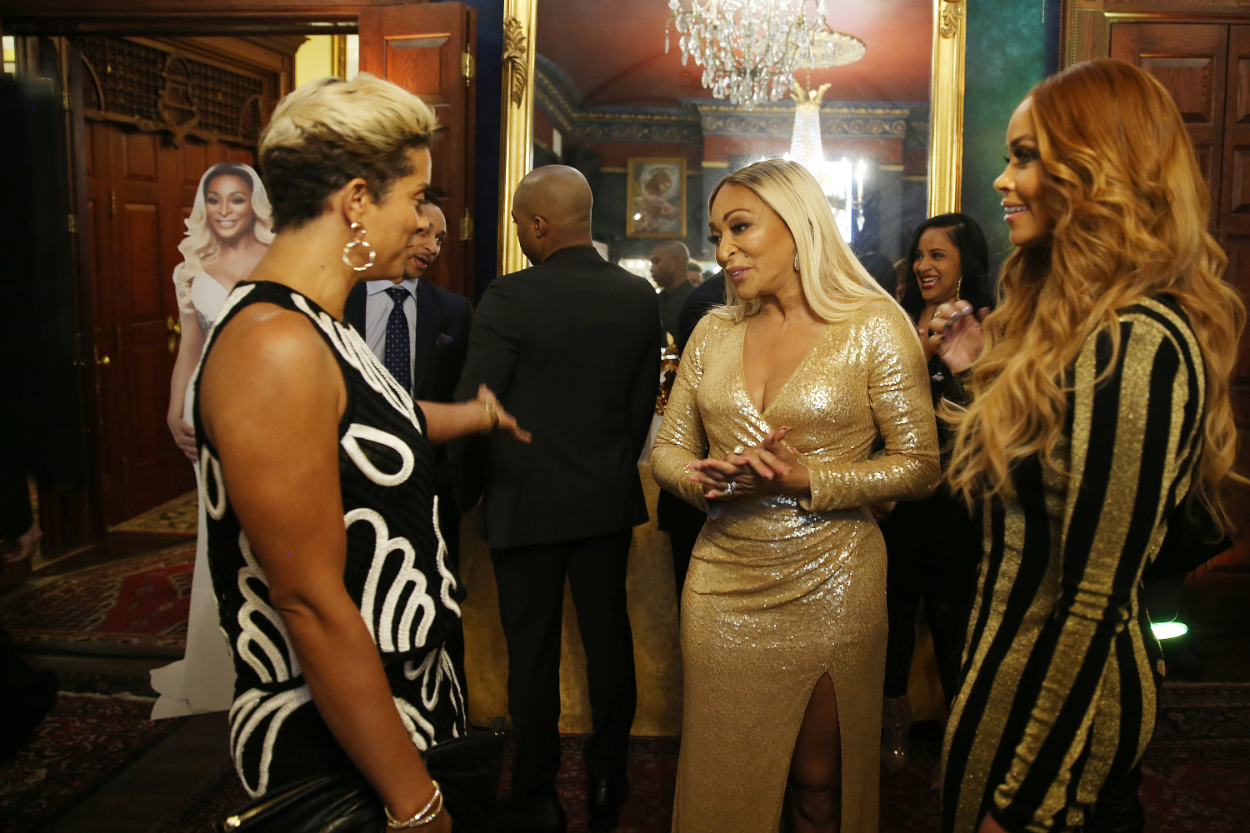 Candiace Dillard and Monique Samuels got into a physical fight
About a year ago, former best friends Monique Samuels and Candiace Dillard got into a physical fight at a winery while filming Real Housewives of Potomac Season 5, which is currently airing.
Early reports stated that Dillard instigated the altercation by throwing a glass in Samuels' face. However, the footage seemingly depicts the mother-of-three as the aggressor because she touched Dillard first by flipping her hair.
RELATED: 'RHOP': Monique Samuels Covers Gizelle Bryant and Candiace Dillard's Face in Reposted Cast Picture
Police reportedly showed up but did not arrest anyone. However, a few weeks later, the former Miss United States filed a complaint with the court, resulting in second-degree assault charges against the podcaster.
Samuels quickly countered, and eventually, the judge decided to drop the case. After the incident, Dillard did press with her lawyer, and they implied they would sue Samuels' civilly since the criminal charges were dropped.
Gizelle Bryant allegedly had something to do with their beef
Samuels and Dillard's relationship spiraled downward since the season 4 finale, and the former Miss United States befriending Charrisse Jackson Jordan broke the camel's back.
Reportedly, Jordan called a meeting with Gizelle Bryant and Robyn Dixon to fabricate a story to help the OG Housewife get back on the show. Samuels claims Karen Huger found out about the lie, which centered around Samuels having an affair with her trainer resulting in a baby, and informed the mother-of-three.
However, the podcaster realized that Dillard also heard about the meeting but neglected to say anything. Because Samuels and the former pageant beauty were friends at the time, the Housewife felt betrayed.
RELATED: 'RHOP': Charrisse Jordan Breaks Silence on Person Behind Monique Samuels Rumors
Therefore, when Dillard invited Jordan to her anniversary party without warning Samuels first, she became upset. Every miscommunication after that piled on top of each other until the two got into the physical altercation.
In a Sept. 2020 interview with People Now, Huger talked about the situation and claimed Bryant tried to peddle the affair story while Samuels was pregnant. She also called her co-star out for "tearing down families."
Robyn Dixon claims she wasn't happy about the fight as Karen Huger claims
Before the Sunday episode aired, the Grand Dame posted an IGTV clip to her Instagram promoting it. The clip showed the argument that led up to the fight, and Huger captioned it, "My heart sank at this, but I spy some gleeful green eyes."
She then used the hashtags "The Anointed One," Bryant's nickname, and Wingman, referring to Dixon, the other Green Eyed Bandit.
Dixon responded to her claim in the comment section, writing, "Really, Karen? You watch your friend getting into it, and all you can do is worry about us. That's wack as h*ll."
RELATED: 'RHOP': Karen Huger Calls Out Robyn Dixon, Gizelle Bryant for 'Gleeful' Eyes as Physical Fight Erupts
Huger later replied and claimed she's "not worried" and only "stating a fact." A follower asked Dixon, "where's the lie," and she explained she was "laughing at Candiace's behavior" at the moment.
The mother-of-two also clarified she doesn't "find joy in a physical fight." The Real Housewives of Potomac airs Sundays at 9 p.m. EST on Bravo.
Follow Tamara Grant on Twitter.