'RHOP' Season 6: Ashley Darby and Candiace Dillard Called an 'Unlikely Truce' off Camera
RHOP stars Candiace Dillard and Ashley Darby haven't seen eye to eye since the former joined the show in 2018. Most recently, they got into another heated clash, this time while at a dinner on vacation. At some point throughout the course of the trip, a late night filled with drinks led to an "unlikely truce" between the ladies.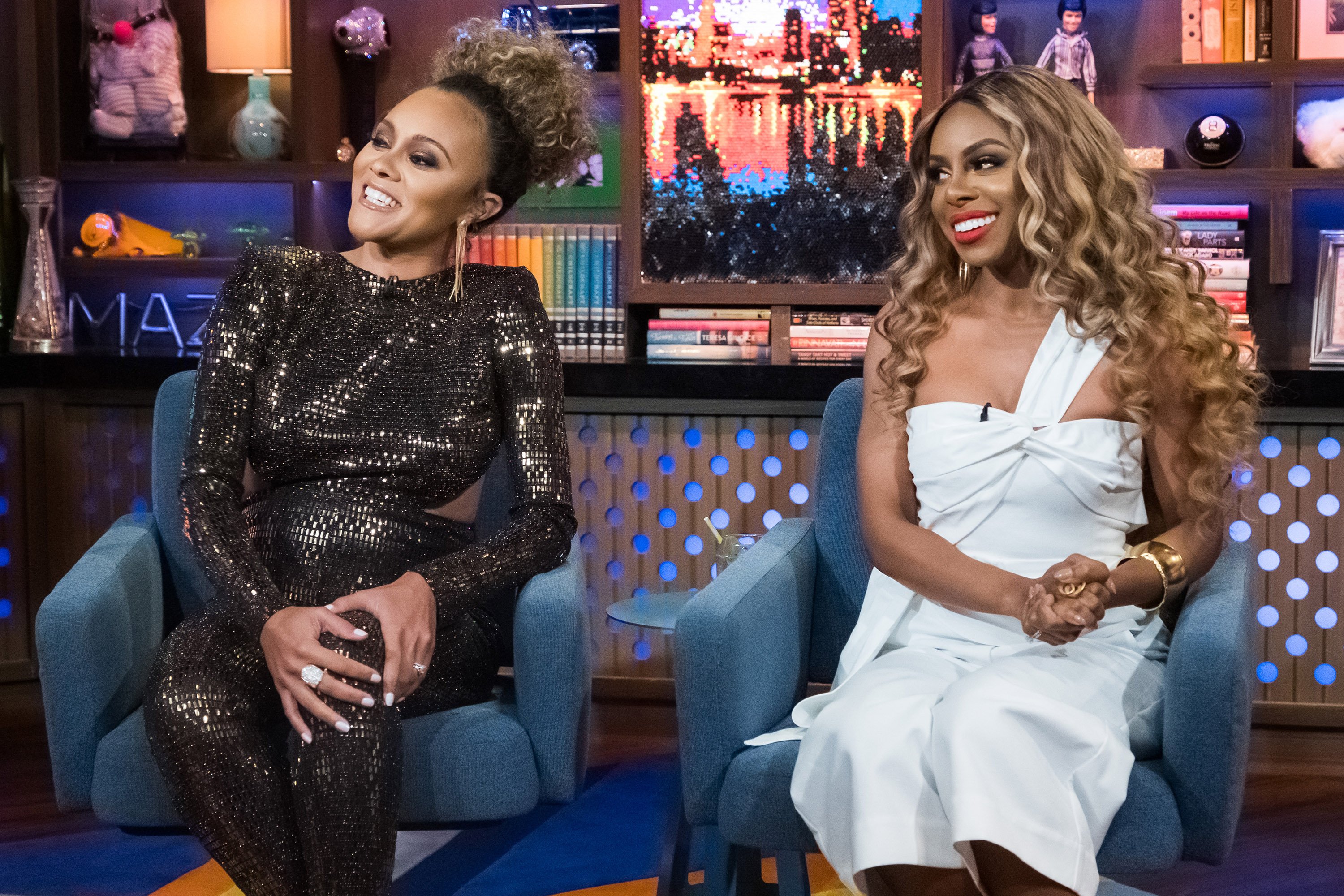 Ashley Darby and Candiace Dillard got into an argument during 'RHOP' Season 6 Episode 14
After butting heads for the past three seasons, Ashley Darby and Candiace Dillard went at it again during a couple's trip the Osefo's planned.
While sitting at dinner, Chris Bassett noted he wanted to have a decent relationship with Michael Darby, even though their wives don't always get along. However, Darby pointed out the Bassetts have made comments about her husband that have "rubbed him the wrong way."
RELATED: 'RHOP': Candiace Dillard Says She's Not Friends With Ashley Darby Because Darby Isn't 'Loyal'
When they began going back and forth over it, Darby brought a "slave driver" comment Dillard directed at Michael. Instead of apologizing, the "Drive Back" singer doubled down, upsetting Chris, who asked his wife to stop.
Darby then mentioned the salad throwing fight Dillard got into with newcomer Mia Thornton resulting in the former Miss United States blasting Darby for her involvement in the legal case last season with former housewife Monique Samuels.
They called an 'unlikely truce' off camera
During the Oct.11 after show, Darby and Dillard talked about how the two coexisted in the house as they hadn't had the best relationship.
Darby noted she "appreciated" it when Bassett congratulated her on her second baby as she thinks he gets "herded" into situations that Dillard finds herself in.
Therefore, Darby noted she "softened" a bit toward him. Dillard claimed the ladies had a "kumbaya moment" off camera. She explained the Bassetts, Darby, and Karen Huger were up late while in the vacation home and hung out.
Crediting it to their "tipsy" state, the late hours, and them feeling "tired and worn out," Dillard said the two were able to call "an unlikely truce for a few hours." The former Miss United States admitted she enjoyed herself, referring to the experience as "actually pleasant."
They haven't gotten along throughout 'RHOP'
Dillard first joined the Potomac cast in season 3 and became good friends with Monique Samuels. Even though she and Darby have similar backgrounds, the two never quite hit it off.
During Season 4, things came to a head during a heated dinner, and the ladies got into a verbal disagreement. Dillard then wanted Darby to leave her home and launched a butter knife in her direction.
RELATED: 'RHOP' Star Candiace Dillard Bassett Says Karen Huger Is 'No One's Friend,' Also Slams Ashley Darby
Their relationship only soured the following season when Dillard and Samuels pressed charges against each other after a physical fight. Darby, who didn't see the altercation, wrote a report detailing the previous knife incident, presumably to help Samuels' side prove Dillard had a history of aggression.
The situation hurt and upset Dillard, who felt Darby used the case to get back at her. The Real Housewives of Potomac airs Sundays at 8/7 Central on Bravo.