'RHOP' Season 5 Taglines: Watch 'The Real Housewives of Potomac' Opening Sequence
A new season of 'The Real Housewives of Potomac' brings a whole new set of taglines. The ladies are back and they are ready for more.
A new season of The Real Housewives of Potomac is upon us and the taglines have been revealed. Most of the cast remains unchanged but in season 5 there is one new addition to the group that will be explosive. Fans of the Housewives franchises love the quotes that the ladies say in the opening sequence and Bravo has just released them ahead of their premiere.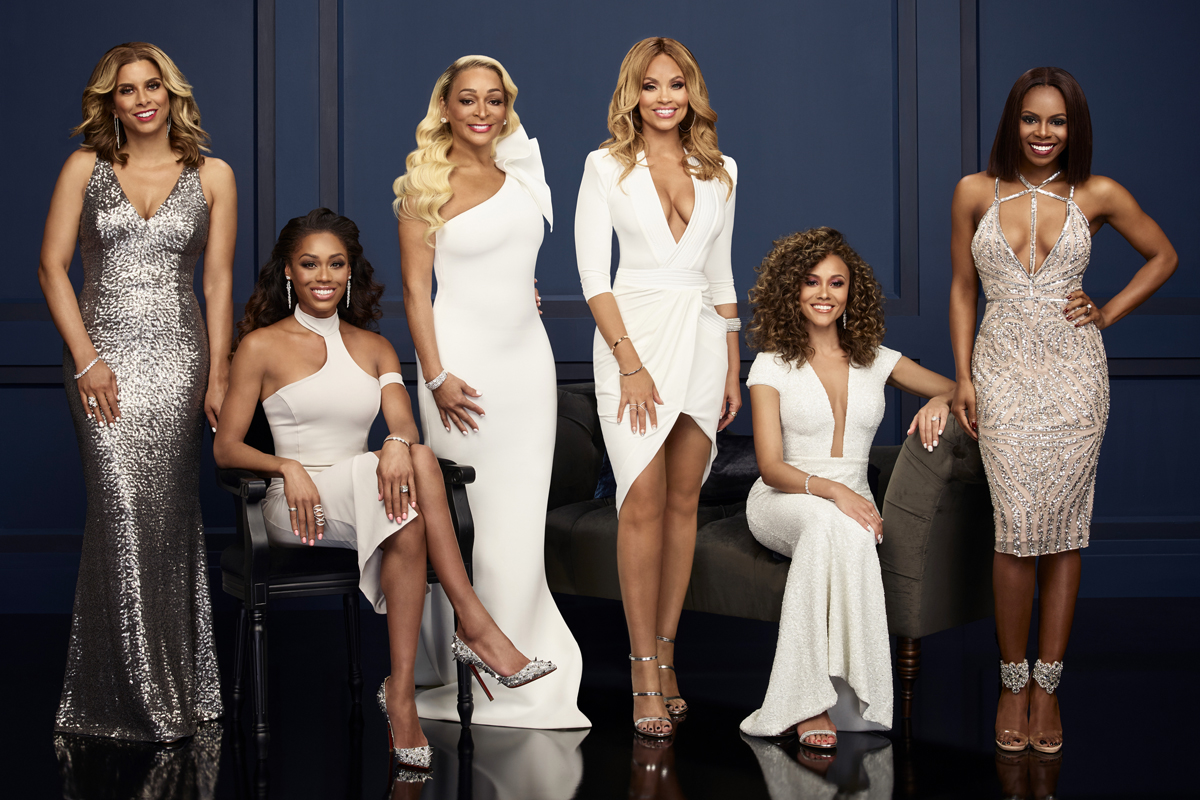 What are the 'RHOP' Season 5 taglines?
The ladies of Potomac return with their champagne glasses along with a new set of taglines.
Gizelle Bryant: "I'm still the baddest thing walking, and the most anointed one talking."
Karen Huger: "Honey, the grande dame don't repeat history, she makes it."
Monique Samuels: "Maybe if you tried a little harder, you wouldn't have to try me."
Robyn Dixon: "I live in a house full of ballers, but I never get played."
Ashley Darby: "Now that I got my baby, that's the only crap I take."
Candiace Dillard: "Reading is fundamental, and, honey, I own the library."
Wendy Osefo: "The professor has arrived, and class is officially in session."
The final line from left to right is as follows: Samuels, Dillard, Bryant, Huger, Dixon, Darby, and Osefo.
The fight that shocks Potomac
One of the heaviest promoted scenes from the new season of RHOP is a fight involving Samuels and Dillard. If fans were shocked by what they saw on the trailer, Huger says they will not be disappointed by the rest of the season.
"That altercation was a powerful moment, it had repercussions on all of the ladies," Huger told E! Online. "But what I believe about us and I think the viewers will agree is that we're able to work through it because we have authentic friendships and relationships that are strong enough, I believe, to carry us through."
Huger also noted that she doesn't take sides on the drama but as the Grande Dame of Potomac, she does call them out on their behavior.
"Well I'm the matriarch of RHOP, I don't have to take sides, I have to be fair," Huger added. "I have to be objective and I have to be truthful. And oftentimes telling your friends the truth about their behavior is not easy and it's challenging. Again, I'll say stay tuned. Two wrongs don't make a right and I stand by that."
Gizelle Bryant also sounds off
Ahead of the premiere of RHOP, Bryant also sounded off on the fight that rattles the season. Through the first four years, the show has stayed away from physical altercations and Bryant doesn't want this platform to turn to that.
"What happened was nothing we ever thought we would see on this show or on this platform," Bryant said in an interview with Entertainment Tonight.
"So, the kind of the beauty of what happened — if there's something beautiful about it — is it allowed us to have deep conversations and true conversations about how we feel we're portraying ourselves to the world and what we're OK with and what we're not OK with."
The Real Housewives of Potomac premieres on Sunday, August 2 at 9 p.m. ET on Bravo.