'RHOP' Star Wendy Osefo Responds To Claims That She's From a 'Cursed' Nigerian Tribe
In the most recent episode of The Real Housewives of Potomac, Wendy Osefo's husband became emotional when discussing his nonexistent relationship with his family. According to the newest housewife, her mother and his mother got into a huge argument that resulted in her and the rest of his family, refusal to have a relationship with Eddie or his and Wendy's children. A relative of Eddie's claimed they rejected him and his new family because of her "cursed" bloodline. Wendy responded to the allegations in a cease and desist letter.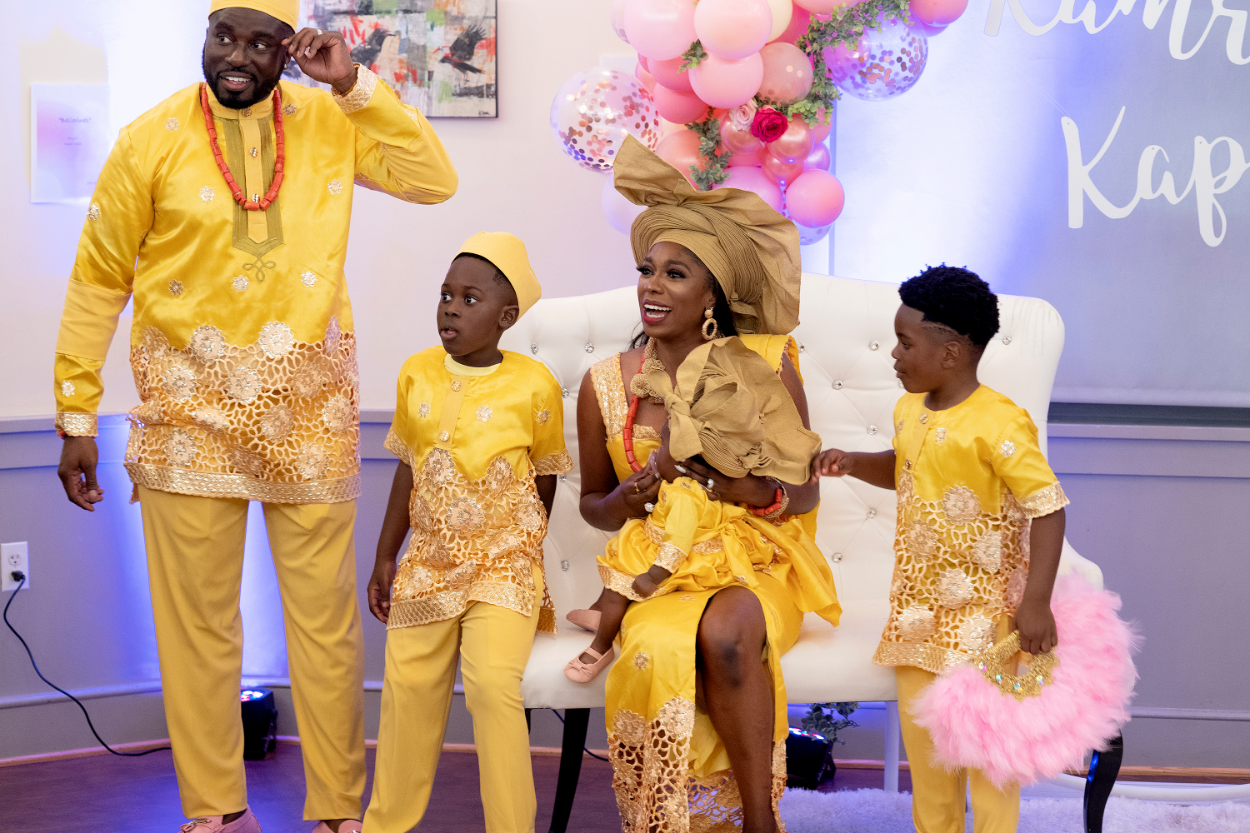 Wendy Osefo doesn't get along with her in-laws
Newest housewife, political commentator Wendy Osefo, and her husband Eddie opened up about the strained relationship with his family in season 5 episode 12.
She explained his family refused to attend their wedding in 2011 or meet their grandchildren due to a blowup between both of their mothers. Even though the families don't see eye to eye, Eddie still wanted to invite his relatives to their daughter's Sip and See.
RELATED: Meet the Seventh 'Real Housewives of Potomac' Housewife, Award-Winning Researcher Dr. Wendy Osefo
However, his text went unanswered, and the family didn't attend the party. A few weeks before the episode aired, an anonymous relative of Eddie's reached out to All About the Tea and claimed they didn't associate with him because Wendy is from a "cursed" bloodline.
Eddie Osefo relative claimed Wendy is from a 'cursed' tribe
According to the source, the newest housewife is from an "outcasted caste," of which her mother serves as chieftain. The relative claims her family is "osu," or cursed, and avoided by non-cursed people because the marriage destroys "their reputation."
Additionally, due to Wendy's mother's alleged status as chieftain of the "lowest caste," others are "forbidden" from marrying into it. If they do, their children are "shunned."
RELATED: 'RHOP': Monique Samuels 'Liked' Tweet Promoting Article That Claims Wendy Osefo's Family Is 'Cursed'
As a result of the housewife being from "the other sides of the track," Eddie's family refuses to associate with them instead of how Wendy described the fallout on The Real Housewives of Potomac.
The source also blasted the couple's financial status and claimed they are over a million dollars in debt due to school loans. 
Wendy Osefo insists she's not from 'cursed tribe' in cease and desist
A couple of months before the All About the Tea exclusive was published, another blog, Bug News, also posted a now-removed article regarding the newest housewife's alleged cursed bloodline.
Nearly a month later, the political commentator's camp reached out to Bug News with a cease and desist. Her representatives insisted the information was false for several reasons. They claimed her mother is from Anambra State, not Imo state, where "osu" people reside, and that her father doesn't contain the lineage.
Additionally, Wendy's sister allegedly underwent a "customary background search" to identify any mental illness or Osu bloodline in either party, and it didn't have any "negative findings."
RELATED: 'RHOP': Newest Housewife Dr. Wendy Osefo Says Karen Huger 'Bullied' Her
Finally, the representatives called Eddie's sisters, likely the anonymous sources, "extremely angry and vindictive people" who have "spread lies and false claims" regarding Wendy's family since the couple married nearly 10 years ago.
Besides the cease and desist, the housewife has yet to address the allegations publicly. The Real Housewives of Potomac airs Sundays at 9/8c on Bravo.
Follow Tamara Grant on Twitter.