'RHOP': Two Husbands on the Show Have a Crush on Gizelle Bryant
Gizelle Bryant may be single now amid her breakup with Jamal Bryant but she still has men who find her attractive. Two of the men are the husbands of her co-stars. The Real Housewives of Potomac OG was revealed to be the crush of the two men during recent episodes.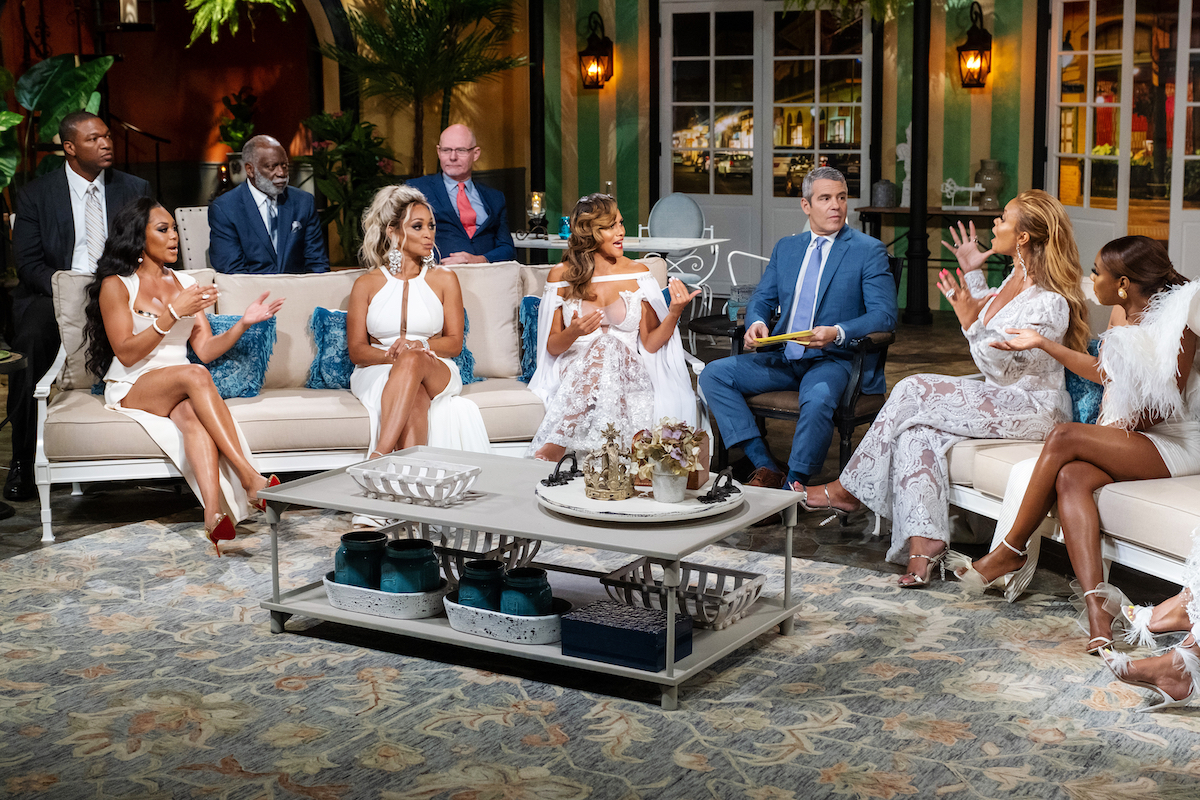 Both Candiace Dillard and Ashley Darby's husbands find Gizelle Bryant attractive
Bryant may not have a husband but that doesn't mean other spouses aren't eyeing her. During a "Love Party" hosted by Karen Huger, some of the married cast members participate in a game where they were quizzed on who knew their spouses the most. The game is similar to the popular game show The Newlywed Game.
One of the questions posed by Huger was which co-star is the husband attracted to the most. The women had to guess what the husband wrote on their board. Dillard's husband Chris Bassett named Bryant, which Dillard guessed correctly.
RELATED: 'RHOP': Why Robyn Dixon Isn't Surprised by Her BFF Gizelle Bryant's Split From Jamal Bryant
"Chris loves Gizelle," she said in her confessional. Flashback scenes of Bassett cooking meals for Bryant were shown. Dillard also noted that Bassett enjoys cooking for Bryant when she visits their home or his former restaurant.
During an appearance on Watch What Happens Live, the Darby's played the same game and were asked the same question. Michael also answered Bryant, though he didn't explain why.
Karen Huger's husband believes Gizelle Bryant is shallow
While Darby and Bassett would take their chances on Bryant, Huger would not. During the game, he named former RHOP star Katie Rost. Karen admitted in her confessional that Ray's answer shocked her.
Ray previously met with Bryant during Season 1 to try and give her dating advice. Bryant is an admitted serial dater. While speaking with Bryant, Huger hinted at his belief that Bryant is slightly shallow and relies heavily on her looks to get her through.
"You're going to need to attract guys while you can," he told her. Bryant was offended by his comment, replying in her confessional, "You'll be six feet under before this face ever changes."
Gizelle Bryant is currently single
Gizelle is currently single, recently ending a rekindled relationship with her ex-husband Jamal. The two began dating over a decade after their divorce. Many viewers, Bryant's co-stars, and family members were not supportive of the union. Jamal has a history of infidelity, which is what caused Gizelle to file for divorce the first time around.
But Gizelle insists infidelity was not the cause of their last breakup. She says trying to keep their relationship afloat during a global pandemic was too challenging.
RELATED: 'RHOP': Gizelle Bryant on Whether Monique Samuels' Binder Shade Cost Her Relationship With Jamal Bryant
"We were working on us getting back together and being back together but he lives in Atlanta and I live In Maryland and with the pandemic, we realize it's just not the right time. It's just not going to work," she said during an interview with The Breakfast Club.
Regardless, Gizelle isn't spending any time heartbroken, noting, "Right now I am footloose and fancy-free. I am single. I am enjoying my hot girl summer, spring, winter, and fall."
RHOP airs every Sunday on Bravo at 8 pm EST.