'RHOP': Wendy Osefo Calls Ashley Darby Out for 'Blindly Picking a Side' in Physical Fight; Darby Responds
Former friends Monique Samuels and Candiace Dillard got into a physical altercation during The Real Housewives of Potomac season 5. Before the argument, Ashley Darby went to the bathroom and returned after the explosive fight. She then spoke to Samuels and seemingly immediately took her side. Wendy Osefo called Darby out for "blindly picking a side" on Twitter, and the mother-of-one promptly responded to explain her decision.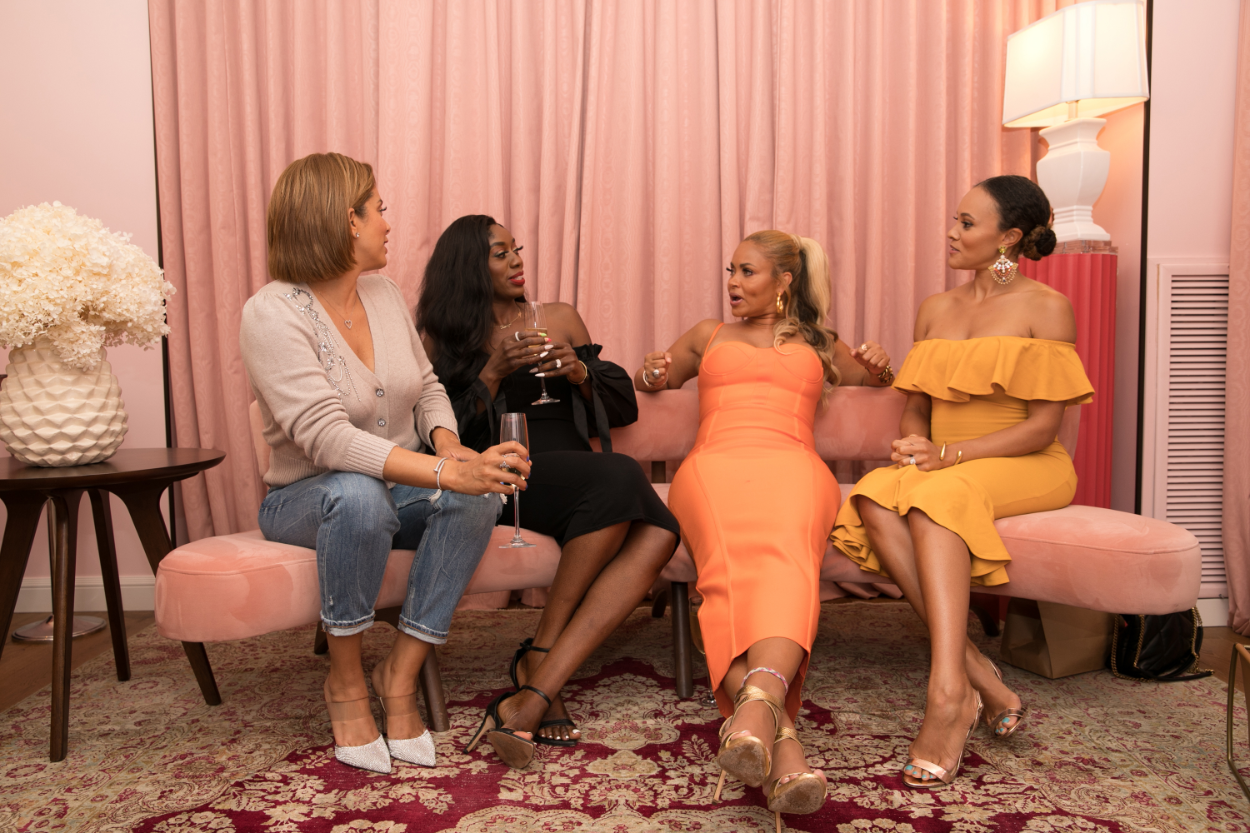 Wendy Osefo and Ashley Darby got into the first argument of 'RHOP' 5
After the newest housewife, Wendy Osefo met the group a couple of times, she spent the weekend at Monique Samuels' lake house with the cast. Ashley Darby arrived with her baby, upsetting Osefo, who didn't know they could take their kids on the trip.
Samuels tried to explain that she offered it to Darby because she's a new mother and doesn't have a maid. The political commentator explained she also recently gave birth, but the other women quickly dismissed it because she already mothered two boys.
The comments bothered Osefo because her daughter was born prematurely, and she ended up taking it out on Darby. The ladies got into it again at dinner, but Osefo apologized the following day and shared her experience with her youngest child.
Samuels and Candiace Dillard also argued when the latter pulled Ashley Darby away to tell her about her husband's alleged infidelity because the podcaster considered it "inconsiderate" of what she had planned.
Darby seemingly took Samuels' side in physical fight
A couple of weeks after the cast returned from Samuels' lake house, Gizelle Bryant invited the ladies to a winery where Dillard and Samuels saw each other for the first time since the trip.
They started to argue about the mother-of-three "pretending" to sleep, and Dillard claimed Samuels "mom-shamed" her. The former Miss USA began putting her hands in Samuels' face, and the mother-of-three started flipping her hair before yanking her down to the table.
Dillard threw a glass at Samuels in retaliation, cutting the podcaster's mouth. The producers were finally able to separate the women, and Darby returned from the bathroom shortly afterward.
Samuels explained what happened, and the mother-of-one seemingly quickly took her side as she blamed Dillard for "egging you on." She also claimed that Dillard says rude things and then "doesn't understand why people get pissed off." 
Osefo calls Darby out for taking a side, Darby responds
Shortly after the explosive fight aired, Osefo tweeted, "How do you go to the bathroom, miss the whole fight, then come back and blindly pick a side?" Even though she didn't name Darby or tag her in the tweet, the former pageant beauty knew Osefo meant it for her.
Only a few minutes later, she quote tweeted the message and replied, "Wendy, I didn't blindly pick a side. I used my prior experience to make sense of a situation." One fan claimed she did side with the mother-of-three without having both stories first, and Darby claimed that Samuels "never tried to fight me."
Last season, Dillard threw a knife in Darby's direction. Therefore, she believes the former Miss USA has more of a history with violence than Samuels.
However, some fans pointed out that the mother-of-three held up an umbrella to Robyn Dixon's neck in season 2, proving Samuels almost got into a fight previously as well. The Real Housewives of Potomac airs Sundays at 9 p.m. EST on Bravo.
Follow Tamara Grant on Twitter.