'RHOP:' Why Karen Huger Isn't Taking Sides in Monique and Candiace's Feud
'RHOP' viewers will see the fight between Candiace Dillard and Monique Samuels this season. Karen Huger refuses to take sides, saying both women are wrong.
Season 5 of RHOP is premiering on Sunday, August 2 and the season promises to be the most explosive one yet. For months, fans have been anticipating the fight between Monique Samuels and Candiace Dillard. The once close friends got into a physical altercation and both filed lawsuits alleging the other were responsible. Karen Huger says both women are to blame in the unfortunate event.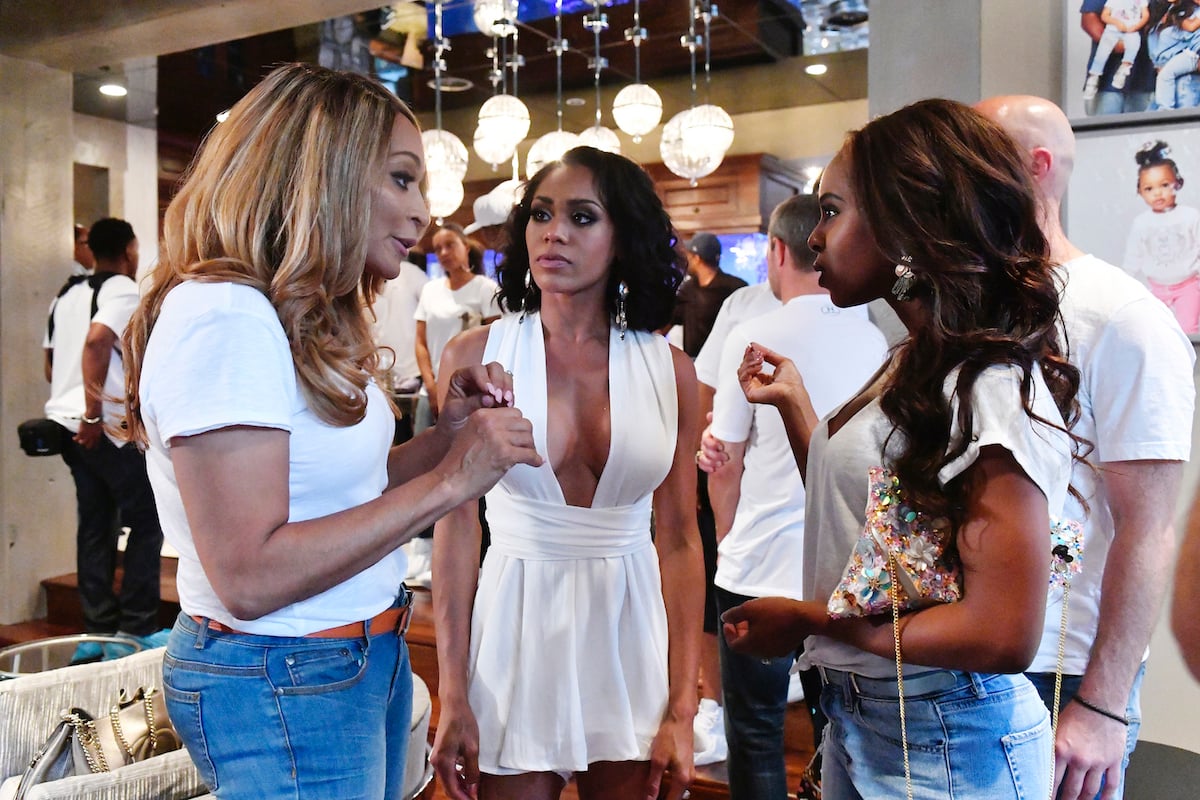 Monique Samuels and Candiace Dillard's fight in season 5 of 'RHOP'
Reports of a fight between Samuels and Dillard were first publicized in October 2019. According to Media Takeout, the cast were filming at a local vineyard when Samuels and Dillard began arguing. The argument became physical.
In the trailer for the upcoming season, Samuels and Dillard are seen in a verbal argument as Samuels begins flicking Dillard's hair. The scene cuts to other castmates screaming as Samuels is seen chasing after Dillard.
Related: 'Real Housewives of Potomac' Star, Candiace Dillard, Accuses This Co-Star of Blocking a Career Opportunity
An insider claims that Dillard actually is the initial aggressor. In Samuel's suit, she alleges Dillard threw a wine glass at her that cut her lip and blooded her nose, causing her to fight back in self-defense.
'RHOP' cast take sides in Monique Samuels and Candiace Dillard's fight
The aftermath of the fight is also in the trailer, with Samuels crying and considering separating herself from the group permanently. "Maybe I don't need to be apart of this anymore," Samuels cries after being told by Gizelle Bryant that Bryant no longer wants to be around her.
While Samuel's longtime nemesis, Bryant, appears to take Dillard's side in the trailer, Huger tries her best to mediate.
"We never thought as Black women, we would be right here, but we are," Huger is heard saying. "It's not something you can brush under the rug but you've got to address this."
Karen Huger says both Monique Samuels and Candiace Dillard are to blame in their fight
In a new interview with E! News, Huger explains why she's refraining from taking sides. 
"Two wrongs don't make a right. Quote me right! And that's the stance I take. The women don't always make the right decisions but I believe it's my job to step in sometimes and just shed the light on," Huger says. "Again, we don't do altercations, we use our words and I'm confident that we can get back to using our words after this season. You'll see a lot of work going on."
Related: 'RHOP' Karen Huger Seemingly Sided With Monique Samuels After Candiace Dillard Pressured Her
As for why Huger isn't taking sides, the self-proclaimed "Grand Dame" of Potomac believes her age has all to do with her mature stance.
"Well I'm the matriarch of RHOP, I don't have to take sides, I have to be fair," she said. "I have to be objective and I have to be truthful. And oftentimes telling your friends the truth about their behavior is not easy and it's challenging."
It was previously reported that Huger was of the belief that Dillard was at fault. Sources close to the show claim Huger and Samuels film more scenes together throughout the upcoming season and that they spend time with one another even when the cameras are off.