'RHOSLC': Angie Harrington Heartbroken Over Feud With Lisa Barlow; 'People Are Covering Their Own Asses at My Expense'
Aubrey Niccoli and her husband Marco first came up on The Real Housewives of Salt Lake City during the "Friendship Roulette" episode. They were supposed to cater RHOSLC newcomer Angie Harrington's casino night, but when Aubrey and Marco backed out of the event, Angie immediately suspected Lisa Barlow was involved. Now, Angie says she's "heartbroken" over Lisa's actions, considering she's known her since childhood.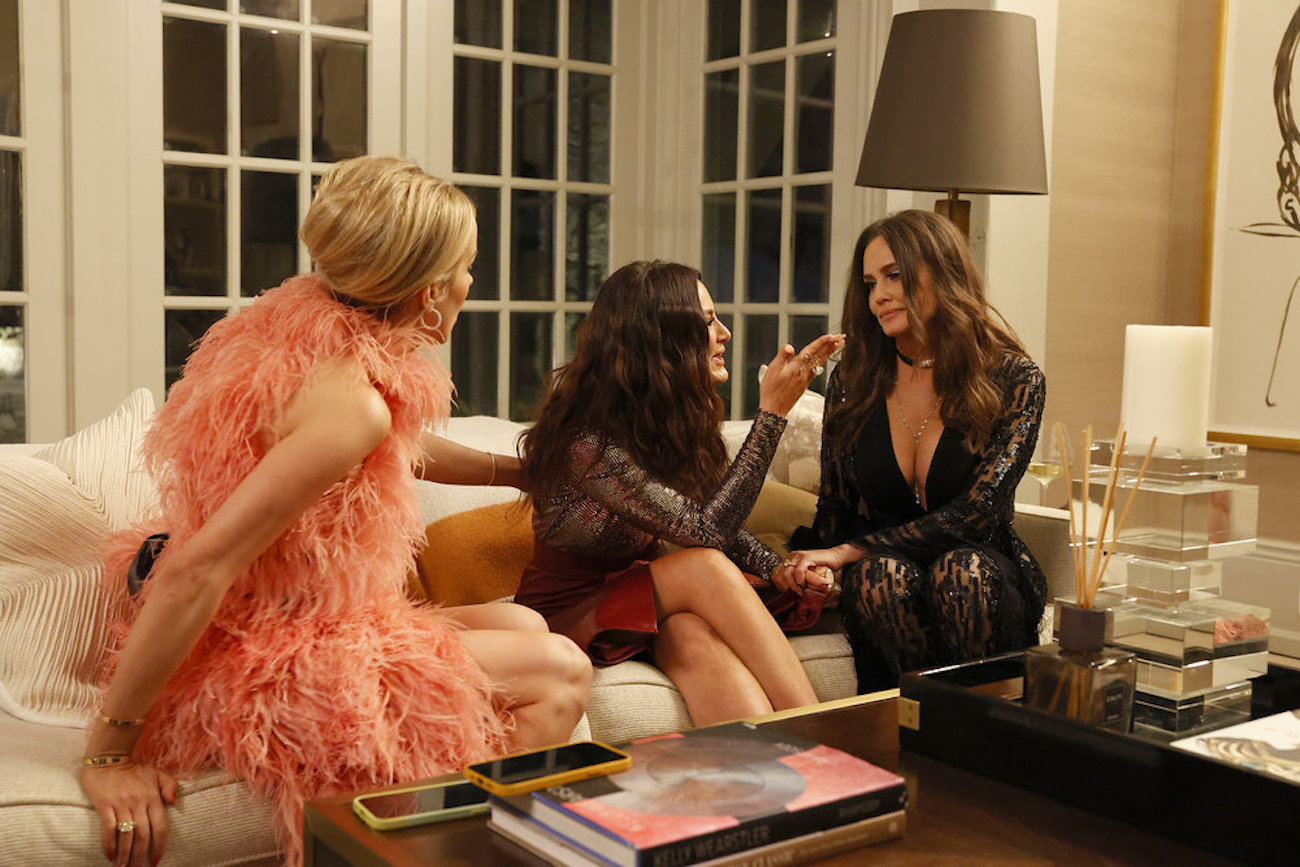 Angie Harrington is frustrated with Lisa Barlow calling her a liar on 'Real Housewives of Salt Lake City'
Outside of the catering drama, Whitney Rose had a problem with Lisa after she asked Angie not to "acknowledge" Whitney as her cousin. But in the "Sex, Lies, and Sister Wives" episode, Whitney and Lisa put their differences aside during a dinner at Aubrey and Marco's restaurant. 
In the Real Housewives of Salt Lake City episode from Oct. 24, Whitney regales Heather Gay, Jen Shah, and Angie with her dinner experience. "The first thing out of Aubrey's mouth, she says, 'Isn't it weird that Angie's lying and trying to pin this on me?'" Whitney tells her cohorts in a Bravo clip from season 2, episode 7. 
Bless the Bravo editing team for including the clip of what Aubrey said a week prior. "She is putting words in my mouth and totally made it so that I would do her event," Aubrey explains to Whitney at the dinner Lisa allegedly set up. "Our catering business is good, but we have clients that we need to take care of," Marco adds in the clip. "This is such lies!" Aubrey concludes in the flashback.
"There's a lot of things you can accuse me of," Angie tells Bravo cameras in the Oct. 24 episode, citing how she's unorganized and obnoxious at times. "I am not a liar. I didn't lie. People are covering their own asses at my expense." 
Lisa Barlow wants nothing to do with Angie Harrington, her childhood friend  
In the clip, Whitney informs Angie of Lisa's feelings toward her after their dinner. "She wants nothing to do with you," Whitney tells Angie after she asks if Lisa will move on with her, too. Once again, the Bravo editors step in to regale viewers with what Lisa really said. 
"I forgive Angie and I'm OK with her, but I don't want any relationship with her going forward," Lisa tells Whitney the week before. In her conversation with Whitney, Jen, and Heather, Angie discusses her long-time relationship with Lisa. "I have known her since I was a child — this breaks my heart." 
'RHOSLC' star Lisa Barlow and Angie Harrington aren't speaking as of October 2021
The timeline of Lisa and Angie's friendship is confusing and muddled with opinions. According to Angie, they've known each other since childhood. But if you ask Whitney, Lisa's timeline of her friendship with Angie changes every time it comes up. 
Regardless of how long Lisa and Angie have known each other, they aren't on speaking terms right now. On Oct. 8, 2021, Lisa told Entertainment Tonight she was "heartbroken" over Angie's reaction to the catering debacle. She also revealed she and Angie haven't spoken "in months." 
According to the Vida Tequila owner, Angie takes issue with Jennie Nguyen getting more screen time than she does. Both newbies are friends of Lisa's, who she recommended for casting consideration. 
"One of the biggest issues, too, is [Chris, Angie's husband] was like, 'You brought Jennie onto the show and you're giving her more attention,' because I had posted a picture with Jennie the week prior," Lisa recalls. "I was just trying to be inclusive and bring a lot of people onto the platform."
Watch The Real Housewives of Salt Lake City Sundays at 9 PM EST on Bravo.