'RHOSLC': Jen Shah Claims Jennie Nguyen 'Admitted' to Personally Sharing Controversial Posts
'RHOSLC' star Jen Shah claims newly fired Jennie Nguyen 'admitted' to personally sharing 'disgusting posts.'
Around the time of filming for Real Housewives of Salt Lake City Season 3, a fan leaked "offensive" posts shared by Jennie Nguyen's Facebook page. Due to the backlash, Bravo publicly cut ties with the newcomer, resulting in her addressing the questionable content in an Instagram Live. Shortly later, co-star Jen Shah slammed her for lying as she insisted Nguyen "admitted" to sharing the "disgusting posts."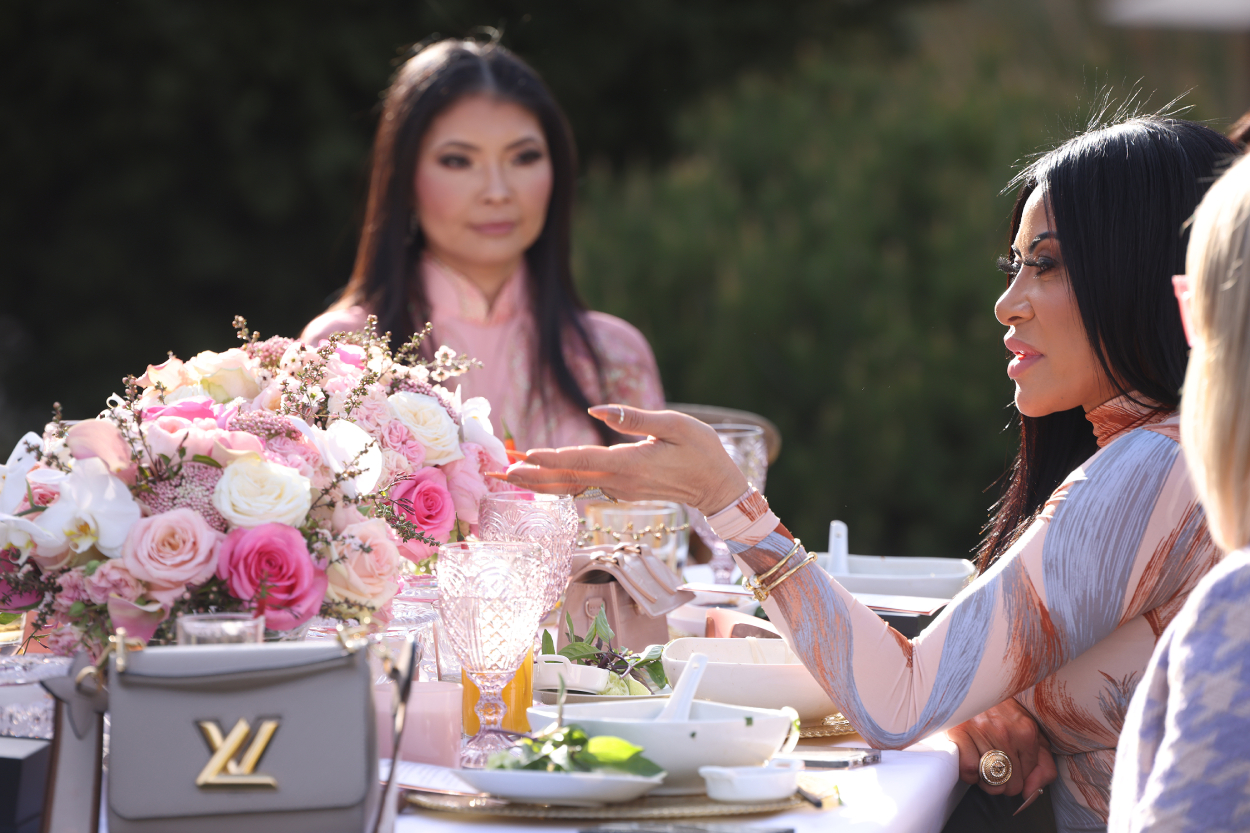 Jen Shah claims Jennie Nguyen confessed to sharing controversial posts
Shortly after Bravo publicly revealed its choice to cut ties with the newest Real Housewives of Salt Lake City cast member Jennie Nguyen, she broadcasted live on Instagram to tell her side of the story.
She claimed she hired a team to run her social media account when explaining the posts, implying someone shared the content that led to her firing.
However, Jen Shah, who appeared in the Live, slammed the explanation in a comment, claiming the former Housewife "admitted" to personally sharing the "disgusting posts." She continued, "the fact she brings a Black man on her IG Live just confirms she has not learned, nor is she sorry."
Shah later called the broadcast "performative slacktivism" and noted she "hopes" her former castmate will "do the real work it will take to grow and change her racist, and Islamophobic views."
Nguyen seemingly distanced herself from the posts in Instagram Live
During the Live, Nguyen explained her perspective of the content she shared, insisting that she proudly identifies as a Republican and supports good cops.
Additionally, Nguyen claimed she hired a team to run her social media as she ran several businesses at the time, implying someone else shared the posts in question.
Michael, a Black man who identified himself as a close friend to the short-lived Housewife, applauded Nguyen several times throughout the conversation for "owning it."
Additionally, he insisted his friend wasn't racist, pointing to her longtime Black CFO and background growing up as the only Vietnamese native in Long Beach, California, as evidence. Many fans agreed with Shah following the Live as they didn't believe Nguyen's reasoning for needing a social media team.
Bravo fired for 'RHOSLC' newcomer for the 'offensive' content
When rumors spread that RHOSLC had begun filming its third season, controversial posts shared by the newest Housewife's personal Facebook page resurfaced. These uploads, from as recent as 2020, included multiple memes that endorsed Donald Trump and the Republican Party.
One post mocked Vice President Kamala Harris and claimed she received her position by sleeping with "the right powerfully connected men." The account also shared posts expressing anti-vaccination sentiments as it compared those eager to get the vaccine to drinking the "Kool-Aid."
Additionally, Nguyen posted a lot of content focused on the Black Lives Matter movement and the heavily debated police officer-involved murder of George Floyd. The uploads referred to BLM protesters and "thugs" and included misinformation related to Floyd and his death.
Many followers rapidly spread the posts on Twitter, and Nguyen quickly responded with a short statement, initially claiming she believed she was "speaking out against violence." Bravo then announced its separation with Nguyen and apologized for the delay in action. The Real Housewives of Salt Lake City airs Sundays on Bravo.