'RHOSLC': Lisa Barlow Admits 'I've Never Really Thought' About What Happens at Mary Cosby's Church — Despite Her Friend Declaring It a 'Cult'
ARTICLE HIGHLIGHTS
Lisa Barlow has 'never gone down the rabbit hole' with Mary Crosby.
Former members of Cosby's Faith Temple Pentecostal Church claim it's a cult.
Barlow trusts her friend over her Real Housewives of Salt Lake City co-star.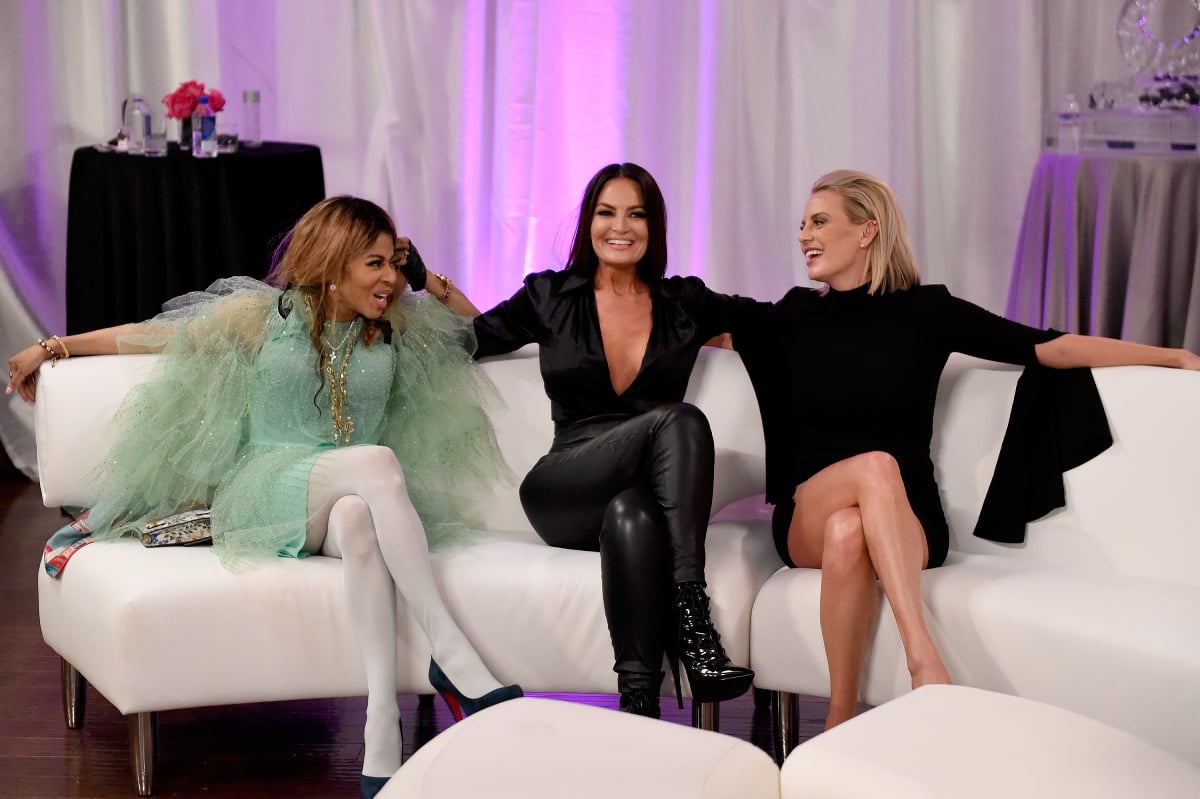 Real Housewives of Salt Lake City star Lisa Barlow says the cult rumors about her co-star Mary Cosby are "crazy." She's still trying to process why rumors are swirling that Mary is running a cult at her controversial Faith Temple Pentecostal Church. But she admits, she's never really thought much about what goes on beyond those stained-glass doors.
Lisa Barlow has 'never gone down the rabbit hole' with Mary Crosby
Lisa recently told Page Six that she thinks the rumors about Mary are "crazy." But she admits that she's "never gone down the rabbit hole with" her RHOSLC co-star.
"From what I'm told, there's so much stuff online that is crazy," Lisa told the outlet.
The Vida Tequila CEO explained that she is a proud Mormon who is a member of the Church of Jesus Christ of Latter-day Saints. Which means she's never attended a service at Faith Temple Pentecostal Church.
"I've never really thought too much about what happens at Mary's church because church is a choice — and people choose to go there," Lisa said.
Lisa Barlow and Mary Crosby clash on 'RHOSLC' season 2
In the preview for season 2 of Real Housewives of Salt Lake City, there was a brief clip of Mary and Lisa seemingly in a heated moment over the cult accusations. The episode with that scene hasn't aired yet. But when responding to claims that she calls herself God, Mary tells Lisa "I worship the god in me." 
There's also a scene where Lisa meets up with the late Cameron Williams — the former chair of Utah County's Black Chamber of Commerce — and he tells her, "Is it a cult? Yes. Does she call herself God? Yes."
Former members of the Faith Temple claim it's a cult
In a lengthy exposé that The Daily Beast published in September, seven former members of the Faith Temple accused Mary of running a cult. They claimed the Bravolebrity manipulates church members into working at her family's businesses for little or no pay.
They also claimed Mary drains church members' bank accounts for her own personal financial gain. If anyone wants to leave the church, these former members claim that Mary will tell them they'll be condemned to hell.
"It's cultish what they've done," one former member said. "It's the mental manipulation to try to get people to believe that she has power to either take them to heaven or condemn them to hell."
Lisa Barlow trusts her friend, not her co-star
Lisa says she doesn't know what goes on at Mary's church. But she did make it clear that she trusts Williams' opinion because of his experience with past "spiritual trauma."
"I believe him, I believe his feelings," she said. "I believe he was an amazing person, I believe he had an amazing heart. It's important for people to hear his side and what he went through because it might be healing and helpful for people to hear what Cameron said to me."
Mary Crosby denies she's running a cult
When confronted with the cult accusations, Mary has denied that she's using money from her congregation to bankroll her luxurious lifestyle.
"Clearly I'm not gonna get on national television, be a Housewife, and be in a cult," Mary told Entertainment Tonight. "Like, come on. I believe in my church. There's no cult. My church members, they know those are false allegations. Those are ridiculous. It's the people that are looking for fault."
Lisa says she's not judging her co-star because she doesn't like to do that. But did she say that when you care about your friends, you listen to them. And that's why she believed what Williams told her.
"I heard everything Cameron said to me. You will see it in upcoming episodes. He was a remarkable person to the point that there are billboards all over Utah saying what a great person he was."
New episodes of Real Housewives of Salt Lake City air Sunday nights on Bravo.