'RHOSLC': Lisa Barlow Responds to Heather Gay's 'Get Her' Comment: 'You've Got Issues'
During the Jan. 9 episode of The Real Housewives of Salt Lake City, Jen Shah and Lisa Barlow got into a heated argument, nearly turning physical. When asked her first reaction when watching the fight, Heather Gay admitted she wanted Shah to "get her." Barlow later responded to the tweet, prompting a clap back from Shah, who defended her friend's comments.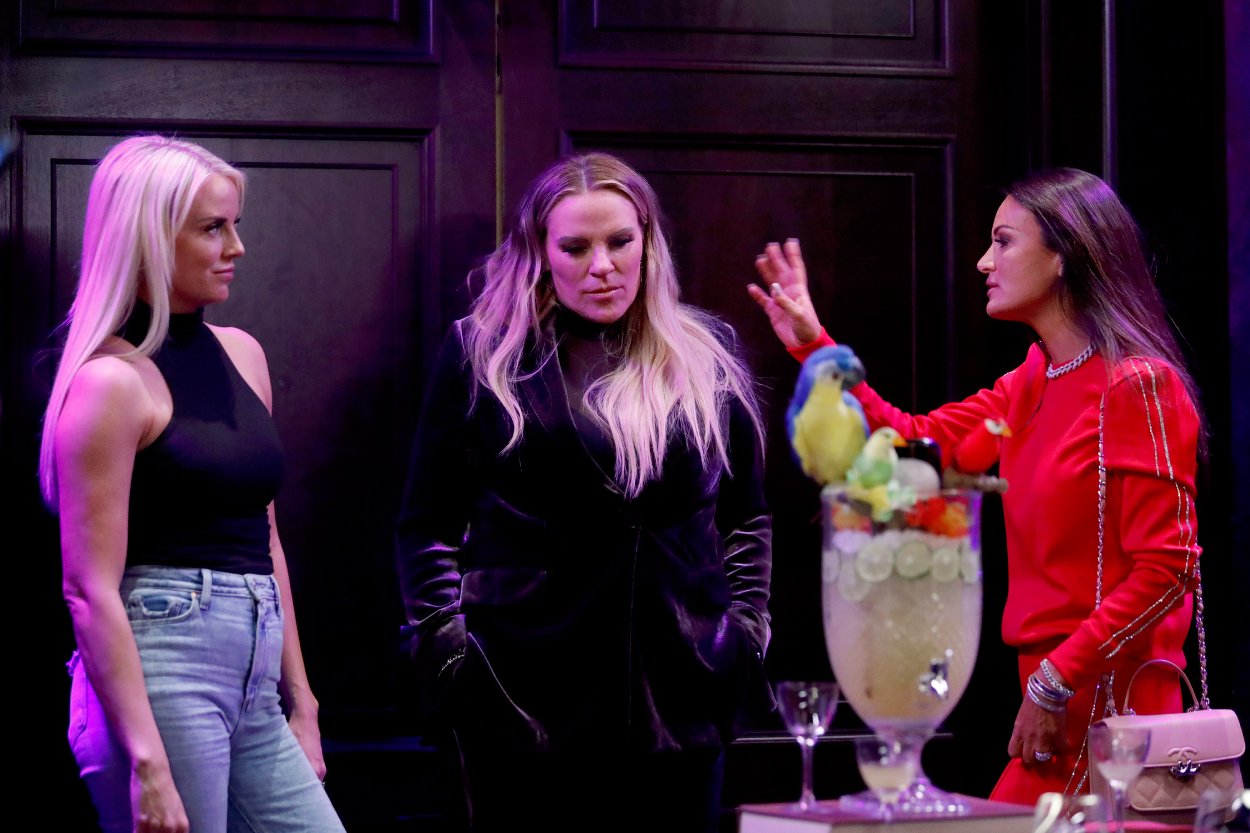 Heather Gay said she wanted Jen Shah to 'get' Lisa Barlow during their heated argument
A couple of days following the explosive episode, Heather Gay appeared on The Wendy Williams Show, where she discussed the season with guest host Michael Rapaport.
Answering the actor who wondered her first thoughts when witnessing the near physical fight, she admitted they were, "get her, Jen."
RELATED: 'RHOSLC' Star Heather Gay on Why She Thinks Mary Cosby Distanced Herself From Whitney Rose
The Housewife explained she felt Shah tried to hold Barlow "accountable" for things she says in private and wanted the tequila brand owner to reveal her thoughts in front of everyone.
However, Gay believed the blow-up happened due to Barlow refusing to admit certain things publicly while Shah continued to "force the issue." She also noted she remained calm and didn't intervene because it wasn't her "beef." 
Barlow responded to Gay's comment on Twitter, and Shah stepped in
Following the interview, Barlow seemingly responded to her co-star's comments. The two, who have had their own drama since the beginning of the series, are on opposite sides of the fence as Gay quickly supported Shah after the indictment, whereas Barlow took more time to come around.
The business owner subtweeted, "if you promote violence and say 'get her,' you've got issues." Using a spin on the "baby gorgeous" nickname executive producer Andy Cohen dubbed her, she finished the tweet with the hashtag, "not baby gorgeous."
Shah responded to the tweet, tagging Gay, claiming her friend didn't "promote violence." She explained that the Housewife's comment referred to Shah "calling you out on the double standard and lies."
She then implied Barlow was the one who encouraged the fight, claiming the tequila brand owner pushed her and egged her on, saying, "come on, let's go." Barlow has not yet responded.
Shah and Barlow nearly got into a physical altercation during 'The Real Housewives of Salt Lake City' Season 2 Episode 16
Provided by the husbands, the ladies took a Mother's Day vacation to Zion using the same Sprinter bus and driver as when the FBI and Homeland Security stopped it in search of Shah.
Although it started fun, it quickly took a turn when the Housewives began talking about Meredith Marks hiring a private investigator to look into Shah and possibly lying about attending a memorial.
While the other ladies thought she went too far and theorized Marks' potential involvement with the indictment, Barlow didn't say anything, preferring to stay neutral. Wanting her to answer for her friend, Shah got upset with Barlow when she refused to comment on the situation.
It nearly turned volatile when Shah stood up and got into Barlow's face, but producers intervened before it could get physical. The Real Housewives of Salt Lake City airs Sundays on Bravo.
RELATED: 'RHOSLC': Mary Cosby Leaves Hints That She Has Quit the Franchise