'RHOSLC': Meredith Marks Confronts Jen Shah in 'Fishing for the Truth'
Find out what happens when Meredith Marks agrees to go ice fishing with Jen Shah and the rest of the 'RHOSLC' cast.
"I may be known for my ice, but I always bring the heat." Meredith Marks' tagline for the Bravo series couldn't be more true, especially in episode 2 of Real Housewives of Salt Lake City's second season. When Jen Shah orchestrates a day of ice fishing for the stars of RHOSLC, Meredith seizes the opportunity to confront Jen about liking negative tweets about her family. Find out what went down that day on the ice, plus what Meredith said on Twitter as the episode was airing.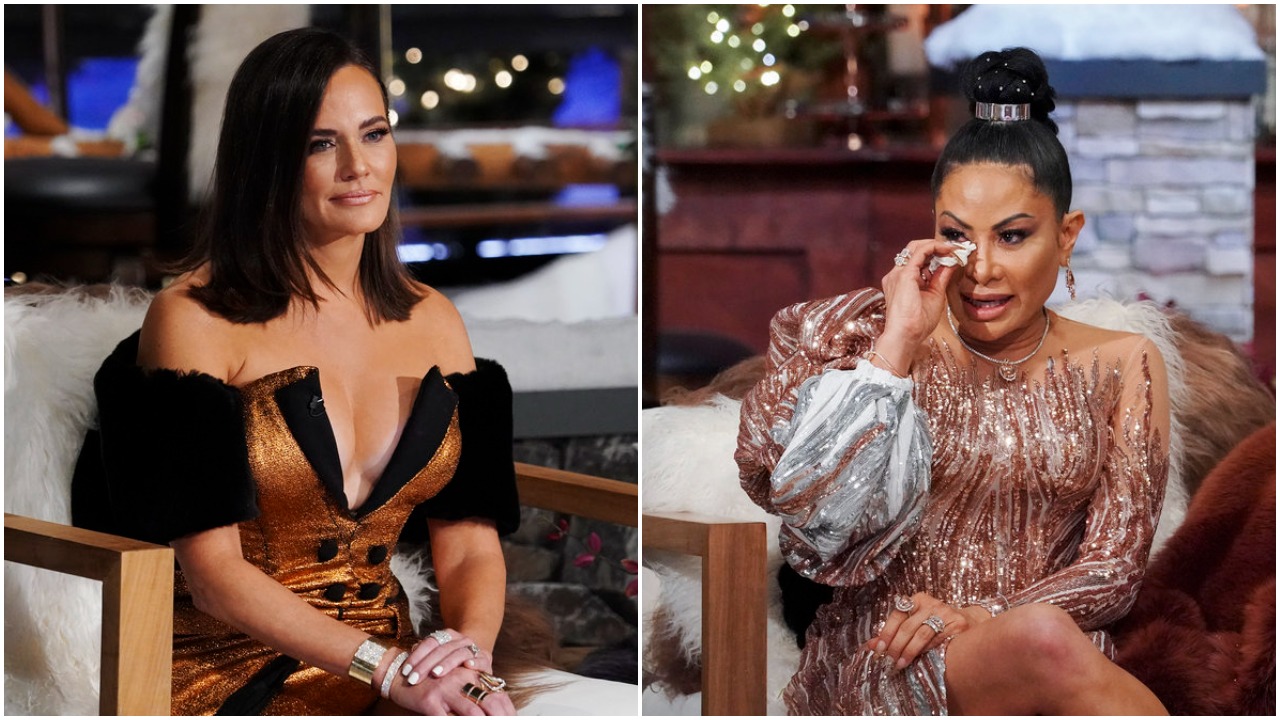 'RHOSLC' star Lisa Barlow confides in Jen Shah
Outside of the Meredith and Jen argument, Lisa Barlow has her own issues with Heather Gay. During a conversation with Jen, Lisa says she thinks Heather is "completely manipulative." Plus, Lisa's relationship with another RHOSLC star, Whitney Rose, is on the rocks.
"With Whitney, I tend to dance with her because every time I'm around her, it feels like she wants to have a problem with me," Lisa tells Jen. "I want people to know you how I know you," Jen replies. "If we want to change the perception, you just take the higher road with Whitney to say, 'I don't have a problem with you.'"
Jennie Nguyen's husband Dewey wants more kids
After a Saturday science project with their three kids, Dewey expresses his desire to have more children. "Honestly, you know how I feel about this," Jennie Nguyen tells him. "You know where I'm at with this — I don't wanna talk about it now." In the past, Jennie's doctor has told her it's not safe to have more children after her nine miscarriages and three C-sections. 
Mary Cosby and Brooks Marks bond on 'RHOSLC'
During the season 2 episode, Meredith has a few fashion-forward friends over to preview the new collection she's adding to her store. Among them is Mary Cosby.
"Brooks has struggled a bit with feeling targeted by Jen," Meredith tells cameras. "He finds a lot of comfort in talking to Mary about it because she has been there." 
Brooks Marks admits he's terrified to even talk about the Jen situation. He, Meredith, and Mary discuss the negative tweets Jen allegedly liked regarding Brooks that are "awful and mean." 
"I received a text from Jen inviting me to an outing," Meredith tells Mary later in the evening. "It doesn't sit well with me to go be her guest." Still, Mary encourages Meredith to go and explore the hurt she's feeling. "This has to be stopped," Mary says "This grown woman in her 50s…" 
'RHOSLC' cast go ice fishing, Meredith Marks and Jen Shah
Whitney, Heather, Jennie, Lisa, and Jen go ice fishing under the impression Meredith isn't coming. Eventually, Meredith shows up to confront Jen. "Zen Jen" asks Heather to talk to Meredith for her, to which she says: "No f****** way."
"Your actions toward me are not aligned with your words," Meredith tells Jen. "I was very clear that if you want to be friends, that you would not speak poorly of my family." Meredith expressed those wishes during the season 1 reunion. 
She also mentions the homophobic tweets Jen has allegedly liked and the comments Jen has made about Brooks' sexuality. Jen denies liking anything on Twitter, blaming her team instead.
"I've never talked about Brooks' sexuality," Jen tells Meredith. "I have somebody running that stuff," she adds, reinforcing she's not the one "liking" tweets from her account.
"I can't listen to the deflecting, projecting, and lying anymore," Meredith tells Lisa. Frustrated with the situation, Jennie gets involved, but the argument ensues. Meredith leaves, and Jen gets even more upset. "You cannot blame me for every issue on this Earth," Jen says. 
"Denying the truth doesn't change the facts," Meredith also tweeted. After the episode, Whitney was a guest on Watch What Happens Live. "You don't go after children and Jen took it too far," Whitney tells Andy Cohen. 
'RHOSLC' recap: 'Fishing for the Truth' highlights
Other notable moments from RHOSLC season 2, episode 2 include:
Heather is looking to expand Beauty Lab and Laser. 
Mary shares the sex advice she gives her son: "Wear a jimmy — you don't want that thing coming home purple. Just because they look pretty don't mean they're pretty on the inside." 
"I used to the Lisa snub and now I'm getting the Lisa hug," Whitney says during ice fishing.
RHOSLC airs Sundays on Bravo.