'RHOSLC': Meredith Marks Addresses Reports She's 'Not Happy' That Jen Shah Got Arrested Wearing Her Coat
The Real Housewives of Salt Lake City star Jen Shah was arrested on federal charges of conspiracy to commit money laundering and fraud following an alleged decade-long telemarketing scheme. Following her apprehension, pictures surfaced of the Bravolebity's look leaving the courthouse. Wearing a loud fur coat, a Twitter user claimed Meredith Marks' employee said they sold Shah the coat, and her boss wasn't happy the housewife got arrested in it. Marks addressed the rumor on Twitter.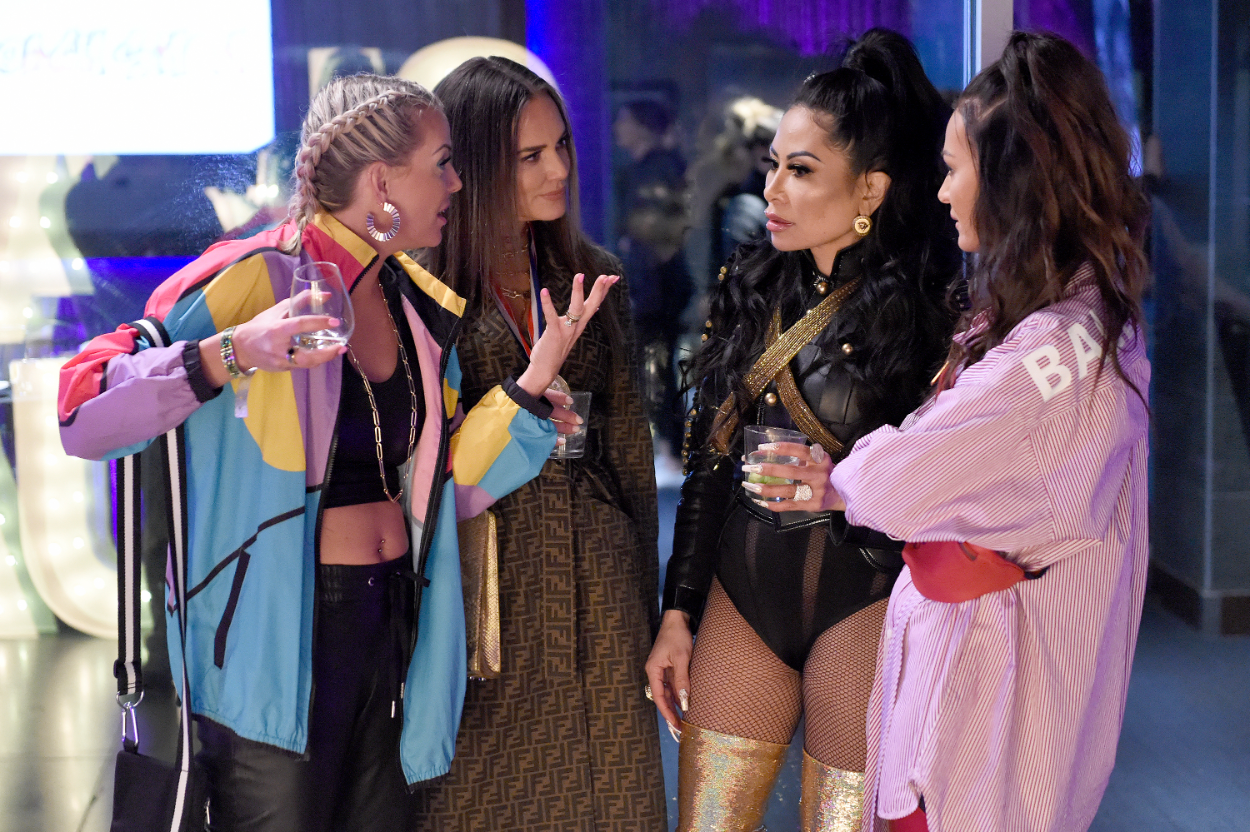 Meredith Marks and Jen Shah debuted on 'The Real Housewives of Salt Lake City'
Celebrity jewelry designer Meredith Marks and husband Seth premiered on the show and opened up about their marital issues. After 25 years of marriage, the couple had difficulty seeing eye to eye as he worked in Ohio most of the time while she ran her Park City-based store.
Therefore, they decided to separate. Fellow castmate and friend before the show, Jen Shah, spread rumors that Marks began dating other men, upsetting her.
The celebrity jewelry designer had a hard time getting over it because she considered Shah a friend, and the other housewife initially didn't admit what she said.
The two seemingly worked it out during the three-part season one reunion. Marks and her husband have also reunited.
Shah arrested on fraud and conspiracy to commit money laundering charges
As the ladies filmed the second season on Mar. 31, 2021, officers showed up to arrest Shah and her first assistant Stuart Smith, who's also appeared on the show.
The two were taken into custody on conspiracy to commit money laundering and fraud charges following an alleged near decade-long telemarketing scheme.
The federal courts are accusing them of working alongside another entity to defraud hundreds of individuals, many of whom are over 55 years of age, by selling them "business services" in connection with online companies.
Both Shah and Smith reportedly attempted to hide their involvement in the scheme using offshore shell accounts and fake names. The RHOSLC star is currently out on a recognizance bond and cannot participate in any telemarketing activities.
Additionally, she can only travel for her court-related appearances. Their trial is set for Oct. 18, and the two face up to 30 years in prison if convicted. They have both entered a not guilty plea.
As the cameras were rolling during the apprehension, Bravo noted they intend to use as much footage as possible in the upcoming season.
Rumors claim Marks was upset that Shah wore a coat she sold her during arrest
Following the arrest, pictures surfaced of Shah exiting the courthouse wearing a loud fur coat. A Twitter user claimed an employee of the jewelry designer told her the OG housewife got arrested wearing a Marks' coat and her boss "is not happy about it."
However, Marks responded that it was a "miscommunication" because her business never sold the "coat to Jen." Cast member Heather Gay, who reportedly was with Shah when she found out about the warrant, seemingly responded to the situation directly to writer Evan Ross Katz.
She simply wrote, "I am shooketh." Shah has broken her silence by speaking to a few followers, where she declared her innocence. The Real Housewives of Salt Lake City airs on Bravo.