Rhylee Gerber From 'Below Deck' Teams up With Michael Dietrich From 'Naked and Afraid' and He Spills Behind the Scenes Secrets
Rhylee Gerber from 'Below Deck' is teaming up with Michael Dietrich from 'Naked and Afraid' to offer advice on how to live a minimalist lifestyle.
Rhylee Gerber from Below Deck and Michael Dietrich from Naked and Afraid may not agree about who first direct messaged who, but the reality TV stars decided to team up to offer guidance on how to live a minimalist life.
Dietrich is part of the "van life" movement, residing in his completely finished van in Canada. He's an avid outdoorsman and dog lover, much like Gerber. Gerber and Dietrich have been chatting about his experiences living off the grid and making a home in his van. The two recently connected with Showbiz Cheat Sheet to dish about their experience on reality television. They also shared how fulfilling and freeing it is to live a minimalist lifestyle.
Gerber recently purchased a van and is in the process of transforming it into a home where she and her dog Dolce can reside. With the economy on a downslide, Gerber and Dietrich plan to offer a roadmap to fans who are interested in living and thriving with less. But first, Dietrich spills some behind-the-scenes secrets from his time on Naked and Afraid.
Nobody knew that Dietrich was injured the entire time
Dietrich said he took a lot of heat for not being big on cuddling with the two other people he had to survive with on the show. "It was like Alexandra couldn't sleep and Daniel had to cuddle Alexandra and I was just this selfish mutant for not cuddling either of them," he says. "There is definitely no way in the world I would ever cuddle Daniel. But for the first couple of days, I was there in the shelter and she was sleeping on my bicep. And she was absolutely thrilled by that. So, I actually did cuddle! She named by bicep Ted."
Despite doing a considerable amount of the work and building the shelter, Dietrich was also dealing with a significant injury. "Never one time on the show did I complain but I had a severely herniated disc," he shares. "So while I'm on the show, I never mentioned to [the other two cast members]. I mentioned it a few times maybe saying I was a little bit hurt."
"But realistically I was at an eight out of 10 pain scale where I could barely sleep by myself, never mind cuddle up to somebody," he continued. "But I didn't want to complain about my situation because I knew I was injured going into it."
The reason Dietrich was injured was even wilder than being on the show. "Two years ago I was in an avalanche and I ended up breaking my leg and ankle in five places," he shares. "And then I had a previous injury from when I played professional soccer."
Teamwork makes the dreamwork
Dietrich shared that he did a considerable amount of the work on his own while on the show. Gerber discussed how teamwork can really frame your experience on both a reality show and in reality. "I can't imagine going into a team setting and then not remembering that you are a team," Gerber says.
"Just like on [Below Deck], you have to take courses and get certifications in order to live and work with somebody. In order to understand that whole environment," she continues. "Everyone has to be conscientious of everyone. And it doesn't matter if it's on deck or out in the wild, there's the whole kill or be killed scenario."
She recalled her recent experience on the show and how she was on deck with a bosun who didn't want to lead and a deck team that didn't work together. "Especially with a show like Naked and Afraid, it would challenge me in a different way," Gerber adds. "Versus Below Deck, there's so much more you have to think about than just hierarchy."
Gerber and Dietrich plan to share their experiences living a minimalist life
She plans to tap into teamwork when it comes to her van build too. Gerber recently shared a video after she installed vinyl flooring that resembles real wood along the floor of her van. She shared that her van buildout is going to be slow as money is tight.
While some minimalists live off the grid, Dietrich says it's more about learning to live (and appreciate life) with less. "I think it's the whole minimalization thing because it isn't always realistic for some people to completely uproot their life and go completely off the grid," Dietrich says. But he says a low-cost lifestyle can provide a feeling of security. "For example, I don't have to work for like 20 years just based off of my savings," he reveals. "And just keeping my lifestyle so cheap. You can be a lot more conscious of your spending."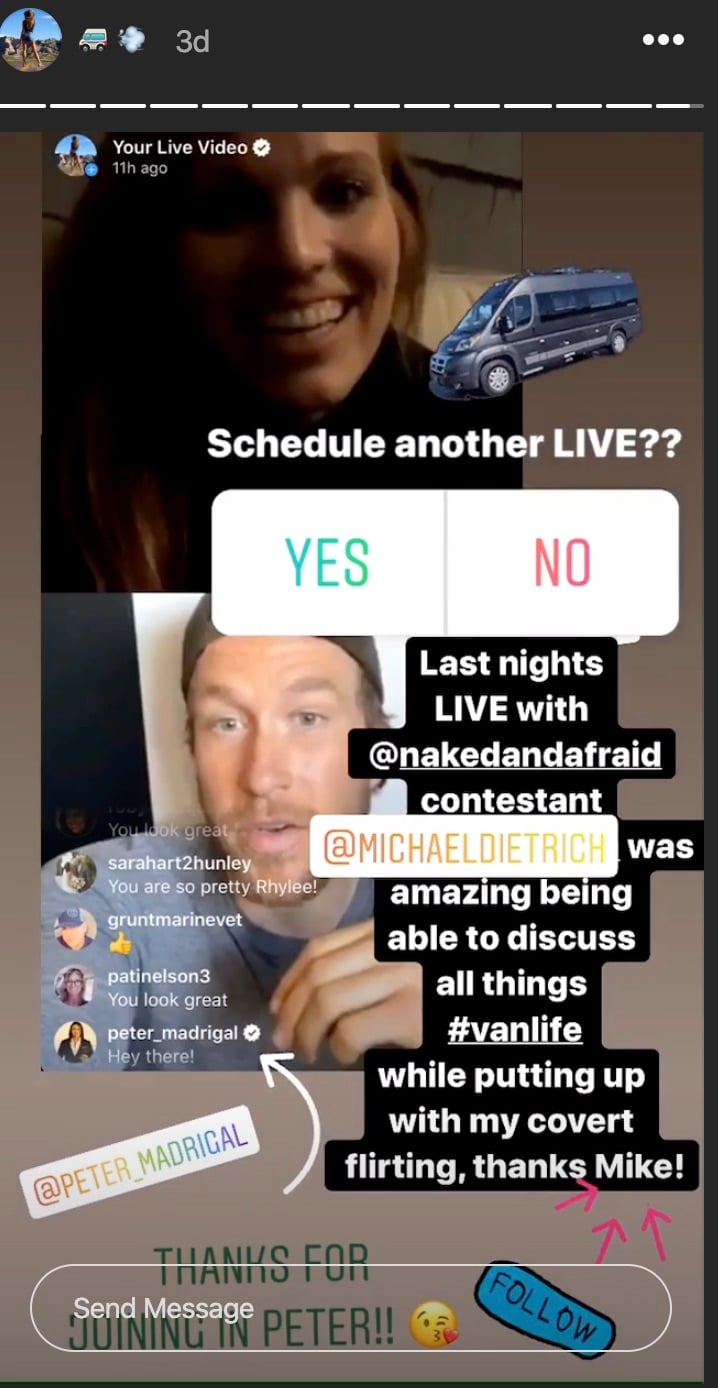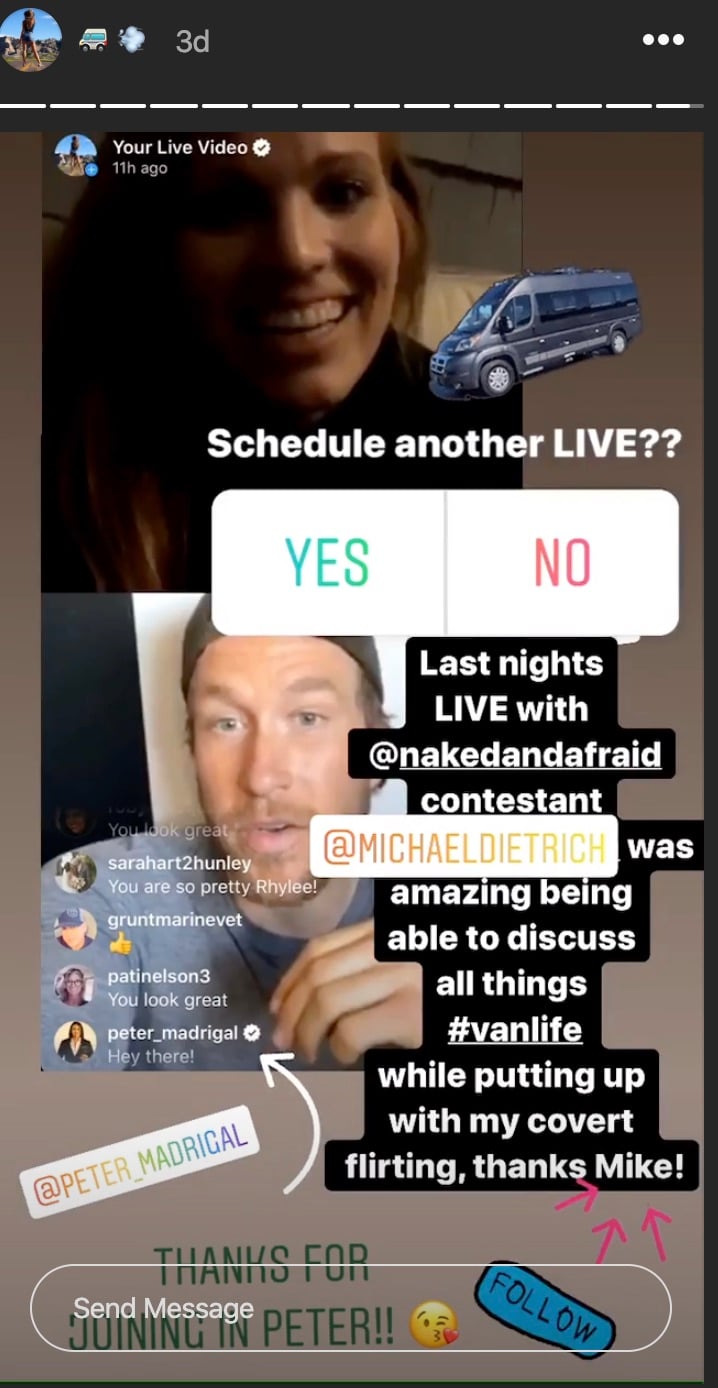 Gerber told Showbiz Cheat Sheet in June she's subscribed to the minimalist lifestyle for years. "Of course I'm very frugal and live a pretty minimalist lifestyle," she says. "But I was able to stretch the two months I worked on My Seanna on Below Deck, plus about 60 days working in Alaska." She made about four months of her boating salary stretch for an entire year.
Gerber and Dietrich also shared fun banter when they hosted an Instagram Live. Fans commented on their instant chemistry as they flirted from afar. They plan to share more videos and insight specific to living life on less money. Gerber plans to share van transformation details on her Instagram on a regular basis.