'Rick and Morty': Justin Roiland Accidentally Started Calling Dan Harmon 'Rick' Because of Their Similarities
Co-creator of Rick and Morty, Dan Harmon, has denounced the show's "mean" fans time and time again in interviews. Harmon's discussed how there's a certain subset of fans who related to Rick, a lonely nihilist, in a significant way. And they're not always the kindest people on the internet. But Harmon himself undoubtedly shares some similarities with the character as well. At least co-creator Justin Roiland thinks so.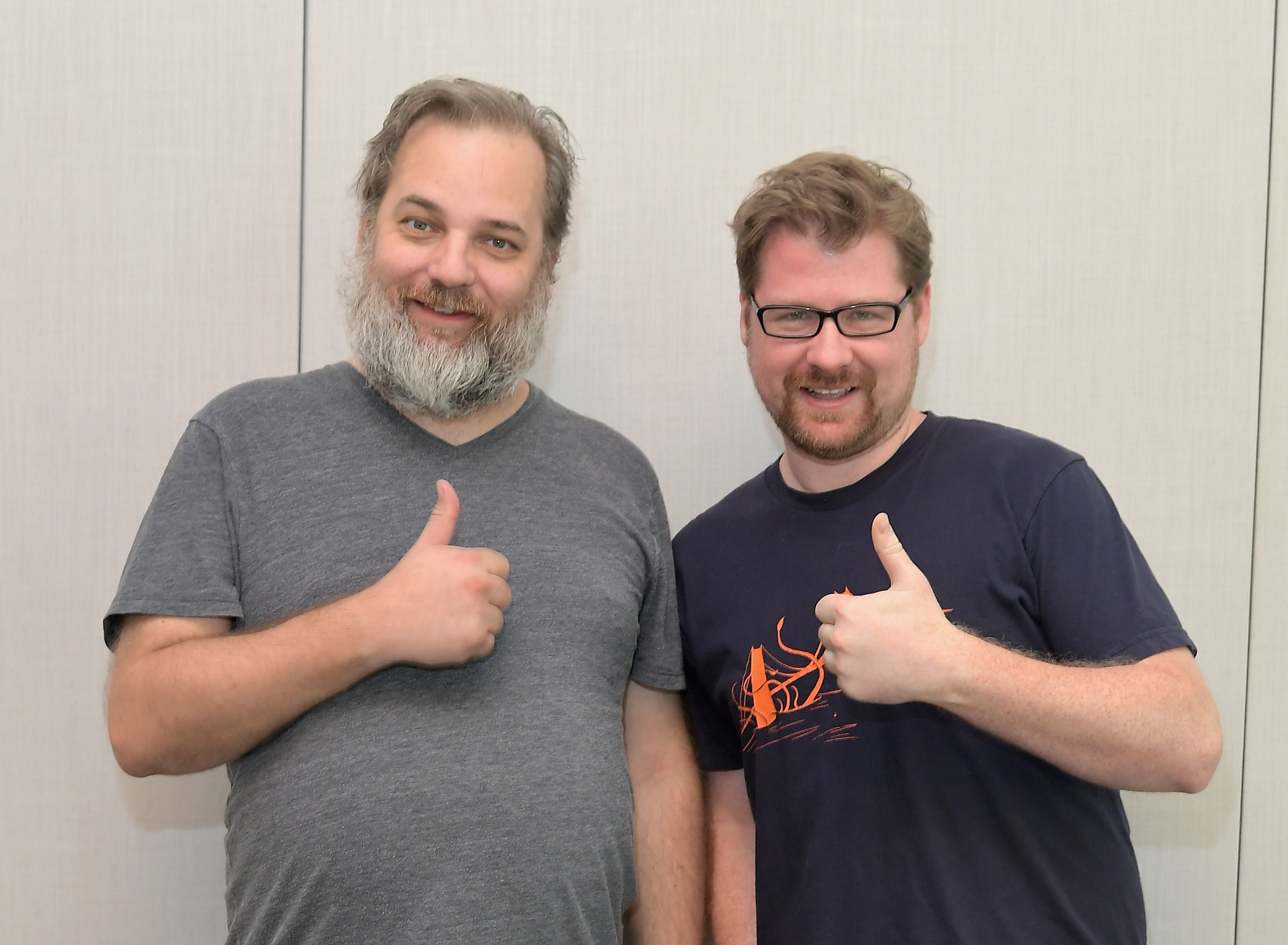 When Justin Roiland 'accidentally started calling Dan 'Rick"
GQ did a feature on Harmon back in 2018. Writer Sean O'Neal noted to Roiland that Harmon and Rick seem to share some qualities, both being "God-defying narcissists."
"There's a lot of Dan in Rick," Roiland agreed. "A lot. It's gotten so bad that since season two, I've accidentally started calling Dan 'Rick.' There's definitely a world of difference between them. But Dan does—maybe subconsciously, maybe purposefully—tap into some of the darkness he's got in him."
RELATED: 'Rick and Morty' Creator Dan Harmon on Who He Thinks 'Perfectly Healthy' Fans Should Identify With
At one point during O'Neal's interview with Harmon, the writer got up to use the restroom at the bar they were in and left his tape recorder on the table. When he played back the tape, he heard Harmon prompt the woman sitting next to them to leave "a satanic message."
"When you come back, we're going to slit your f—— throat," she said, playing along.
"Oh f—!" Harmon laughed, enjoying himself.
It's just too easy to imagine Rick in the same scene.
Dan Harmon and Rick Sanchez are both narcissists
It seems one of the qualities Harmon shares with Rick is narcissism. For the co-creator, his narcissistic tendencies go hand-in-hand with his propensity for self-sabotage.
"Self-destruction is a control freak's way of monopolizing their own fortune," said Harmon. "It's gotta be the most narcissistic thing to hijack God's cockpit and go, 'No, I'll decide whether it's a good day or a bad day.'"
Rick's narcissism manifests in different ways. For one, the character often speaks about his superior mind. If someone were to give Rick Sanchez a compliment, he'd answer with "Yeah, and?"
Harmon, on the other hand, is made wildly uncomfortable by compliments (as can be witnessed in his May interview with MSNBC's Ari Melber). When he's not feeling uncomfortable by them, he doesn't compute them at all. O'Neal was with Harmon when he received feedback on a script he'd just turned in. The recipient wrote to Harmon that they were "quite impressed and thrilled" with the result. Harmon wasn't pleased with the feedback. "It's like the Devil's oven," he said.
'One of the last biggest problems I'm gonna need to solve about myself is my ability to process happiness'
Rick Sanchez is not what we would call a happy person. When he's having fun, indulging in one vice or another, it's more about distracting himself from the void or partying because nothing matters. He's not living a fulfilled life.
The GQ article came out just after Adult Swim renewed Rick and Morty for 70 more episodes. But the first portion of the interview was completed before Harmon and Roiland were offered the deal.
"I don't want the article to be like, 'This guy can't be happy,' " Harmon told his interviewer as they parted ways just outside the bar. "I'm so happy. All you've got to do is tell the magazine how happy I am, and then I'll be happy."
RELATED: 'Rick and Morty' Creator Dan Harmon Admits He Used to Be 'the Guy Who's Angry At Women'
Happiness hasn't always come easy to the co-creator, but it was something he was actively working on with his therapist. The 70 episodes, however, made him happy.
"I definitely agree with my therapist that I'm a very lucky guy," he said. "One of the last biggest problems I'm gonna need to solve about myself is my ability to process happiness. How can I respond to good news without assuming I'm going to catch a disease?"
Perhaps that is the biggest difference between the writer and his creation. We know how (Pickle) Rick feels about therapy. Why would the smartest man in the universe solicit help from someone else? Even though, Rick is lonely. Rick catches glimpses of his own morality and is sometimes taken aback by what he finds. Harmon doesn't mind asking for a second opinion — someone to hold a mirror up to his blind spots. Rick either feels he doesn't have any blind spots or doesn't care to fix them because nothing matters. It matters to Harmon.