The 'Rick and Morty' Season 4, Part 2 Trailer Reveals the Release Date for the 'Other Five Episodes' and Fans Still Think It's an April Fool's Joke
The 'Rick and Morty' Season 4, Part 2 trailer confirms the release date for the last 5 episodes, but fans think it's an April Fools' Day joke.
The boys are back in town — or are they? On April 1, 2020, Adult Swim unveiled the Rick and Morty Season 4, Part 2 trailer. As expected, the promo teased wild adventures and the highly-anticipated release date for the final five episodes. But given the nature of the holiday and many months of silence, Rick and Morty fans wondered whether the May 3 premiere is actually an April Fools' Day hoax. 
The 'Rick and Morty' Season 4, Part 2 promo trailer reveals when new episodes return
The first half of Rick and Morty Season 4 wrapped on Dec. 15, 2019, and fans have been waiting for news ever since. For nearly four months, the show's social media channels have been teasing everything but the new episodes, aside from a vague "you can trust us" comment. Then Adult Swim confirmed the Rick and Morty Season 4, Part 2 release date via the latest promo on April 1 — or March 31, depending on your timezone. 
"Prepare yourselves. The time for brand new Rick and Morty adventures is almost here," the narrator says in the trailer. "This is what you've been waiting for. New Rick and Morty starting Sunday, May 3 at 11:30 [p.m. EST] on Adult Swim."
Meanwhile, short clips from the second half of Rick and Morty Season 4 flash by. And of course, they're filled with Easter eggs and potential storylines. The opening shot highlights an army of Ricks alongside a group of Meeseeks and another alien. Could Evil Morty finally mark his return? 
Later, Rick and Morty initiate an "unnecessarily bada** suit up" that looks a lot like a mobile suit from the Gundam franchise. Then a few familiar faces pop up during a battle sequence. Snuffles destroys a robot with his suit. Summer is also fighting Tammy, which means Birdperson — we mean Phoenixperson — shouldn't be too far behind. 
Fans react to the 'Rick and Morty' Season 4, Part 2 trailer
After Adult Swim released the Rick and Morty trailer, fans took their excitement to social media. 
"Finally something good in the 2020," a fan wrote on Instagram in response to the promo. 
That said, the timing of the Rick and Morty teaser wasn't lost on fans. And many individuals were skeptical about the May 3rd announcement because of April Fools' Day. 
"Thank the rick sand morty gods," a fan wrote on Reddit. "But I'm thinking this is an April fool's joke, at least that's how 2020 is going."
Even so, the trailer technically dropped on March 31 in certain timezones. Meanwhile, other fans pointed out Adult Swim released the Rick and Morty Season 3 premiere on April 1, 2017 — months before the season officially started. So viewers still have faith.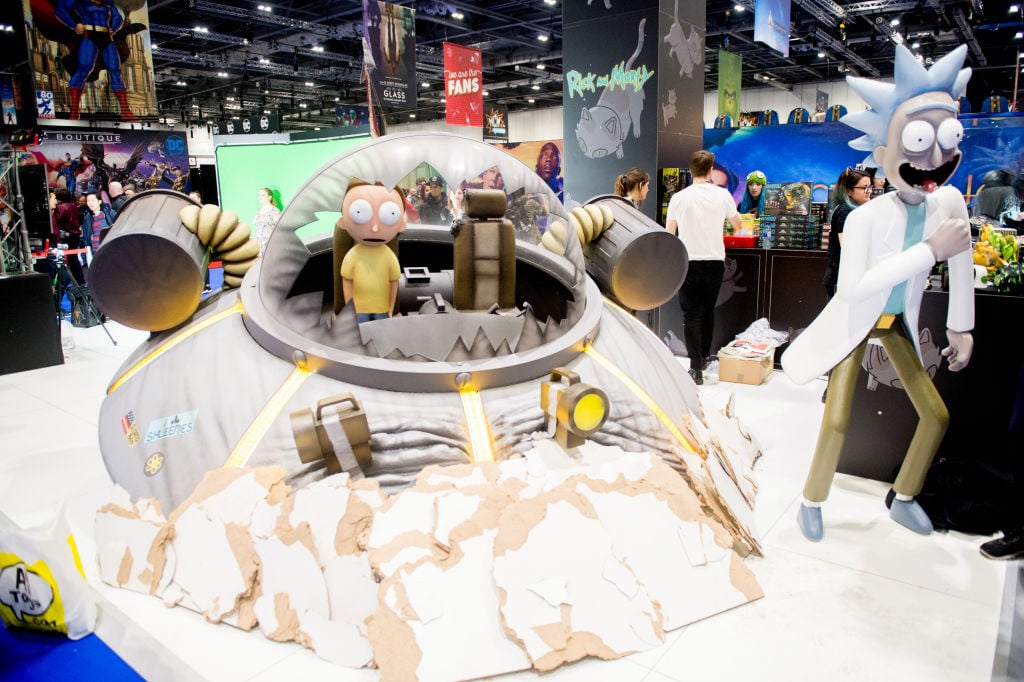 "Normally I'd be skeptical but remember when they released the first episode of season 3 on April 1st and let people stream it for free all day on their website?" a fan wrote on Reddit. 
But for the most part, Rick and Morty fans are just happy to see an official update about the second half of season 4. 
"Well, we could argue the actual date when it releases, but I doubt that they made a whole fake trailer and will not use the shown scenes for the last episodes," a Reddit user wrote. "So I am still hyped about the shown material for the 5 episodes, whenever they show up."
For now, it seems unlikely the Rick and Morty Season 4 release date on May 3 is a joke. But regardless of what happens next, we're excited to see the final episodes of the current cycle, especially since a few fan-favorite characters are set to return.
Read more: 'Rick and Morty': This Evil Morty Origin Theory Will Make the Season 4 Midseason Hiatus Feel More Bearable