'Rick and Morty' Season 4: These Talking Cat Theories Explain Everything — But Honestly, Just Don't Think About It
Fan theories about the talking cat (and why it talks) in 'Rick and Morty' Season 4, including a few fun speculation about the finale.
[Spoilers for Rick and Morty Season 4 ahead!] Oh boy, oh my, Rick and Morty Season 4 Episode 4 — "Claw and Hoarder: Special Ricktim's Morty" — was a wild ride into the realm of magic. Aside from an adventure with Balthromaw — aka the "slut dragon" who soul bonded with both Morty and Rick — the episode included an odd trip to Florida with Jerry and a mysterious talking cat — not to be mistaken for Chichi, RIP — who wasn't too keen on asking questions.
At the end of the episode, Rick and Jerry capture the cat to find out why the feline can talk. However, what they find is horrifying, albeit not revealed to the audience. Then in response, Rick — who we all know has seen things — almost shot himself in the head. So what exactly did they see in the talking cat's mind? And more importantly, why can the cat talk in Rick and Morty at all? Fans speculated their theories on social media as soon as the fourth season episode rolled its credits.
Why can the cat talk in 'Rick and Morty' Season 4?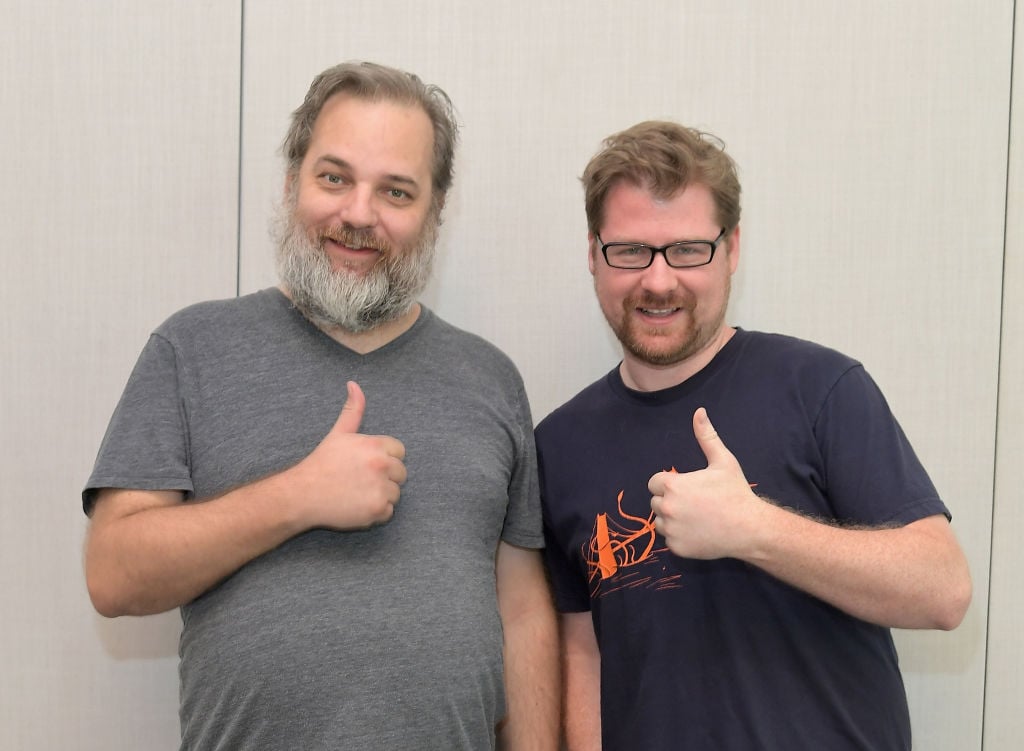 Following the episode, one user on Reddit speculated the talking cat on Rick and Morty exists to call out other series creators that critiqued the Adult Swim series, all while making shows that do not garner the same kind of response.
"The cat (a character we are supposed to dislike) repeatedly says lines to the effect of 'stop asking questions and just have fun,'" the Redditor wrote. "My interpretation is that this is a jab at the creators of other shows who have complained about so-called 'toxic fandom.'"
The user continued: "The creators of [Rick and Morty] encourage fans to connect the dots, make theories, pick out references etc. But they also believe that we can all have fun while doing it. This is exactly what Rick says to the cat at the end, that 'having fun' and 'asking questions' should not be mutually exclusive."
Meanwhile, other fans wondered whether the talking cat was used to tell Rick and Morty audiences not to think too deeply into the show itself.
"Felt like the cat saying 'don't question it' was poking fun at those who read too much into the show expecting big plot," one fan wrote.
And hilarious enough, another fan responded, "I feel like you might be reading too much into the show by thinking the cat's 'don't question it' was a metaphor for something."
What did Jerry and Rick see inside the talking cat's mind?
Quite frankly, we probably won't find out the origins of the Rick and Morty cat and why it can talk. But the Adult Swim series gave a few hints did give away a few hints about what was inside the talking cat's mind. Of which, viewers naturally ran with. And as fans on Reddit pointed out, it's possible the cat did something strange involving elderly people.
"At the end Jerry said 'He was in my house, where I keep photos of my parents,'" a user wrote. "And also florida has a high rate of elderly people. Probably something to do with those two things."
Other fans began digging deeper into why the cat would be tied to Jerry's parents. Given the nature of the episode, some asked whether it was sexual. Meanwhile, others remembered Weekend at Dead Cat Lady's House from Rick and Morty's interdimensional TV episode. And of course, it was movie directed and written by Jerry.
"Going along [with] the elderly people, there was one episode where cats took over the old lady's body," a fan wrote. "Could be something there. Although those cats didn't talk, at least not that we know of."
Regardless of what Rick and Jerry actually saw, it seems most viewers think the cat might not have done anything horrible — just experienced something traumatic.
"Whatever the cat did, Rick also let it run away," a fan explained. "So horrible enough to consider killing yourself and wipe memories, but not horrible enough to kill the cat. Its not like rick is ambivalent towards killing."
Fans think we'll see the talking cat in the 'Rick and Morty' Season 4 finale
Before "Claw and Hoarder: Special Ricktim's Morty" wrapped, the talking cat met up with Balthromaw in the end credits scene. The two seemed to hit it off, giving fans a send-off to the short-lived new characters. However, it seems some viewers believe the cat will make another appearance in the Rick and Morty Season 4 finale.
Towards the end of the episode, Rick decided to help Jerry with the talking cat. But it wasn't exactly pure in motive. Rick was simply trying to get away from Balthromaw.
"Your dad's been texting me this whole time? He's at an airport with a cat. OK, that sounds, wow. You know, I better check on him," Rick said. "Big season finale right there, you know? Better go right now."
Fans picked up on "season finale," which made everyone hypothesize the talking cat will be involved in the Rick and Morty Season 4 finale.
"Even though Rick said that it was 'Season finale level material' when he went to see Jerry? We'll see him again alright," one fan wrote.
"This kinda subtle stuff i can get behind," another fan wrote. "Not something super hidden, i think those real obscure things tend to be more 'easter egg' type stuff not foreshadowing. The cat coming back in the finale though for a short while after a little throwaway line sounds like it could happen."
And other fans wondered if the cat's traumatic experiences seen by Jerry and Morty will be brought up again in the finale.
"I think the cat did not do jack, but he did survive whatever sick sh*t it was," a fan wrote in response to speculation about the cat's horrific past. "Also it another episode ending with foreshadowing."
Nevertheless, fans will just have to wait and see what happens next. That is if we can all hang on for the midseason break coming after the fifth episode of Rick and Morty Season 4. So stay tuned.
Read more: When Will 'Rick and Morty' Season 4 Be on Hulu? Fans Are Dying to Know the Upcoming Release Date
Check out Showbiz Cheat Sheet on Facebook!