Ricky Gervais Explains His Controversial Golden Globes Remarks: 'I Try to Make It a Spectator Sport'
As an active member of Hollywood, Ricky Gervais is well immersed in the culture. But he has no problem taking on the elite, especially as a frequent host of the Golden Globe Awards. Here's what he said in May 2020 about why he doesn't hold back when it comes to calling out his fellow celebrities.
Ricky Gervais is known as a comedic actor
Gervais began his TV and film career in his native England. He worked in sketch comedy before breaking out as the star, writer, creator, and producer of the BBC Two sitcom The Office. Though it aired for just two seasons, it helped establish Gervais as a force to be reckoned with both in front of the camera and behind it.
Today, Gervais is known for films like The Invention of Lying and the Night at the Museum franchise. Subsequent popular TV series include Derek and After Life. Additionally, he has continued to tour as a stand-up comedian, lend his voice to animated projects, and try his hand at documentary programs.
How many times has Gervais hosted the Golden Globes?
Gervais has hosted the award show five times. First, he did three years straight: in 2010, 2011, and 2012. After this first run, Tina Fey and Amy Poehler also did three consecutive shows. Gervais returned to host again in 2016, followed by Jimmy Fallon, Seth Meyers, and then Sandra Oh and Andy Samberg. Gervais took back the reins in 2020.
Even before he was a host, Gervais was familiar with the show, as he has won a few Golden Globes himself. The first two he received back in 2004 for The Office U.K., followed by one for his British sitcom, Extras. Gervais was also nominated as a producer for The Office U.S.
Some thought his 2020 remarks went too far
It's no secret that Gervais' comedy isn't for everyone. While hosts like Fallon tend to play to the crowd with musical numbers, that's not Gervais' style. His jokes at previous ceremonies received backlash, with some calling for him never to be invited back. So it wasn't particularly surprising when he rubbed some the wrong way in 2020 with his monologue.
Gervais went straight to the jugular, calling out everyone for something. He remarked on Leonardo DiCaprio's dating history, James Corden's weight, Felicity Huffman's arrest, and much more. However, most of his comments were directed at the room as a whole, lumping everyone into a group he seemed to call generally uneducated, uninformed, and, oddly enough, "perverts."
Gervais explains his decision to go after Hollywood
While doing the Wired Autocomplete Interview in May 2020, Gervais was asked why he "roast[ed] Hollywood." His reply: "I think it's what I was paid to do. I'm a court jester. I make a decision. I've done it five times over the last 10 years. And every time, it's like 'Do you pander to the 200 people in the room or the 200 million people watching at home?'
He continued, saying, "There's no competition. The people at home aren't winning awards. They're not millionaires. What's in it for them to watch the richest, most privileged people in the world just win an award? Well, no, I try to make it a spectator sport. So that's why. They can take it."
Will he ever host again?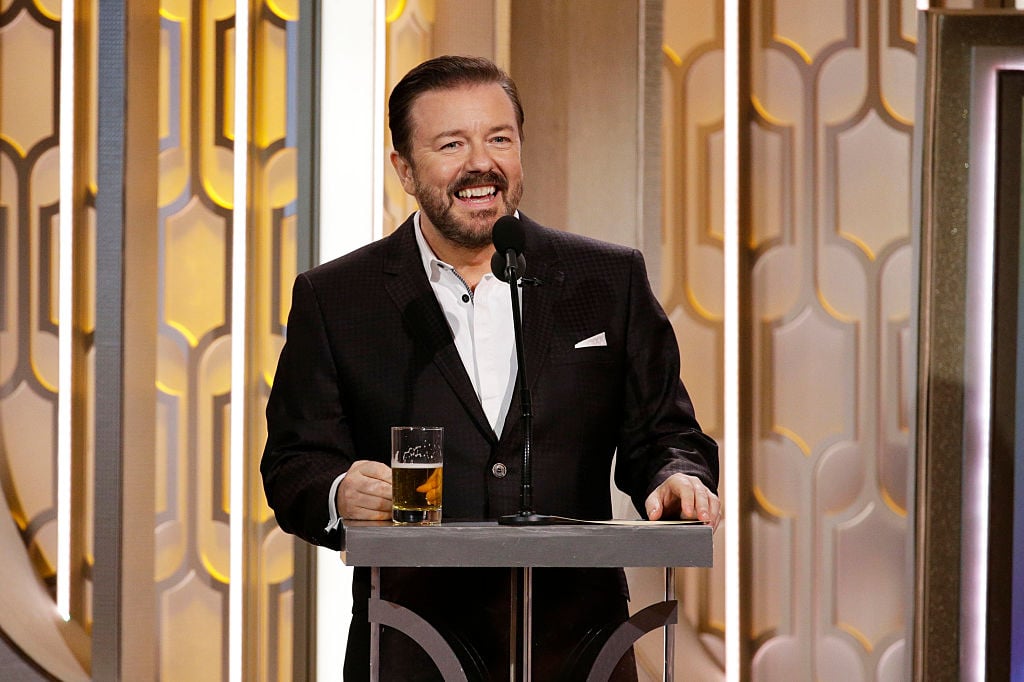 At this point, no one knows when the next award show will happen. The 78th Golden Globe Awards are, at this point, set to take place in early 2021, but with adjustments due to the coronavirus (COVID-19) pandemic happening constantly, nearly everything is uncertain. That is, except for Gervais' status as host.
He made it very clear during his 2020 monologue that it was his last time hosting the show. And the Hollywood Foreign Press Association was quick to hop on this, announcing just days later that Fey and Poehler would be stepping back into the role. Perhaps Gervais is really done with the award show, but we'll have to wait and see.