'Ridiculousness': Why Does MTV Air the Rob Dyrdek Show so Much?
There's a few reasons MTV plays so many episodes of 'Ridiculousness.'
Rob Dyrdek got his start in the entertainment industry as a skateboarder. His first MTV appearance was in November 2006 on Rob & Big. The reality show followed Dyrdek and his bodyguard, the late Christopher "Big Black" Boykin. The entrepreneur hasn't left the network since. 
MTV has a plethora of programs they could rerun. Remember dating shows like Next and Room Raiders? With so many throwback options, many people wonder: Why is Ridiculousness the only show ever on MTV? As it turns out, there are a few reasons.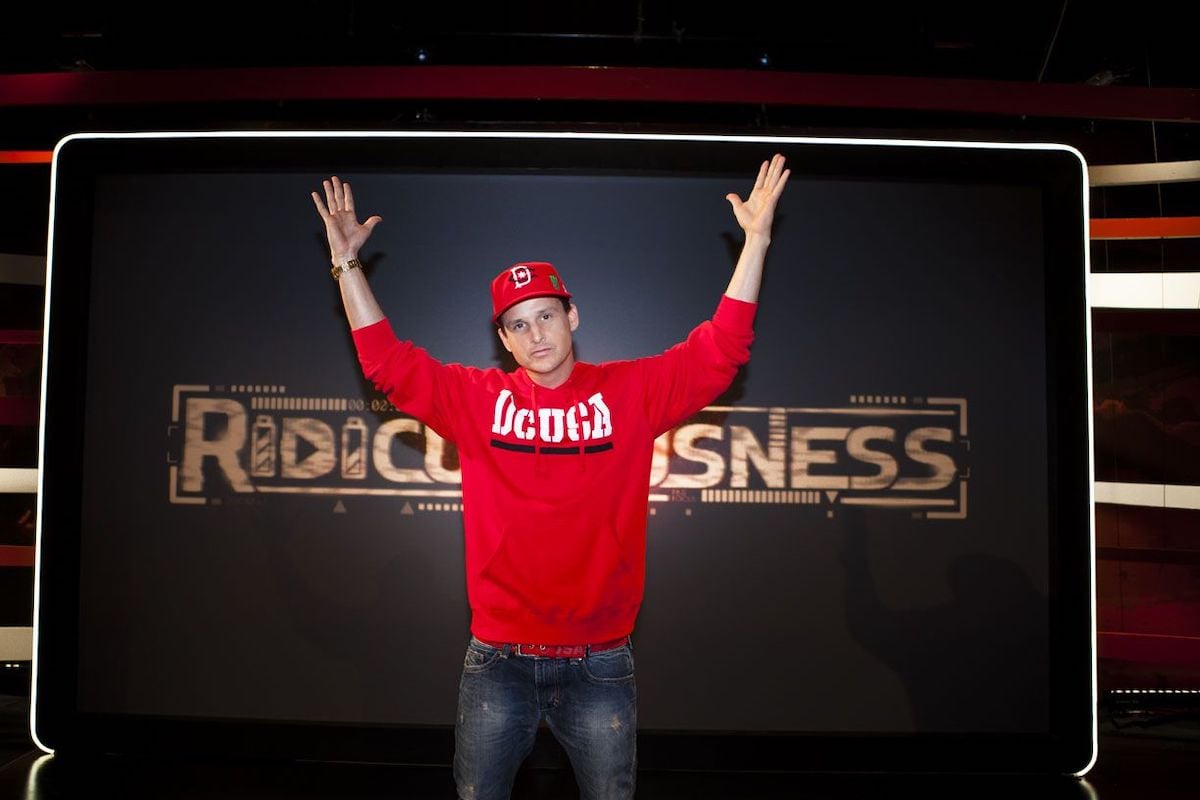 'Ridiculousness' MTV schedule seems a little ridiculous
If you tuned to MTV right now, you'll probably find an episode of Ridiculousness. The Dyrdek-hosted show features fail compilations found on the internet.
With help from Chanel West Coast and Sterling "Steelo" Brim, the comedy show makes a mockery of these videos. It's like an edgier version of America's Funniest Home Videos.
People have long voiced their opinion about MTV continuously showing reruns of Ridiculousness. "I genuinely believe that this man has dirt on one of the executives at MTV because this is utter ridiculousness," TikTok user mtvsthewrld_ says. "He got that entire network in a headlock." 
It would be exciting if Dyrdek did have some dirt. But there are more logical reasons behind MTV's decision to play so many reruns of Ridiculousness. 
'Ridiculousness' remains one of the most popular shows in the United States
According to The New York Times, Ridiculousness was the 13th most popular show in the United States in 2016. It was most popular in "rural Alaska, New Mexico and Montana." 
Other areas, like Washington, D.C., Atlanta, and San Francisco, didn't find Ridiculousness all that enjoyable. Still, in June 2020, Variety reported MTV aired Ridiculousness for 113 of their 168-hour lineup. 
'Ridiculousness' cast and content appeals to a mass audience
Ridiculousness has a mass appeal that's comforting to many viewers. At least that's how Tanya Giles, the general manager and head of content strategy and programming for ViacomCBS's entertainment and youth division explained it to The Ringer.
"Since MTV began running the show in giant chunks, [it has] seen repeat viewers jump from twice a week to six times a week," says Giles. MTV's viewership has increased 21% thanks to the "stacks of Ridiculousness."
Robert Thompson, a Syracuse professor of television and pop culture, reports similar findings. "Ridiculousness is equally ridiculous for grandma as it is for the 10-year-old," he told the outlet. "There's a broad sort of appeal in a way that maybe Jersey Shore and The Osbournes and The Real World and certainly music videos and TRL would not have [achieved]."
'Ridiculousness' is a cost-effective show for MTV to produce 
MTV representatives for Ridiculousness did not reply to our request for comment by the time of publication. But when you think about it, very little goes into filming Ridiculousness.
Sure there's lighting and talent and a camera crew on set, but the footage they're talking about is all crowd-sourced. Meanwhile, other MTV hits like The Challenge or Jersey Shore can cost an arm and a leg to produce. 
Ridiculousness essentially markets itself, too. The content is easily shareable, making it instantly more relatable. 
In a world where YouTube and TikTok reign supreme, the bite-size content featured on Ridiculousness will only continue to maintain mass appeal. And MTV knows this. 
The music television network has been evolving for decades, catering to its ever-changing audience's demands. Reshowing blocks of the program on a loop is MTV's way of saying: "This is who we are now — stay a while, we promise you'll have fun." 
All in all, playing reruns of Ridiculousness appears to be an easy win for MTV. They have their money makers with shows like Jersey Shore: Family Vacation and The Challenge. But Ridiculousness gives the network the security it needs to stay relevant in a world where streaming rules supreme. 
Catch episodes of Ridiculousness pretty much all week. It's literally the only show MTV has slated to air on Sunday.