What Rihanna's Rumored 2020 Met Gala Dress Looked Like
Since its inception in the 1940s, the Met Gala has grown to become one of the world's most coveted events. Dubbed the "Super Bowl of Fashion," the soirée brings out the best looks in celebrity fashion — from fun and fancy to adventurous and avant-garde. Viewers tune in to the event religiously every year for this very reason. But unfortunately, the 2020 Met Gala has been pushed back indefinitely due to the coronavirus outbreak.
The bright side? Some rumored celebrity outfits have started to emerge online, including that of Rihanna, who is known to kill the red carpet. Let's take a closer look together.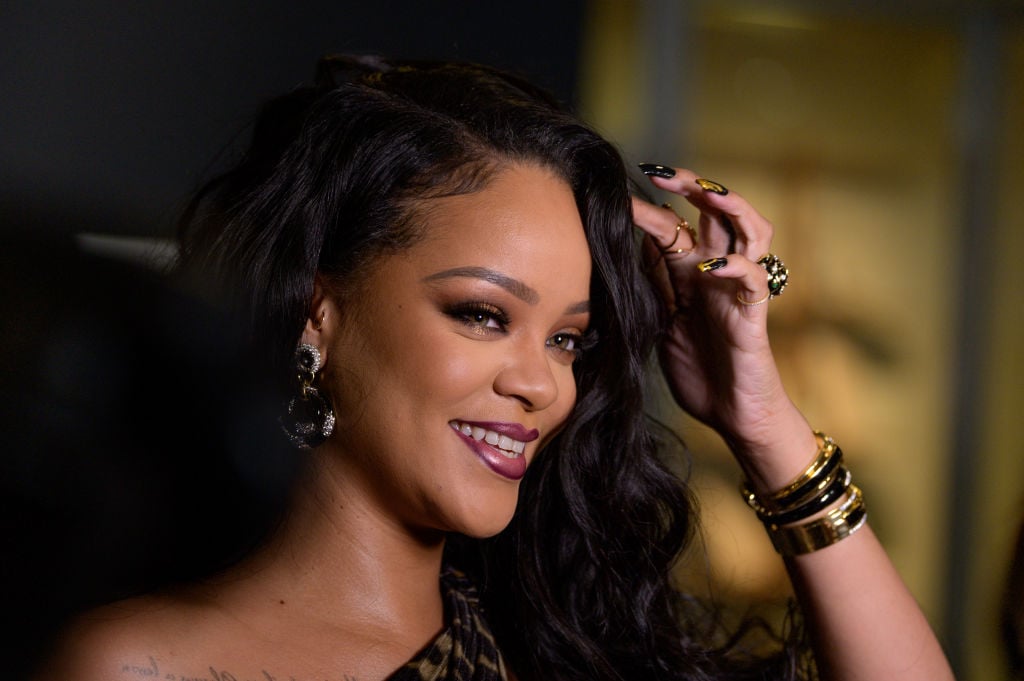 Rihanna's rumored 2020 Met Gala dress
Rihanna herself has not directly said anything about this topic. But during the week of May 3, a Twitter user claimed that her stylist had shared a photo of what the Fenty Beauty mogul allegedly intended to wear to the event.
"Rihanna's stylist shared a picture of the dress she was supposed to wear to this year's Met Gala", they tweeted, posting a series of photos of the gown.
Reportedly created by Guo Pei, the artist who designed Rihanna's "omelet" gown from 2015, the dress is a floor-length, diamond-encrusted number with high shoulder pads. It comes with a matching crown and features long, carpet-like sleeves with fur detailing. Cosmopolitan Middle East has photos of the gown on its website.
There's no doubt that Rihanna would have dazzled in this dress. However, Dazed reports that it's not actually Rihanna's. The outlet pointed to many other tweets where users claimed the same gown was supposed to be worn by a variety of celebrities, including Taylor Swift and Beyoncé. So far, Rihanna's stylist has not weighed in on the matter.
It is not known whether Rihanna had even planned on attending the 2020 Met Gala
Before its cancelation in March, Rihanna had not revealed whether she intended to attend the Met Gala. Fans said it seemed likely, given her presence at many of the latest ones. However, Rihanna did skip the 2019 event. She has never shared why she opted out of the gala but joked on social media that she had decided to stay home to play in makeup.
ELLE reports that Rihanna actually didn't attend any red carpet events in 2019, choosing instead to focus on her makeup line, Fenty Beauty, which launched in late 2017. In just a few short years, it has become one of the most popular and lucrative makeup brands by a celebrity, raking in an estimated $570 million in 2018 alone.
What has Rihanna been up to?
After years of dodging the spotlight, Rihanna emerged in 2020 and announced that she is working hard on a new album. It is the follow-up to her eighth studio album, Anti, which spawned hits such as "Work" and "Needed Me" and continues to chart on the Billboard 200.
Fans have been beyond eager for its release, given that it's been more than four years since Anti came out. But between her music career and business ventures, it has been hard for Rihanna to find time for everything.
"I used to be in the studio, only the studio, for three months straight, and an album would come out," Rihanna said in a June 2019 story for Interview Magazine. "Now, it's like a carousel. I do fashion one day, lingerie the next, beauty the next, then music the next. It's like having a bunch of kids and you need to take care of them all."
She added: "It really does suck that it can't just come out because I'm working on a really fun one right now. I'm really happy with a lot of the material we have so far, but I am not going to put it out until it's complete."
Fortunately, she has at least dropped hints on what fans can expect to hear and how the album differs from previous ones. Read more here.