Who is Rihanna's Boyfriend, Hassan Jameel?
Here are some details about Rihanna's boo, Hassan Jameel.
It's been a while since we've heard new music from Rihanna, but that doesn't mean the pop star hasn't been keeping busy. Her plate is full with acting, running her beauty and lingerie empire, and spending time with her boyfriend of two years, Hassan Jameel.
Somewhere in there, RiRi is also squeezing in time to make new music, but the 31-year-old maven is doing well in the love department. While some fans have probably been holding out hope that she'd get with Drake, it's Jameel that has her heart. The lovebirds have been hanging out at sports events and showing PDA while away on vacays, and out and about.
She's been mostly private about their relationship, and ever since she moved to London, she's been even more low-key. Rihanna recently opened up to her Ocean's 8 co-star and friend Sarah Paulson in an interview, sharing that she is in love. But who exactly is this Hassan Jameel that's captured the singer's heart? Below is a basic rundown of what we know.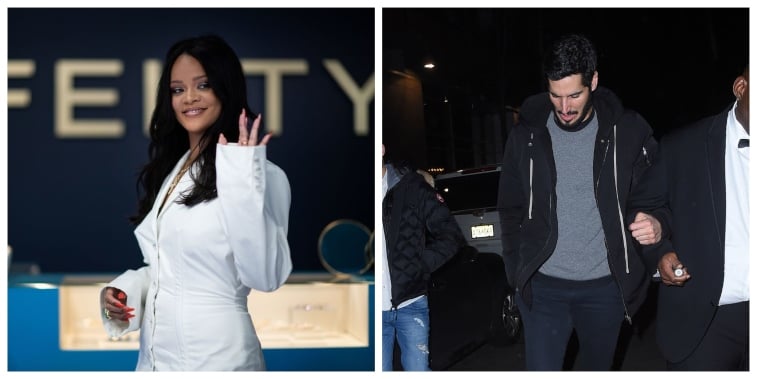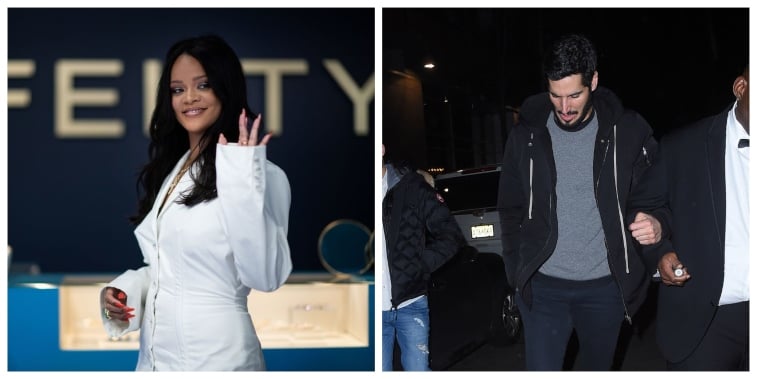 Jameel is a Saudi Arabian billionaire businessman
A graduate of London Business School's MBA program, Jameel currently works in his family's multi-national enterprise. He oversees domestic operations in Saudi Arabia as Deputy President and Vice chairman at Abdul Latif Jameel, a company that's been around since 1945. Much of the Jameel family's billion-dollar fortune came from their dealings in the automotive world, specifically Toyota. Per GQ, Abdul Latif Jameel is the Japanese automaker's exclusive distributor in Saudi Arabia. In 2016, the family was deemed the 12th richest in the Arab world by Forbes Middle East with an estimated net worth of 1.5 billion.
He's a philanthropist
Jameel is involved with social causes through Community Jameel, a charitable arm of the family business. His work entails a job creation program and a partnership with MIT that addresses poverty and food and water scarcity around the world. He also supports and contributes to the arts.
He's been married once before
In 2012, Jameel wed Lina Lazaar, an art critic and curator, and founder of Jeddah Art Week. She is the daughter of Kamel Lazaar, a well-known finance executive and arts philanthropist. Jameel and Lazaar divorced in 2017.
His family owns a soccer league
League, not team, got that? According to Harper's Bazaar, as business owners, the family sponsors a soccer league in Saudi Arabia called the Jameel League. He and Rihanna are both huge fans of the sport, with the superstar once hinting the two got into a heated debate about who knows more.
He speaks multiple languages
Due to his education and work abroad, he's fluent in Arabic, Japanese, and English, The Cut noted.
He's younger than her
Jameel is only eight months younger than his Bajan girlfriend. RiRi's birthday is February 20, 1988 while his is October 22, 1988.
He used to date Naomi Campbell
This one is strictly a rumor, but it's been floated that he and the supermodel parted ways sometime in 2017 around the time he and Rihanna started getting cozy.
During her chat with Sarah Paulson for Interview Magazine, Rihanna was candid about the fact that she changed her life around to make time for her beau:
"I got into a new relationship, and it matters to me. It was like, 'I need to make time for this.' Just like I nurture my businesses, I need to nurture this as well. I'll shut things down for two days, three days at a time."
On the topic of marriage, she replied, "Only god knows that, girl. We plan and god laughs, right?" She shared that she's also taking her time when it comes to putting out new music. With Jameel's love on her brain, perhaps some of that glow will carry over into some new songs.