Rihanna's Demo of Selena Gomez's 'Same Old Love' Surfaced Online and Fans Can't Decide Which Version Is Better
Rihanna's demo of Selena Gomez's "Same Old Love" has left the internet torn.
After the unheard demo leaked online, fans began swarming social media sharing their thoughts on the song. Soon, a full-blown Twitter battle erupted with users fighting over which version they thought reigned supreme.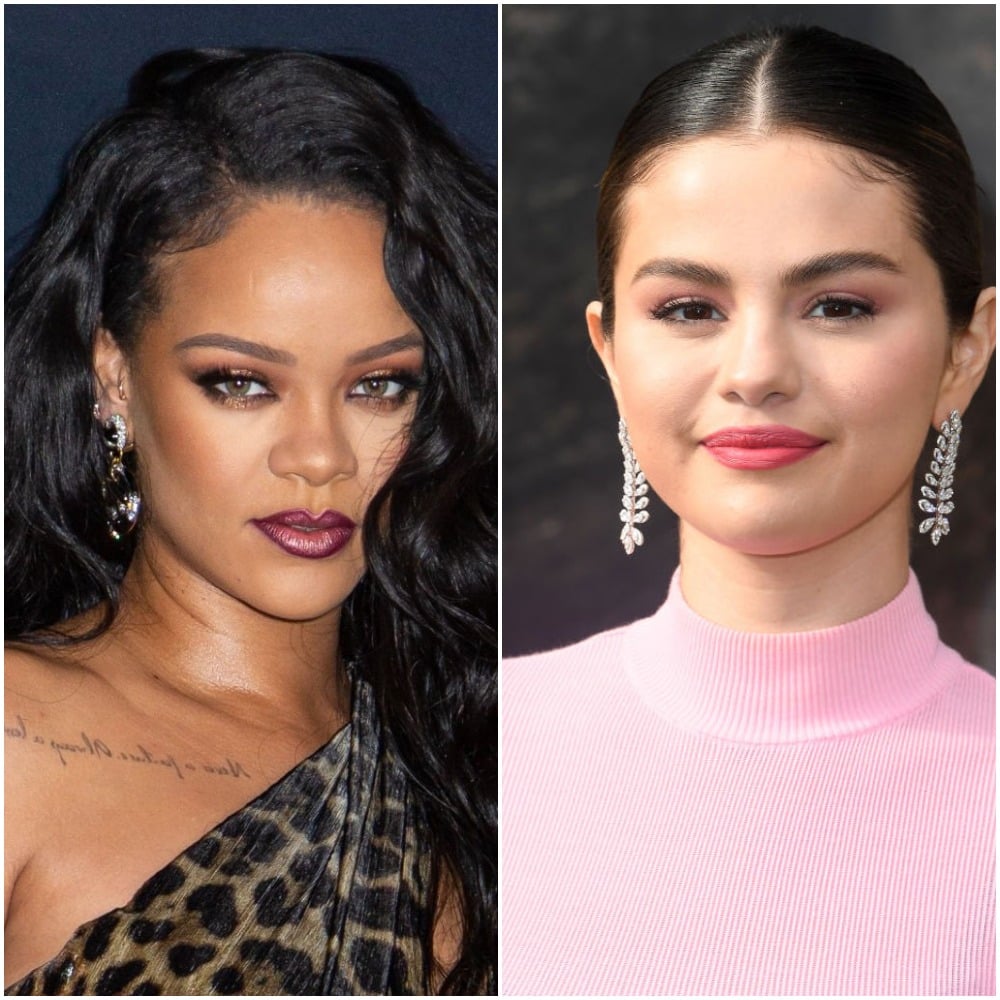 Rihanna recorded the demo in 2014
Rihanna stans are going crazy for her leaked demo of "Same Old Love," a song she was thinking about releasing herself before it got passed over to Gomez.
One year before the "To Lose You To Love Me" singer released the track in 2015, Rihanna recorded her own version. She'd even teased a lyric from the song on Twitter, suggesting that her version of "Same Old Love" was in the works.
RELATED: Source Shares Why Rihanna and Travis Scott Never Went Public Before His Relationship with Kylie Jenner
However, the singer didn't end up releasing the track and co-writer Charli XCX later revealed why that was.
"I think at one point Rihanna was gonna sing it or something, but then I think the direction of her record changed and it wasn't right for her anymore (Anti is one of my fave albums of the year, by the way, slay)," the singer wrote on Tumblr in 2016.
She continued, "Then I think Selena heard it and was into it, and she sang it, and it just suited her voice and her story so well. The song felt so emotional and real coming from her. I was really happy she cut it; it felt very powerful."
As Selenators already know, "Same Old Love" was the second single off Gomez's second studio album Revival. In the track, the Disney alum sings about heartbreak and everything toxic in her life.
RELATED: The 1 Reason Fans Think Selena Gomez's New Song Is About Justin Bieber
"I think 'Same Old Love' represents a different kind of identity with love," she said during an interview with Radio Disney in 2015. "The first people you love in your life are your parents. So for me, my dad is the first male figure I had in my life. And how much it means to respect your parents and have a healthy relationship with them because it trails on into your relationships when you're older."
Fans have varying opinions about the track
Soon after Rihanna's "Same Old Love" demo was leaked online, fans began flooding Twitter with their opinions on which version they thought was better.
"Selena did her thing on same old love but Rihanna ate that up I'm sorry," one fan tweeted. While another proclaimed, "I believe in Rihanna – Same Old Love supremacy."
Though many love Rihanna's version of the track, some didn't think it was better than Gomez's.
"As much as I love Rihanna but same old love was made for Selena it suits her voice way better I'm sorry but that's the truth (still dying to hear the entire demo tho)," someone else wrote.
As many continue to go back and forth on which version reigns supreme, some are convinced the song would have been better had the singers collaborated.
"While the timeline argues about which version is better, I'm over here mad they didn't collab… could you imagine "Same Old Love (Remix) Ft. Rihanna"… the power that would've held," a Twitter user suggested.
Whether you think Rihanna's "Same Old Love" version is better than Gomez's or vice versa, both were equally as amazing, and who knows, maybe this will convince the singers to re-record the song together one day in the future.