Rita Moreno Describes Dating Elvis Presley As 'Dull' and 'Boring'
Rita Moreno dated icon Elvis Presley and she didn't have exciting things to say about him.
Rita Moreno has been entertaining audiences for almost eight decades. With a career that began in 1943, the Puerto Rican singer, dancer, and actor is a legendary performer like no other.
At 89 years of age, audiences are awaiting the highly-anticipated release of director Steven Spielberg's West Side Story. Moreno will be executive producer and co-star in the remake.
The star of stage and screen has delighted viewers and worked alongside some of Hollywood's most famous leading men. She had an eight-year steamy love affair with Marlon Brando and even dated Elvis Presley.
Ironically, the Latin sensation found the legendary musician to be "dull" and "boring."
The fabulous career of Rita Moreno
Moreno was born Rosa Dolores Alverio in 1931 in Humacao, Puerto Rico. She moved with her mother to New York City at the age of five. At 13, she appeared on Broadway, quickly attracting the attention of Hollywood agents.
In 1950, the award-winning actress appeared in the film So Young, So Bad. Met with great success, she was signed to a seven-year deal with MGM Studios. It was then that the young performer changed her name to Rita Moreno.
Moreno won an Academy Award for her Best Supporting Actress role of Anita in West Side Story. According to History, in 1962, she became the first Hispanic woman to win an Oscar.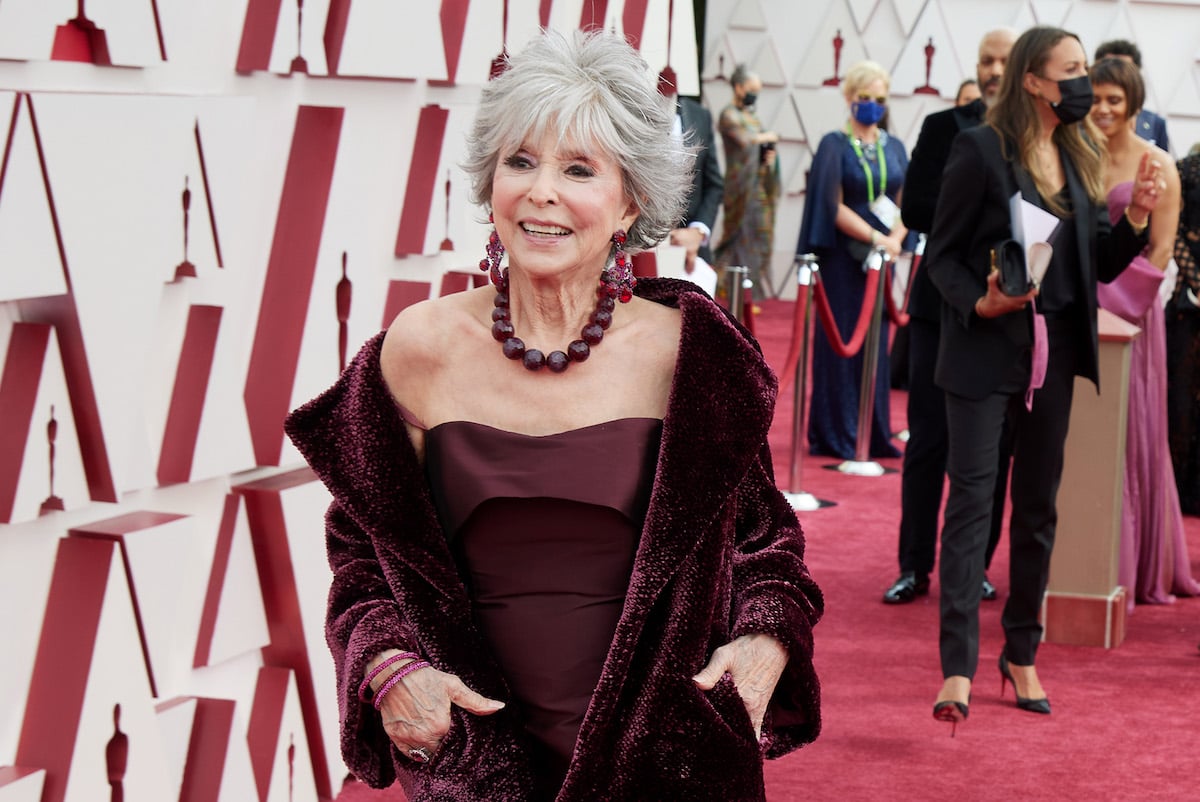 She took a short hiatus from the movie industry, coming back strong in 1971 as a valued member of the PBS television series The Electric Company. She remained with the children's show until 1977. Moreno received an Emmy that year for her appearance on The Muppet Show, solidifying her place in entertainment history.
The National Women's History Museum reports that Moreno was the first Latina to win an Oscar, Grammy, Emmy, and Tony Award. She is among a small group of artists that have achieved this honor. In 2004, she received the Presidential Medal of Freedom Award and, in 2009, the National Medal of Arts.
Almost 90 years of age, the iconic performer has shown no signs of slowing down, recently appearing in the Netflix series One Day at a Time. There is a newly released documentary about the living legend's career, titled Rita Moreno: The Girl Who Decided to Go For It. Norman Lear and Lin-Manuel Miranda are executive producers.
Her relationship with Elvis Presley
Moreno recently opened up to Esquire about her relationship with the King of Rock and Roll. She admitted to dating Elvis only to make Brando jealous. She explained that when she was dating The Streetcar Named Desire actor, she found some lingerie that didn't belong to her and was devastated.
The King and I actor recalled getting a phone call from Colonel Parker, Elvis' agent. He told her, "My client spotted you in the 20th Century Fox commissary. He'd like very much to meet you."
After meeting, the couple dated a few times. Moreno's plan worked, as Brando was furious when he found out.
What made Elvis so boring?
Moreno refers to Brando as the "lust of her life." She revealed in a 2018 interview on The Wendy Williams Show that "Elvis was really a sweet fellow." She said, "He was very shy, a handsome boy but you know: Elvis Presley and Marlon Brando? C'mon! Amateur night!"
InStyle reported that Moreno reveals in her memoir, "My delight in dating Elvis hinged entirely on one fact. I knew that no one could possibly make Marlon Brando more jealous!"
According to the San Francisco Chronicle, Moreno's relationship with Elvis was short-lived. She told the paper, "I wanted to get even, so I went from one kind of king to another. I dated Elvis, who was absolutely gorgeous and had a perfect kind of face but was not interesting. It lasted three days."
Moreno told Esquire, Elvis was "a bit dull." She said, "He was a sweet country boy. He was nice and he was boring. I don't know how else to tell you."