'Riverdale': 4 Wild Plots That Came Right from Archie Comics
'Riverdale' has ventured into some unusual territory with its storylines, but those wild plots aren't actually too far off from the Archie Comics source material.
Since its premiere in 2017, Riverdale has become notorious for its weird, campy, and nonsensical storylines. What started as a regular high school love triangle teen drama turned into a wild ride filled with multiple serial killers, cults, witchcraft, ghosts, aliens, and quite a few musicals. Many fans have wondered how Riverdale could stray so far away from its source material, Archie Comics — but the truth is, it hasn't. Here are some wild Riverdale storylines that were recreated from the comics.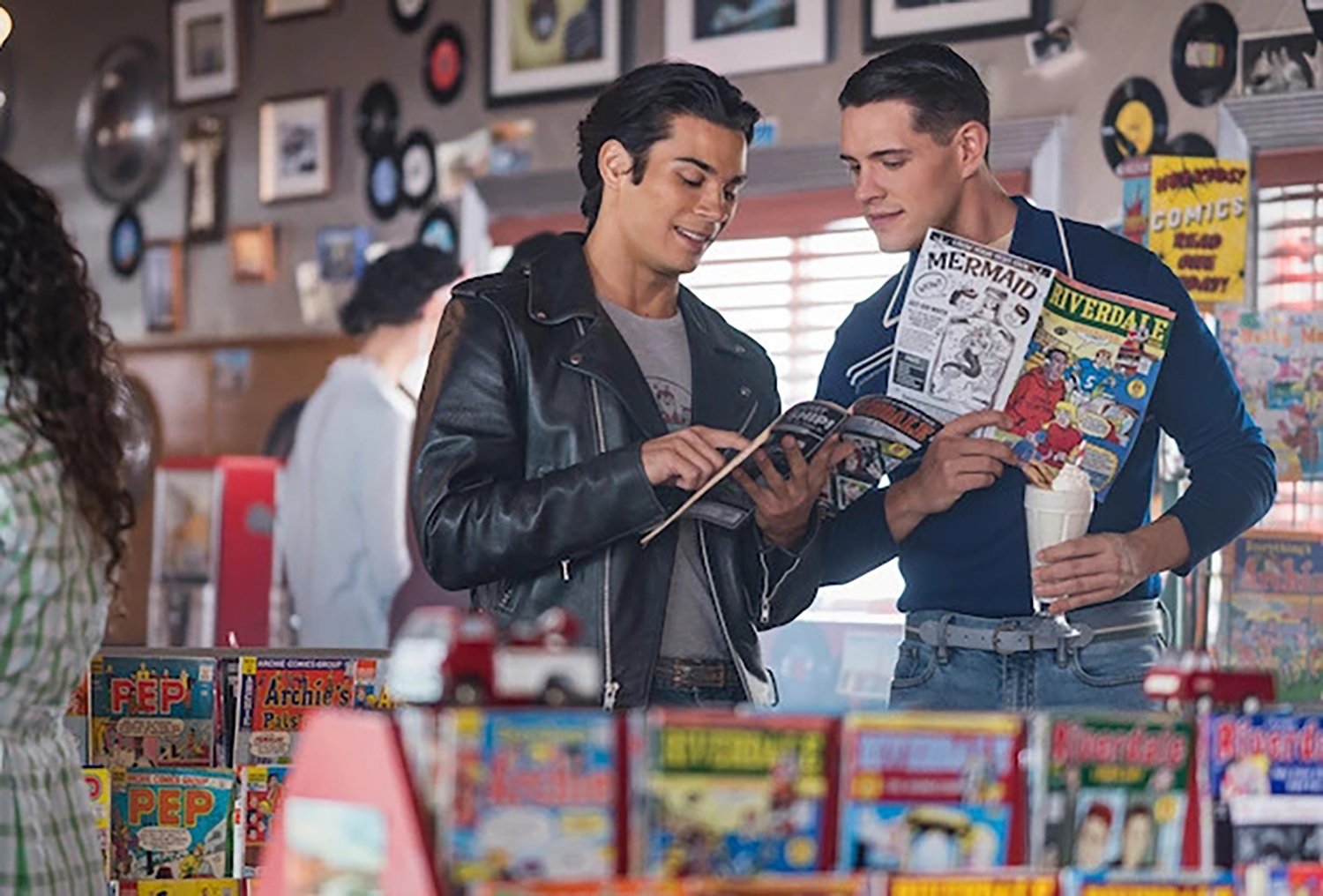 The 'Riverdale' gang has superpowers
Many Riverdale viewers have been buzzing about the latest plot in Riverdale Season 6: Archie (KJ Apa) and his friends now have superpowers. After an explosion in his bedroom, Archie and Betty (Lili Reinhart) wake up to discover that Archie has invincibility and super strength. Meanwhile, Betty can see the dangerous auras around evil people. Jughead (Cole Sprouse), who was in the garage during the explosion, can now read minds.
For some reason, the superpowers extend beyond those involved in the bombing. Veronica (Camila Mendes) is basically a black widow spider, while Cheryl (Madelaine Petsch) has the power of pyrokinesis.
As Inverse notes, Archie Comics explored superpowers with Archie & Friends: Superheroes in the '60s and '90s. Archie had a superhero alter-ego named Pureheart the Powerful, who had super strength and the ability to fly. Meanwhile, Betty had similar powers as Super Teen. Jughead became Captain Hero, who could transform into a drill and shoot exploding bubble gun. Veronica, Moose (Cody Kearsley), and Reggie (Charles Melton) had powers, too.
Archie Andrews dies in an alternate universe
Riverdale Season 6 started with a five-episode event set in an alternate universe called "Rivervale." And this town was even darker than Riverdale, with a character death in practically every episode. The first shocking death was Archie himself, as the townspeople gathered to sacrifice the redhead hero in a Pagan ritual straight out of Midsommar.
How could Riverdale kill off its protagonist so suddenly? Well, the comics did that, too. Archie's death in the comics wasn't quite as dark, but it was shocking and heartbreaking.
As CNN reported, in 2014, Archie Comics announced that Archie would die in an issue of Life With Archie. Archie's close friend Kevin Keller (Casey Cott), the comics' first openly gay character, became a senator and pushed for gun control. Someone attempted to assassinate Kevin, but Archie jumped in front of his friend and took the bullet.
Like Archie's Riverdale death, though, his demise in the comics wasn't exactly permanent. It took place in an alternate timeline that observed Archie's post-high school life, whereas the rest of the comics showed him in high school.
'Riverdale' Season 6 explores time travel
A recent episode of Riverdale Season 6 showed off newcomer Tabitha Tate's (Erinn Westbrook) super ability: time travel. When a gunman stormed Pop's Chock'lit Shoppe and shot Tabitha, she found herself transported to several different eras. Tabitha had to take down other iterations of the evil Percival Pickens (Chris O'Shea). Her power hasn't been explored too much beyond that, but it will likely come in handy later.
Archie Comics released Jughead's Time Police in 1990 and 1991. This brief series followed Jughead as he was recruited into a time travel organization known as the Time Police. His task was to move throughout history and ensure that important events would happen as they were meant to. Jughead's Time Machine received a reboot in 2019, this time showing Jughead travel back in time to fix a mistake.
Zombies taking over in 'Riverdale'
OK, actual zombies never invaded Riverdale, but the town did have a run-in with zombie-like beings. Back in season 3, Jughead and his dad discovered that a brand of the Jingle Jangle drug made its users roam around like zombies. Plus, back in season 1, Cheryl had a dream about her dead brother, Jason (Trevor Stines), coming back as a zombie. With how much Jason appears postmortem on Riverdale, it's surprising that he hasn't kicked off a zombie apocalypse storyline.
Archie Comics introduced zombies in the Afterlife With Archie series, written by Riverdale creator Roberto Aguirre-Sacasa. The teenage witch Sabrina Spellman (Kiernan Shipka on Riverdale and Chilling Adventures of Sabrina) resurrected Jughead's dog, Hot Dog, and the pup accidentally started a zombie apocalypse. Perhaps they'll take a deeper dive into a zombie plot in Riverdale Season 7?
Riverdale airs on Sundays at 8 p.m. ET on the CW.