'Riverdale': A Primer to Decode the Clues in Jughead's 'Perfect Murder'
No need to bring in Nancy Drew for this caper, Riverdale fans. If you've been paying attention to the central plot of season four, then you know the series has arrived at a crucial juncture concerning Jughead. Is he dead? Is he alive? It doesn't appear to look good.
We laid out the reasons not to worry months ago, but now there are more clues in the bank. If you've been watching Riverdale from season one, you should be a little familiar with its tricks when it comes to mysteries. Remember that.
Sure, as a viewer you might have casually ridden out the drama about Jason Blossom, the Black Hood, and the Gargoyle King, but this is different. It's Jughead!
Roberto Aguirre-Sacasa and his team are doing a good job at keeping everyone guessing, but here are the breadcrumbs that almost guarantee Forsythe Pendleton Jones III is ok and it's part of his elaborate scheme to get back at the Stonewall jerks.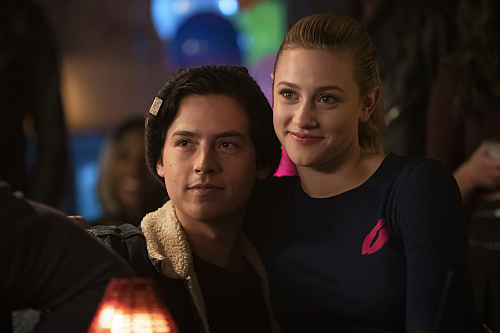 Clue 1: No one is crying
Throughout season four, regular episodes have been parsed with flash-forward scenes showing Jughead's supposed demise and the aftermath. We've mentioned this before, but back in episode five (watch it again) is where a bulk of clues can be found.
In one flash-forward, the Riverdale gang – Archie, Betty, and Veronica – is escorted out of the classroom by F.P. and arrested. Their faces show absolutely no emotion.
No fear, no anguish, no tears, no concern. If you're a high school kid being arrested for murder at school for a close friend, wouldn't you have a reaction?
The stone looks on their faces in that scene are telling. Further, in episode 14, where were the tears over Jughead's death? Betty was super calm and composed at the morgue too. It's part of a plan. Were they so worried about not getting in trouble that they didn't pause to grieve? No one cried.
Clue 2: Everything is 'perfect'
How many times have you heard the phrase, "The Perfect Murder' this season? Again, start from episode five or six and you'll first hear Dupont mention it for the Baxter Brothers ghostwriting assignment. It was the assignment.
 It was the premise of Jughead's "The Boy in the River" story, and he's repeated the phrase several times since episode six, specifically referring to the writing competition at Stonewall Prep.
During episode 14 – which aired on Feb. 26 – both Betty and Donna uttered "the perfect murder" multiple times while hurling accusations at each other, but Betty's feels like it comes from a sense of knowing.
Clue 3: Jughead said he had a plan
In "The Ides of March," after he decided to quit Stonewall, Jughead heads to his room to pack up with Betty in tow. After smug Bret and Donna invite them to the party in the woods and he accepts the invitation, he says to Betty:
"You trust me, right? I have a plan, but first I'm going to need to take care of that leverage that Bret has over us and then I will tell you everything. It's all gonna be ok, I promise."
We trust and believe you, Jughead. He went into the party with his switchblade, perhaps to cut his palm and smear the blood somewhere. Don't underestimate Jughead's intelligence; he's one of the smartest in Archie's crew.
Clue 4: Betty is composed, scheming
Most of episode 14 seemed like Betty was setting the Stonewall preppies up to pin "the perfect murder" on them, even if that meant leaving out certain details with Archie and Veronica.
Why was it so easy for her to get Archie to move Jughead's "body" and then direct him to keep things a secret from his mom? Why is Charles so complicit with covering this "crime" up? Maybe because it's fake.
By the end of the episode, Archie tells his mom he had a confession to make while Betty – wearing Jughead's jacket – met Donna in the woods.
Archie's chat with Mom didn't impact the murder mystery because he, Veronica, and Betty met up at Pop's the next morning to catch up about Donna and the preppies. Now, they're waiting on Stonewall to make the next move.
Clue 5: It's too early in the season
It's still kind of early in the season of kill off Jughead, especially on a permanent basis. A move like a major character death is typically done at or around a season finale, and Jughead is still narrating.
Doing it this way leaves time for the mystery to stretch out into spring break with the truth being revealed sometime in April or May. Expect this Jughead heartbreak to go on for a few more episodes and possibly tie into F.P. (Skeet Ulrich) leaving the series.
One clue from the 'Archie' comics plays a twin card
It should be mentioned that some Riverdale viewers have brought up that Jughead has a twin in the comics named Souphead. It's a cousin who is almost identical, so some believe he's helping his cousin out with a supreme plot against the Stonewall prep kids.