'Riverdale': Archie Andrews Returns With a '50s-Style Makeover in 100th Episode Sneak Peek
Riverdale is going back to its roots — way back. The CW has shared sneak peek photos of the upcoming 100th episode of Riverdale, featuring a massive tribute to the show's source material, Archie Comics. The images showcase the Riverdale characters dressed in '50s attire for a gathering at Pop's Chock'lit Shoppe. And yes, that even includes Archie Andrews (KJ Apa), who met his demise in the season 6 premiere.
What does Riverdale have in store for the 100th episode celebration? Check out the photos below to find out.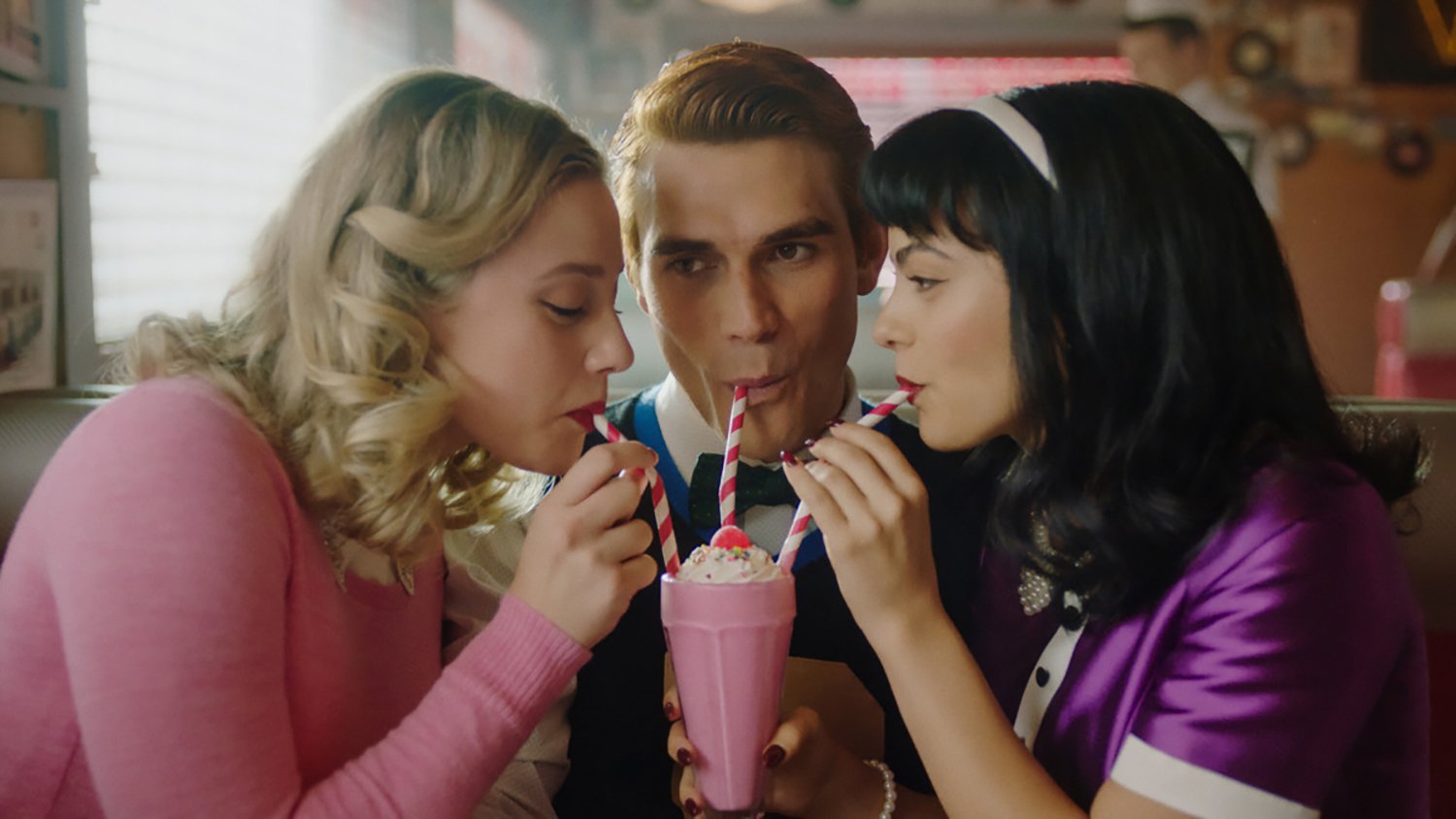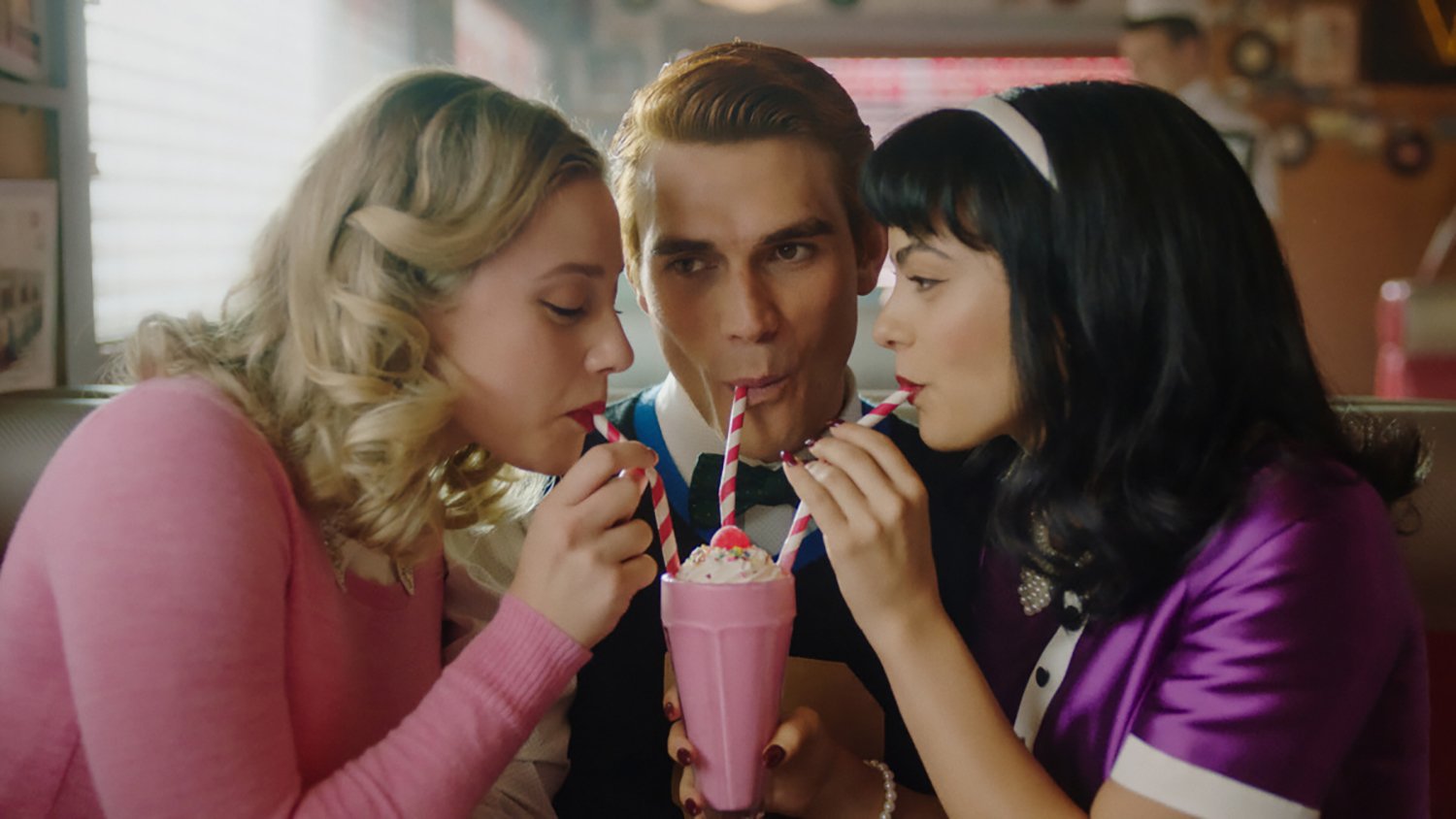 What is the 100th episode about?
Riverdale Season 6 kicked off on Nov. 16 with a five-episode event set in an alternate universe known as Rivervale. The 100th episode falls on the event's finale, which should make for an all-around exciting hour. According to the CW's synopsis, Riverdale Season 6 Episode 5, called "The Jughead Paradox," will see Jughead Jones (Cole Sprouse) "discover the truth about Rivervale" after a series of unnerving events.
Of course, that synopsis is pretty ambiguous. It's hard to say exactly what Jughead's shocking discovery will be or how that will help turn Rivervale back into Riverdale. Hopefully, fans can get a better idea when the episode 5 promo airs after episode 4's conclusion. Until then, the sneak peek photos might provide some insight.
A 'Riverdale' 100th episode sneak peek channels classic Archie Comics
The CW's photos, obtained by E! News, show the cast channeling total Archie Comics energy. Archie Andrews, for example, wears a white shirt, bow-tie, and R-emblazoned vest straight out of the original comic books. Some of the images show him sitting in a booth at Pop's, sandwiched between Betty Cooper (Lili Reinhart) and Veronica Lodge (Camila Mendes). Both Betty and Veronica sport '50s outfits inspired by the original comic book characters.
In addition to the beloved trio, Jughead can be seen wearing his signature gray crown and blue "S" sweater. Cheryl Blossom (Madelaine Petsch), Toni Topaz (Vanessa Morgan), Kevin Keller (Casey Cott), Reggie Mantle (Charles Melton), and more characters also appear at the gathering. Pop's even houses several comic book racks filled with vintage Archie Comics issues.
Interestingly, the collection also includes images of the gang sporting modern clothing. This seems to indicate that the Riverdale 100th episode will feature at least two timelines. Either way, the characters who died in recent episodes — and even some who disappeared in seasons past — can be seen, which means we might not be in Rivervale anymore.
The 100th episode comes as Archie Comics turns 80 years old
Riverdale's 100th episode happens to be airing in the very same month that Archie Comics reaches its own milestone birthday — 80 years old.
The titular Archie Andrews made his comic book debut in December 1941's Pep Comics #22, which became a huge hit. Archie's popularity led to the creation of his very own Archie series in 1942. Soon, Archie Comics Publications grew to include dozens of stories surrounding the characters we still love today, including Betty, Veronica, Jughead, Reggie, Sabrina Spellman, Katy Keene, Josie and the Pussycats, and more. In addition to modern adaptations like Riverdale and Chilling Adventures of Sabrina, many Archie Comics are still in publication.
"It's a golden age to be an Archie Comics fan right now," Archie Comics President Mike Pellerito told Den of Geek. "I just can't imagine a better time."
The 100th episode of Riverdale premieres on Dec. 14 at 9 p.m. ET on The CW.