'Riverdale' Boss Confirms Jughead Was 'Cut Really Deep' By Betty and Archie's Kiss
Before making its seven-year time jump, Riverdale wrapped the graduation episode with bittersweet goodbyes. Jughead was gracious and understanding enough to forgive Archie and Betty for kissing. But according to the series' creator, the revelation cut Jughead pretty deep.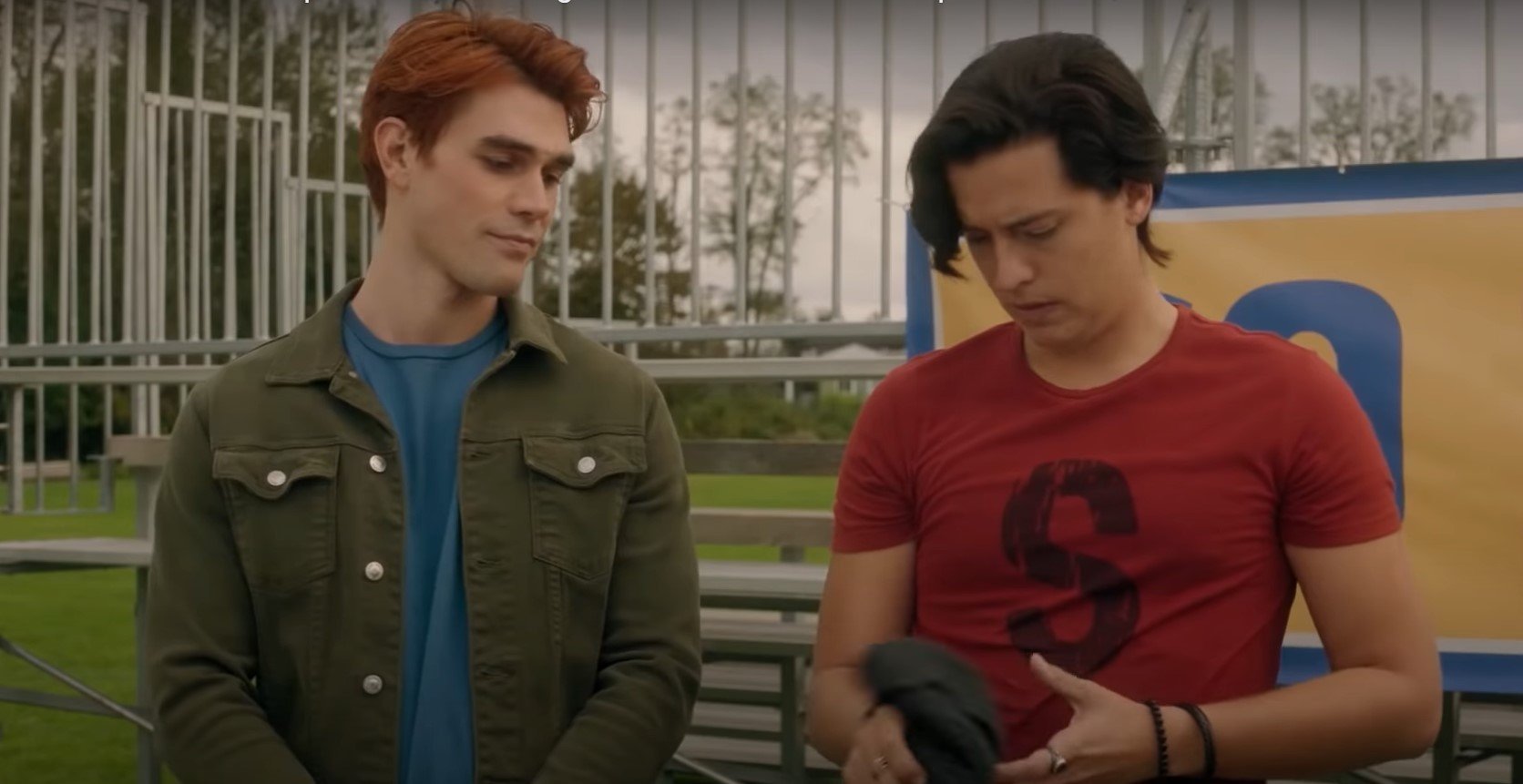 Jughead was mature about the whole thing
After finding out that his girlfriend kissed his best friend, Jughead (Cole Sprouse) was surprisingly chill about the whole thing. And after one passionate last night with Betty (Lili Reinhart), he confessed that he still loved her. 
Jughead didn't even hold a grudge against Archie (KJ Apa). When his buddy finally came clean, Jughead maturely noted that a little "teenage angst" was acceptable after all the murderous chaos the Riverdale students had witnessed.
And despite suggesting he and Betty needed sptace, Jughead fulfilled his vow and showed up for his friends at Pop's Diner. For reasons still unknown, they were not there. And as foreshadowed through his narrative, Jughead wouldn't see Archie, Betty, or Veronica (Camila Mendes) for another six years. 
RELATED: 'Riverdale' Star Lili Reinhart Reveals Surprising Details About Betty's Future
Jughead will have a new girlfriend in the 'Riverdale' time-jump
When Riverdale takes its time-jump, Archie, Betty, Jughead, and Veronica will be living separate lives in different cities. Archie joined the army and will likely have been deployed somewhere. Betty will be training with the FBI in Quantico. And Veronica will be married to a possessive Wall Street tycoon in New York City. 
And it seems despite his love for Betty, Jughead will move on to a new romance. According to a 2020 call sheet for the show, Jughead is going to be living with his girlfriend Jessica (Phoebe Miu), "a train-wreck-y hipster" who "makes no secret of the fact that she's done with their relationship."
RELATED: 'Riverdale': Why Toni Topaz Will Be Pregnant in Season 5
'Riverdale' showrunner confirms Betty and Archie's kiss hurt Jughead
Jughead may have acted calm about the whole Betty-Archie kiss revelation. But in a recent interview with Yahoo! Entertainment, Riverdale showrunner Roberto Aguirre-Sacasa revealed that the kiss hurt Jughead. And it will be the reason he distances himself from Betty.
"With Betty and Jughead, there was a break that we will see," Aguirre-Sacasa said. "In my mind, part of the reason they split up is because of the Betty-Archie kiss."
RELATED: 'Riverdale': Veronica Will Be a Married Woman in Season 5, But Who Is Her Husband?
"I think when the kiss happened, no one wanted it to ruin their last couple of weeks in high school, so they hung on to get through that, but there's still fallout from that, and I think that's kind of the reason," he added. "And though we will see particular details why, I think it's fallout from that kiss. It cut really deep."
But in the upcoming time-jump episode, it looks like Jughead will have much more than his old friends and new girlfriend to worry about. According to the synopsis, Jughead will need to get "a new job after debt collectors show up in Riverdale."
New episodes of Riverdale air Wednesdays at 8 p.m. EST on The CW.