'Riverdale': Cole Sprouse Really Sang During the 'Hedwig and the Angry Inch' Episode
For being coined "the town with pep," Riverdale is anything but — except when they put together a musically-charged episode.
Much to the surprise of fans, Jughead Jones (Cole Sprouse) lent his voice once again to Riverdale's song-filled episode this season as Riverdale High took on the Broadway hit musical Hedwig and the Angry Inch.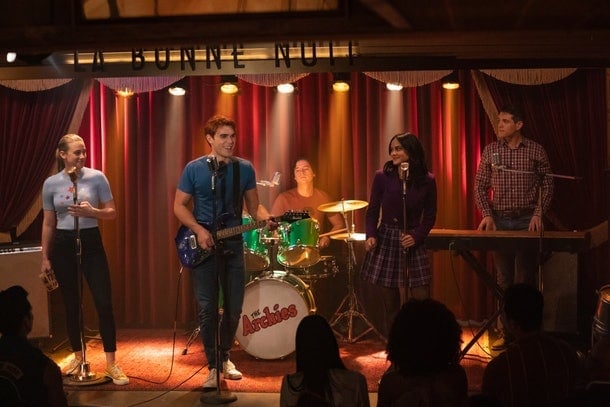 The Riverdale High variety show
As a series, Riverdale has become known for including an episode that is jam-packed with musical numbers. This season, show-runners changed the scenario up a bit for the musical episode.
Instead of having the drama department put on a musical, Kevin Keller (Casey Cott) decided to host a variety show. But, after refusing to comply with Principal Honey's (Kerr Smith) rules, the teens of Riverdale were forced to improvise.
'Riverdale' did songs from 'Hedwig and the Angry Inch'
When Riverdale Chief Creative Officer Roberto Aguirre-Sacasa thought about the musical episode for Season 4, he considered everything they hadn't done yet. "Grease is a high school musical. West Side Story is about high school students. But none of them felt right," Aguirre-Sacasa told Entertainment Weekly.
After lyricist Stephen Trask connected with Aguirre-Sacasa, it only made sense to include the politically charged songs in Riverdale's musically-centric episode. Aside from Hedwig Schmidt and Jughead Jones sharing many parallels, including grappling with their own respective identities, Aguirre-Sacasa explained how "When you have a song called 'Wicked Little Town,' it's describing Riverdale."
Despite having their variety show canceled, the teens of Riverdale High went on to perform songs from the hit musical Hedwig and the Angry Inch in "Chapter Seventy-Four: Wicked Little Town."
Cole Sprouse has done his own vocals before
The Riverdale aren't strangers to breaking out in song, and Sprouse is no stranger to singing for the CW drama. While Sprouse nor his character, Jughead Jones, are much into singing, they'll both do it for Riverdale.
"I had asked Cole a while ago, I was like, 'Cole, if we do a musical, would you be willing to sing?'" Aguirre-Sacasa shared with Bustle. "He was like, 'You know man, I didn't sing for Disney when I was doing Suite Life, but for you, I'll sing,'" Aguirre-Sacasa added. "For Cole to be like, 'I want to sing,' it was like, 'We have to do this," he concluded.
In the past, when Riverdale High did their production of the Carrie musical, Jughead stayed out of it. But when the school's production of Heathers came around, showrunner Aguirre-Sacasa had other plans for the dark and brooding character. So, Sprouse sang on Riverdale, both in the Heathers episode in Season 3 and the Season 4 episode showcasing tunes from Hedwig and the Angry Inch.
Jughead joined 'The Archies'
As they did with the Carrie musical episode, the writers had to find a way to creatively work Jughead into singing. In "Chapter Seventy-Four," that came in the form of Jughead agreeing to be in The Archies, a band inspired plucked right out of the original Archie Comics.
Together with Archie Andrews (KJ Apa), his girlfriend, Veronica Lodge (Camila Mendes), and Jughead's beau Betty Cooper (Lili Reinhart), The Archies performed at the high school variety show with the help of Kevin on keyboards. The iconic group sang "Midnight Radio," a powerful anthem for the "misfits and the losers."
Excited about the episode, Aguirre-Sacasa tweeted about it saying, "BTW, @colesprouse singing is AMAZING in #Riverdale musical ep on the 15th!!"
With this season's musical number over with, fans are wondering what Jughead will be belting out next season on Riverdale.