Here Are The 'Riverdale' Characters & Their 'Heathers' Counterparts
'Riverdale' is once again airing a musical episode, this time with the characters putting on 'Heathers the Musical.' Here's who each person is playing.
The CW teen drama Riverdale has been ramping up the "event" episodes in Season 3, and now it's time for another one. The March 20, 2019 episode, "Chapter 51: Big Fun," is going to be a musical episode, with the high school students participating in a production that will (inevitably) overlap into their real lives. Here's what you need to know about the exciting episode.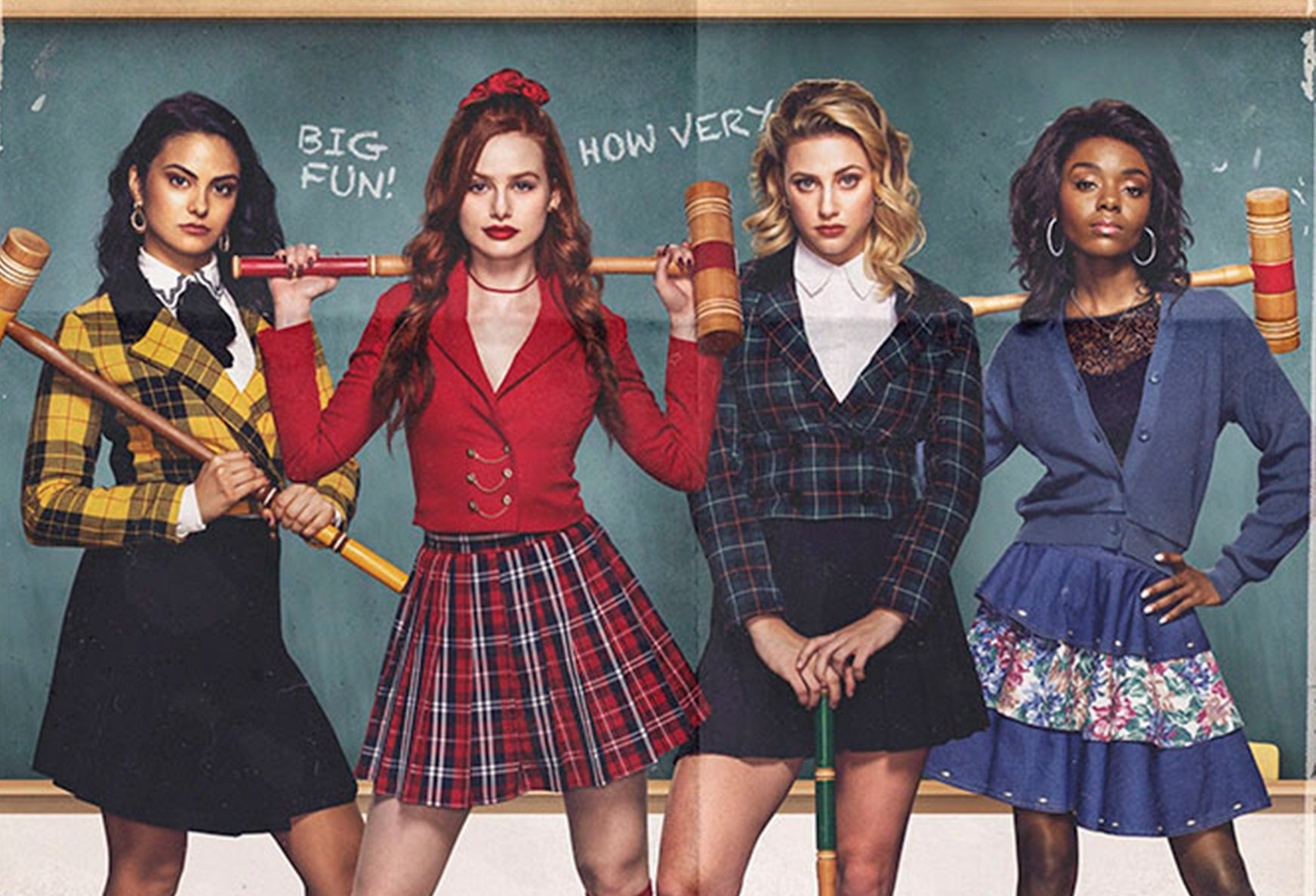 Riverdale Season 3 has been full of drama

As always, Riverdale is jam-packed with more drama than almost any other show on TV. So it makes sense that they would choose to do a musical based on a film with just as high of stakes as their every day lives.

Heathers the Musical is based on the 1989 black comedy Heathers. It follows the original plot of a student who takes drastic measures against the mean girls who lead the school. The film helped launch the careers of Winona Ryder, Shannen Doherty, and Christian Slater. Here's who the Riverdale students will be playing in their version of the musical.

Cheryl Blossom is Heather Chandler

Cheryl began the series as the HBIC of Riverdale High, and she's come to reclaim her crown. After her breakup with Toni, she's channeling all of her energy into Heathers the Musical. But like Heather Chandler is foiled by Veronica, Cheryl will be dealing with her own struggle — Toni is in charge of choreography for the musical.
Veronica and Betty are Heather McNamara and Heather Duke

Since their first meeting, Betty and Veronica's friendship has experienced its ups and downs, but they always seem to manage to come out of things stronger than ever. So who better to play the "other" Heathers? Specifically, Betty is playing Heather Duke (Doherty's role), who steps up to take on the lead Heather role, while Veronica's Heather McNamara is the more sensitive of the Heathers.
Josie is playing Veronica Sawyer

The main character in Heathers is Ryder's Veronica, who is, along with the Heathers, one of the most popular girls in school, before she meets J.D. and decides to take down her former friends. Though all of the girls are musically talented, Josie is the most dedicated to her craft, making her the perfect choice for this role. Her former romance with Sweet Pea could affect her portrayal, though…

Sweet Pea is playing J.D.

Sweet Pea, who had a summer fling with Josie, is playing her love interest, bad boy J.D. (Slater in the movie). This works nicely with Sweet Pea's M.O. as a Southside Serpent and "dark" character. And his looks fit the bill as well. Plus, given his past encounters with Reggie and Archie, faking a rivalry shouldn't be too difficult.

Reggie and Archie are playing Ram Sweeney and Kurt Kelly

Reggie announces that he's playing Ram Sweeney, one of two jocks who bully J.D. and eventually become his and Veronica's first targets. Archie is, ostensibly, the other jock, Kurt Kelly. What brought these two "single, straight dudes" as Reggie refers to them, to the musical? We'll find out tonight.