'Riverdale' Is Going to Kill a Lot More Characters in Season 6
The Riverdale Season 6 premiere took a bizarre twist and killed off one of the show's main characters. But according to the series showrunner, there are many more deaths to come in this season's "Rivervale" event.
[Spoiler alert: This article contains spoilers for the Riverdale Season 6 premiere.]
'Riverdale' Season 6 takes us to Rivervale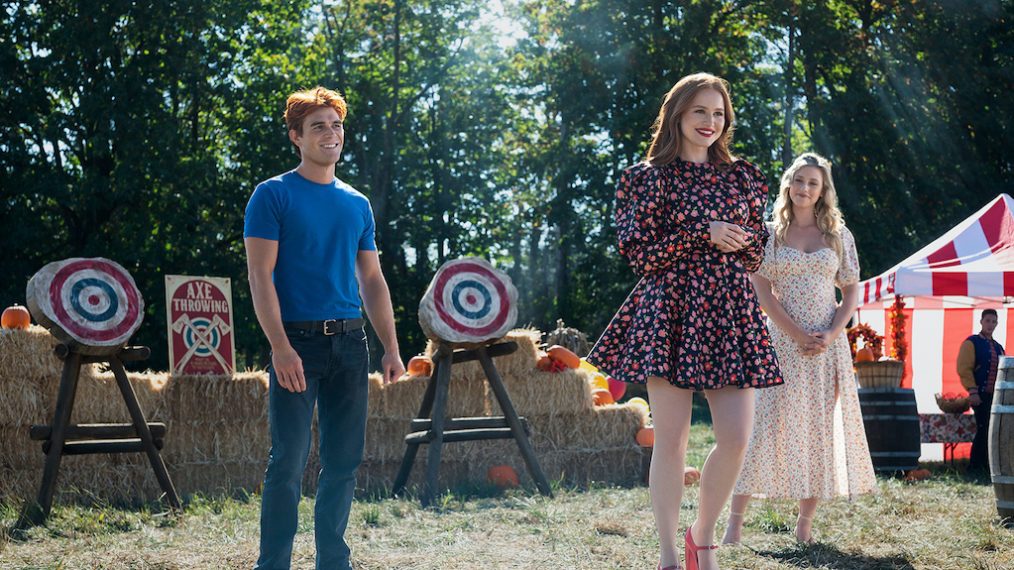 Riverdale Season 6 opens with Jughead (Cole Sprouse) introducing viewers to his hometown, Rivervale. Archie (KJ Apa) and Betty (Lili Reinhart) are still dating in this alternate reality. But they don't know Riverdale, and Archie never had a bomb under his bed.
Cheryl (Madelaine Petsch) goes around the town and offers to fix people's problems — like making Betty fertile and helping Veronica (Camila Mendes) with her relationship. But in return, she asks everyone, including Betty, Jughead, and Veronica, to support her in sacrificing Archie to the Maple Maiden. 
In the episode's last scene, while the whole town watches in cult-like fashion, Cheryl ties Archie up and plunges a knife in his chest. As she cuts out his heart, all of Archie's family and friends stand by and smile. 
The 'Riverdale' showrunner teases more deaths to come
According to Riverdale showrunner Roberto Aguirre-Sacasa, Archie's death in Rivervale is final. And he teased that as the season continues, fans can expect to see more of their favorite characters kick the bucket. 
"We are without Archie," Aguirre-Sacas told The Wrap. "We're in a world without Archie, is one. And two, I can tease at this point that 'Rivervale' has a much higher body count than even 'Riverdale,' and characters die in episodes, and then they don't come back."
"They're still dead in the next episodes," he added. "So there is a sort of ghoulish, Agatha Christie element of the event arc, which is, who or how many people are going to die in this episode and how?"
What happens in Rivervale will impact the rest of the season
The "Rivervale" story arc will go on until episode 5. The show will then go on hiatus and return with new episodes in March 2022. While the next block of the season won't be set in this alternate reality, Aguirre-Sacasa confirmed that the events of Rivervale will carry over as Riverdale continues. 
"I will say that the events of 'Rivervale' 100 percent inform and feed into the events of the rest of Season 6," he said in his interview with The Wrap. "I think if you didn't see 'Rivervale' — we're not picking up exactly where we left off at the end of [Season 5], and things will have changed because of 'Rivervale.'"
Aguirre-Sacasa confirmed that the first five episodes of season 6 keep this supernatural tone. That explains why Episode 4, titled "The Witching Hour(s)," will feature Keirnan Shipka in her Chilling Adventures of Sabrina role as Sabrina Spellman.  
But the showrunner also suggested the horror element could creep into the series in the future as well.  "It sort of cracked open the door, I think, for the supernatural to slip in and horror to slip in beyond the first five episodes, which has been really, really good."