'Riverdale': Is [Spoiler] Really Dead? Season 6 Episode 1 Twist, Explained
The supernatural 'Riverdale' Season 6 premiere resulted in a shocking character death that could impact the rest of the 'Rivervale' event.
Things in Rivervale are not what they seem — or are they? Riverdale Season 6 finally premiered its five-part event, "Rivervale," on Nov. 16. All seems well in this alternate version of the town of Riverdale, but Rivervale is much darker than it looks. A series of supernatural and creepy twists resulted in a shocking death that left many fans scratching their heads. Is this Riverdale regular really dead? Here's what Riverdale creator Roberto Aguirre-Sacasa has to say.
[Spoiler alert: The following story contains spoilers for Riverdale Season 6 Episode 1, "Welcome to Rivervale."]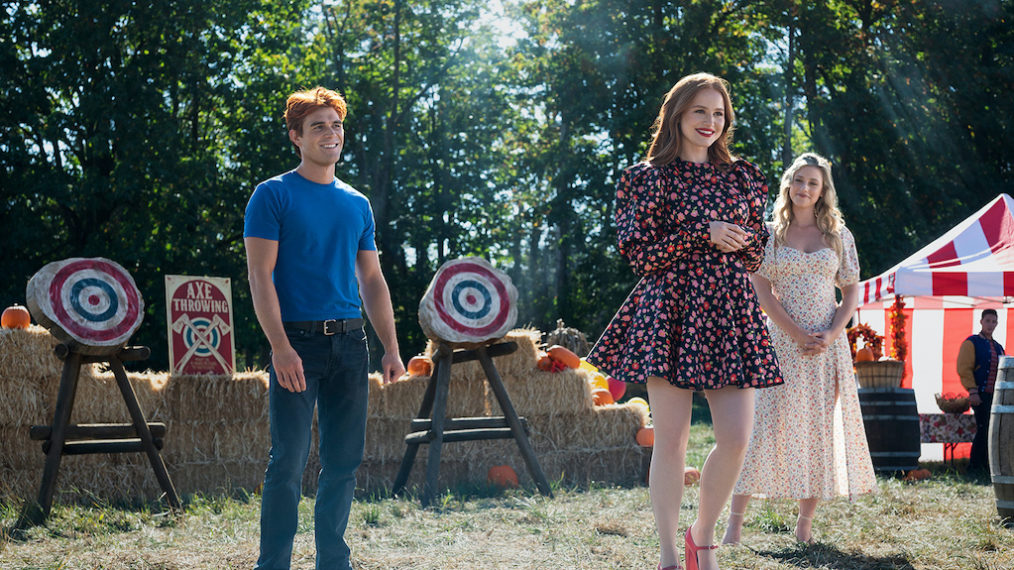 'Riverdale' takes a supernatural turn in season 6 episode 1
Riverdale Season 6 picks up after the events of the season 5 finale, except not really. The couples established at the end of season 5 — Betty (Lili Reinhart) and Archie (KJ Apa), Veronica (Camila Mendes) and Reggie (Charles Melton), and Judghead (Cole Sprouse) and Tabitha (Erinn Westbrook) — remain together. Cheryl (Madelaine Petsch) still wants revenge for her ancestor Abigail's wrongful execution. Toni (Vanessa Morgan) and Fangs (Drew Ray Tanner) still raise baby Anthony. However, in this alternate reality, a bomb never goes off in Archie's room to kill him and Betty.
Cheryl wants Rivervale to return to its old ways of worshipping the Maple Maiden in order to restore Thornhill's dead maple trees. That means bringing back some pagan traditions, like sacrifices. Throughout the episode, Cheryl gives Rivervale residents their desires in exchange for their participation in a sacrificial ritual. She uses pagan remedies to help Betty conceive, get rid of the cursed bugs in Jug and Tabitha's apartment, and cure Anthony's colic.
In the end, the town gathers to take the life of their sacrifice: Archie. Cheryl brutally stabs the Riverdale hero and cuts out his beating heart. Clearly, Archie's dead. But is he really?
Did Archie really die? 'Riverdale' creator explains
If Rivervale is an alternate reality, that means Archie would still be alive in the proper Riverdale, right? Not exactly, according to Aguirre-Sacasa. The creator confirmed to Entertainment Weekly that the happenings in Rivervale will affect Riverdale when season 6 resumes its regular schedule in March.
"We thought, of course it's fun to have the freedom to do whatever you want to do and not worry about continuity and serialization, but we sort of said, 'What would be really fun is if we could figure out a way to tell these stories in Rivervale and then figure out some way that they were in continuity and that they affected and informed the rest of season 6,'" he said. "In our minds, this is in continuity. This is a part of Riverdale."
Aguirre-Sacasa also confirmed that Archie is dead and won't appear in the next Riverdale episode.
"In [season 6 episode 2], the town isn't exactly mourning him, because they killed him, but the town does know that they sacrificed Archie. There's a scene, in fact, where Cheryl and Nana are toasting Archie's sacrifice because now their maple trees are producing maple syrup again. And Betty is pregnant with Archie's love child," the writer added.
Roberto Aguirre-Sacasa says 'Rivervale' has a 'high body count'
Riverdale fans should prepare themselves because Archie won't be the only death this season. Speaking to The Wrap, Aguirre-Sacasa confirmed that Rivervale has a "much higher body count" than Riverdale ever did.
"Characters die in episodes, and then they don't come back," he said. "They're still dead in the next episodes. So there is a sort of ghoulish, Agatha Christie element of the event arc, which is, who or how many people are going to die in this episode and how?"
Fans can tune in to Riverdale's Season 6 "Rivervale" event on Tuesday evenings at 9 p.m. ET on the CW.